As a 5-year-old I was given a clarinet to study and I started to play. One of the unspoken platitudes when the word 'talent' comes up is the learning curve development -- how long will it take for junior to reach a respectable level of proficiency? Most would agree that a novice youngster with real talent will show it within six months. That was the situation in my case and I soon got used to my grammar school teachers oohing and aahing about my musical promise at school concert time. They practically ordered me to audition for Gotham's leading conservatories and I managed acceptance at all of them. So Saturdays I took my clarinet, packed a lunch and subwayed to attend classes. All of the study involved classical music and very soon I began enjoying Bach, Mozart, Schumann etc. and other legends who wrote clarinet pieces.
One day I began practicing a Von Weber clarinet piece and my teacher told me to listen to what he thought was the definitive performance of it by Benny Goodman. I was almost seven when I heard Goodman's recording and at the same time discovered his jazz credentials. I instantly became hooked on Goodman's small group recordings (sextets, quartets) and played "'Rachel's Dream" so often on the phonograph that my mom began groaning. But the "King of Swing" had indeed swung me over to jazz. It was the improvisation
challenge that attracted me the most and his improvisational lines at breakneck tempos wowed me. Nevertheless it wasn't until I was about nine when I discovered other jazz and became an apostle of bop.
My relationship to music took several turns. I continued to perform through college and later became a jazz writer, producer, historian and professor of this music and constantly met jazz luminaries in interview sessions, rehearsals and seminars. Once, during the early 60s the management of Basin Street East invited me one night to come in and review Benny Goodman and Peggy Lee. Goodman was at the height of his career and Lee astounded with her beauty and lyrical genius. I interviewed Goodman backstage after the show and discovered through his anecdotes insights into his creative proclivities which I included in the write-up. The master had by this time conquered movie audiences (appearing in feel good films with Judy Garland, Esther Williams, Van Johnson) and had nations listening to his radio broadcasts. His legendary Carnegie Hall concert of 1938 was instrumental in legitimizing jazz.
During the next decade I produced a lot of big band jazz concerts: Lionel Hampton, Buddy Rich, Woody Herman, Dave Brubeck, Maynard Ferguson, Stan Kenton, Dizzy Gillespie, Count Basie and countless vocalists. And if I was only rarely able to turn a small profit, the aesthetics more than compensated.
Then one day I succeeded in convincing Benny Goodman to star in one of my shows. He hadn't performed in New York for several years and I knew sales would be brisk. We sold out two shows in a 2500 seat theater venue in one afternoon. I was very excited.
When Goodman said 'yes' it was on the condition that I put the band together, and that I had to book the very best players of the day. Thank goodness I had Bucky Pizzarelli as a good friend to help me as well as play in the group. And so we succeeded in getting star musicians such as drummer Mel Lewis, hornmen Scott Hamilton and Warren Vache, pianist John Bunch, and bassist Phil Flanigan. All had performed with Goodman for years so we knew he would be happy with the sidemen.
I began visiting Benny at his east side apartment to arrange the myriad details for the concert. I was amazed to discover that each time I got off the elevator I could hear him practicing. It was toward the end of his career but his musical dedication hadn't waned and I sat there transfixed watching him run through multi-noted exercises with wild improvisational sequences.
When it came time for the 'dress' rehearsal, I prepared carefully not chancing rebuke from the leader. At considerable expense I rented space at the Carlyle hotel because it was close to Benny's apartment. On a cold day in March, I brought him to rehearsal and had an astounding experience. The band members greeted him with the usual jocularity that occurs on a bandstand. Musicians are always telling amusing stories usually having to do with some incident that happened either on their endless touring buses or on performance stage somewhere.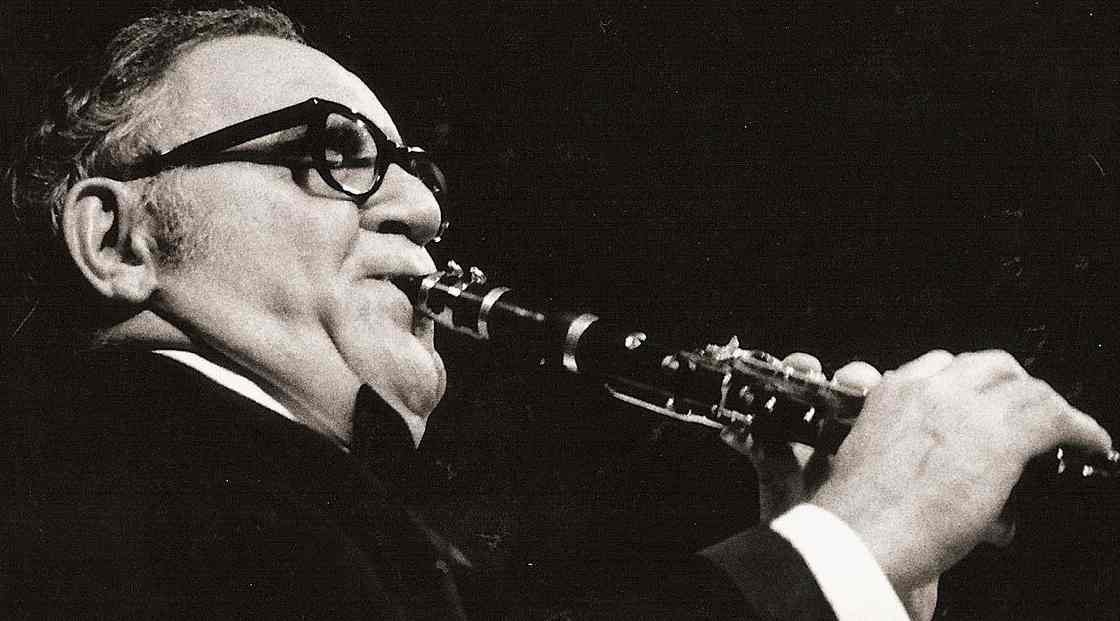 As Benny removed his horn from the case he returned the friendly greetings from the guys but there was a measure of detachment in his demeanor. I instantly recalled the stories about his strict control of his orchestra and limiting his fraternizing with the sidemen. The band members also took in his comments and rather quickly sat down, picked up their horns and sat up in rapt attention. The atmosphere was one of a platoon standing at attention waiting for orders.
At my Carlyle rehearsal Goodman ran up and down the scales executing some clever interludes. And then it happened.
He finished a sequence and instantly segued into first bar melody of "Avalon" - a tune he had long performed. And at the end of the measure the rest of the band was right there at the pick up and all were off at a blistering tempo . . . I couldn't believe it . . . the band was roaring and Goodman had not informed them of what tune he had selected...
Incredulously, I accosted Bunch later on with the obvious question: "How the hell did you guys know what tune he was going to play"? He looked at me disdainfully and simply said, "This is a Benny Goodman rehearsal . . . if you're not ready for the opening hit you won't be playing at the next show."