Nick Catalano is a TV writer/producer and Professor of Literature and Music at Pace University. He reviews books and music for several journals and is the author of Clifford Brown: The Life and Art of the Legendary Jazz Trumpeter, New York Nights: Performing, Producing and Writing in Gotham and A New Yorker at Sea. His latest book, Tales of a Hamptons Sailor, is now available. For Nick's reviews, visit his website: www.nickcatalano.net
Even a cursory analysis of output by Cuban musicians and composers in the last half century or so yields strong evidence of noteworthy achievement which, primarily because of political dispute, economic embargo and cultural isolation, has been virtually ignored. The musical spectrum involved is quite broad but a review of Cuban distinction in jazz and affiliated musics goes a long way in unearthing the significance of the Cuban musical tradition and revivifying the prominence it deserves.
Composer and multi-instrumentalist Mario Bauza (April 1911 -- July 1993) trained as a classical musician (a characteristic of most Cuban jazz virtuosi) and played clarinet in the Havana Philharmonic at age nine. At 14 he recorded a Charanga in New York with legendary classical composer/conductor Antonio Maria Romeu. In 1933, as trumpeter/musical director for Chick Webb, he met and began a long association with Dizzy Gillespie which resulted in "Cubop" – the earliest form of Latin jazz. Their collaboration continued through their years in Cab Calloway's band and would need multiple Ph.D dissertations to analyze its complexity and revolutionary quality. Suffice it to say that Gillespie's (and Charlie Parker's) bebop had apotheosized the American music (work songs, blues, gospel minstrel) largely based on West African traditions brought to the Americas but their jazz was slavishly attached to the 4/4 and 2/4 time signatures of European composers. When Gillespie worked with Bauza he realized that the great polyrhythmic tradition of the West Africans (avoided by puritanical North Americans) took hold in Latin America and for modern jazz to take full advantage of this rhythmic richness it had to incorporate the time signatures of Latin music.
It is well known that when Bauza developed the 3-2/2-3 clave concept and introduced Gillespie to Havana-born conguero Chano Pozo whom Dizzy inserted into his big bebop band, Afro-Cuban jazz became an instant hit (c.f. the Gillespie-Pozo collaboration "Manteca") and has steadily grown to become a staple of modern music.
What many fail to acknowledge is that despite Castro's revolution in 1958, the high standards of Cuban conservatories, the deeply-rooted popularity of a variety of sophisticated local musics, and the relentless prominence of musicianship in even the poorest families, the development of Cuban prodigies has continued unabated.
Interestingly, since Cuban socialism assumed political control in 1958, the list of Cuban musical luminaries has grown apace, and, while some have sought to leave the island, politics has not always been the reason. It is clear that opportunities for success have always been greater in New York than in Havana.
There are so many Cuban giants – the names Machito, Mongo Santamaria, Marco Rizo, Chucho Valdes, Xavier Cugat, Chico O'Farrill, Candido Camero, Ruben Gonzalez, Carlos Valdez, Gonzalo Rubalcaba, all emanate from Havana and came to America both before and after the revolution. To summarize their accomplishments would take more space than we have here.
In my years as a jazz reviewer, I have often written about the music of two of the great musician/composers who long ago emigrated from Cuba; just last month I heralded a relative newcomer . . . the parade continues.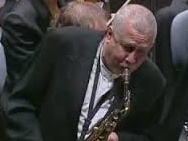 When Paquito D'Rivera arrived in New York in 1981, he became an instant phenomenon. He wisely chose to display his prodigious improvisational saxophone technique in his initial CDs, club and concert performances and media stints. He quickly amassed a mountain of Grammys (14 at this writing) gaining huge popularity and musical celebrity. But there was still more to come.
Like Mario Bauza, D'Rivera was a classical music prodigy performing at age ten with the National Theater Orchestra, studying at the Havana Conservatory, and becoming a featured soloist with the Cuban National Symphony at age seventeen. In New York, jazz writers hailed him as "the Latin Charlie Parker," nevertheless, he steadily began to widen his reputation by unveiling his classical compositional gifts and writing ambitious extended works. These days he can be seen playing inventive clarinet passages with his Chamber Jazz Ensemble and winning classical awards and collecting honorary doctorates. The full extent of his genius will take scholars many years to measure.(c.f. my essay "The New Paquito D'Rivera" 11-7-2010 www.allaboutjazz.com)
Another Cuban titan whose reputation soared the minute he landed at New York's JFK airport is Arturo Sandoval.
Again, it was his phenomenal jazz (trumpet) playing that secured instant fame (10 Grammys). However, Sandoval also was a Cuban classicist (studying at age twelve) who, since his meteoric rise, has performed with symphony orchestras worldwide. He has also received an Emmy award for composing the underscore of the HBO movie based on his life For Love or Country starring Andy Garcia. One of the most unforgettable performances in modern jazz history is Arturo Sandoval Live at the Blue Note in 2012 (Video available on YouTube). His multi-instrumental/vocal pyrotechnics on this outing serve nicely as a metaphor for anyone interested in learning about the breadth and depth of the Cuban music scene at the millennium.
The Cuban virtuosi keep coming. Just a couple of months ago I reviewed a concert given by Grammy nominated composer/pianist Elio Villafranca, classically trained at the Instituto Superior de Arte in Havana. This latest edition in the parade of Cuban musical cognoscenti sits on the faculty of The Juilliard School and has recently triumphed with a composition dubbed Cinqué: Suite of the Caribbean – which captures the almost extinct music of the African Congo.
No American agency has championed the cause of Cuban music more than Jazz at Lincoln Center. Since its inception JALC has continually included productions of Afro-Cuban sounds in its seasonal concert series; and, in 2010, in anticipation of the recent Obama-led transformation in Cuban-American relations, JALC artistic director Wynton Marsalis brought the Center's orchestra to Havana for a historic concert and live recording. The resulting CD on Blue Engine Records, Live In Cuba (available August 21), "is a document of the two nations' indelible cultural connections, of a journey into uncharted musical territory, and of some of the world's most virtuosic musicians sharing a stage."
Recorded in front of huge sold-out crowds over three nights at Havana's Mella Theatre, Live In Cuba includes the orchestra playing Duke Ellington standards, classic Afro-Cuban selections, and new compositions from the band members. On Disc 1 bassist Carlos Henriquez composed and arranged a burner dubbed "1, 2/3's Adventure" which recalls some of the Latin shout bands of yore (some of which I played in i.e. Tito Rodriguez, Tito Puente). A stunning piano solo from Don Nimmer highlights the track along with Henriquez' bass improvs and trumpeter Marcus Printup delights with a solo reminiscent of the Latin masters of old. A tribute to legendary Bolero composer Ernesto Duarte is delivered featuring Bobby Carcasses singing Duarte's "Como Fue." This tune was often referenced by Desi Arnaz and his eminent arranger Marco Rizo on the old I Love Lucy show.
Disc 2 includes "Limbo Jazz," a piece by Duke Ellington arranged by tenor saxist/clarinetist Victor Goines. Ellington addressed his interest in latin/Calypso music with this creation based on the chord changes to "Happy Birthday." Delightful soloing from trumpeter Ryan Kisor and baritone saxist Joe Temperley highlight the tune. On Dizzy Gillespie's "Things To Come" -- a rapid-fire standard arranged by Gil Fuller -- we hear Wynton Marsalis soloing with up tempo articulation reminiscent of his early days with Art Blakey.
The Cuban audience reception to the band's stellar performance adds an element of nostalgia to the recording and presages a new era in Cuban-American musicalizing. The recording should help pave the way for new scholarship about the Cuban masters of yore and introduce young listeners to the often overlooked musical heritage of this contentious island in the Caribbean.