Nick Catalano is a TV writer/producer and Professor of Literature and Music at Pace University. He reviews books and music for several journals and is the author of Clifford Brown: The Life and Art of the Legendary Jazz Trumpeter, New York Nights: Performing, Producing and Writing in Gotham and A New Yorker at Sea. His latest book, Tales of a Hamptons Sailor, is now available. For Nick's reviews, visit his website: www.nickcatalano.net
It has been some 80 years since the graphic horrors of the holocaust began to unfold themselves and receive proximate chronicling from documentarians, authors, journalists, academicians and historians of various ilk. Since the defeat of the Nazis in 1945, the story also became fodder for filmmakers everywhere and some of the more notable movie dramatizations -- Judgement at Nuremberg, Schindler's List, Sophie's Choice, The Pianist, The Diary of Anne Frank, The Pawnbroker, The Monuments Men, Woman in Gold, The Zookeeper's Wife -- successfully relate different parts of the epic.
But as comprehensive as some of these depictions may be, the continuing flow of unfolding news through the decades, each with a new revelation, twist, or circumstance, suggests that the narrative is so broad, the subject matter so diffuse, and the framework so far-reaching that no Homeric epic can ever hope to "tell it all."
Thus students of the holocaust and lay people everywhere who continue to wonder how such an event could occur and search widely in areas as dense as human anthropological evolution and the slow unveiling of the mysteries of neuroscience must be content to get only a partial view of the stage. The full scope of the epic is simply too enormous.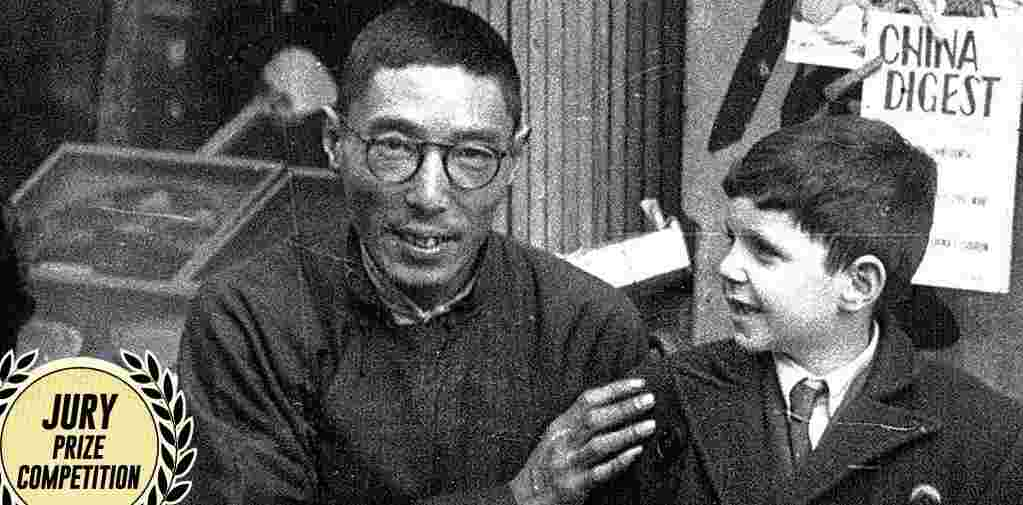 Occasionally, a story comes along which ironically reveals the beneficence of human nature rearing its head against the incredible background of persecution, widespread anti-Semitism, and utter human hopelessness of the holocaust. Such a story is contained in the documentary Above the Drowning Sea – a film directed and written by Rene Balcer and Nicola Zavagila from Canada, released a while ago and presently making its acclaimed way through festivals and media streaming.
After Hitler annexed Austria in March 1938 and his savage anti-Semitic actions began to accelerate (Kristallnacht was coming in November and the Polish invasion a few months later) European Jews sought to emigrate from his clutches by the hundreds of thousands. Political leaders everywhere protested what was quickly becoming a terrible scenario, but they nevertheless turned their backs on the vast majority of Jews trying to flee. In July 1938 Franklin Roosevelt called for an international conference in Evian France to deal with the Jewish refugee problem. The President invited delegates from 32 countries including the United States, Great Britain, France, Canada, six small European democratic nations, the Latin American nations, Australia, and New Zealand. When he proposed the conference, Roosevelt made it clear that no country would be forced to change its immigration quotas, but would be asked to volunteer changes. During the conference it became clear that no country was willing to volunteer anything. Various excuses were offered some claiming that their quotas had reached saturation points (i.e. France) and others claiming the Depression as their reason for not accepting refugees. Only the Dominican Republic volunteered to take some refugees in exchange for huge amounts of money.
Soon during the dates noted above, some 340,000 Jews convinced that the worst lay ahead, made the difficult decision to leave their homes; 100,000 of them decided to go to other European countries and were hunted down and executed by Hitler's minions. Others fled to some of the non-European countries noted above that had quotas but also had indigenous Jewish communities who managed to get refugees in by whatever means possible. But perhaps the most intriguing emigration occurred to a place where Jews had no cultural 'connections' whatsoever and would be the last place anyone would imagine they could find acceptance – China.
During the waning days of 1938 as Hitler swooped down and annexed Austria, thousands of Jews bombarded foreign embassies in Vienna seeking exit visas to any country anywhere. As we noted most of these quests were hopeless but one individual, a diplomat – Ho Feng Shan – who, as Chinese consul in Vienna, defied the Nazis and his own government by issuing travel visas to some 20,000 desperate refugees who wound up receiving sanctuary in Shanghai.
In addition to the cultural irony involved, it is important to remember that unlike all the countries we noted, China was at the time being invaded itself by the ruthless Japanese who, in addition to slaughtering hordes of innocent civilians, set up concentration camps in the fashion of their European axis allies.
Above the Drowning Sea is a 90-minute film shot in six countries. The film features interviews with some of the Jewish refugees themselves and Chinese people who welcomed the newcomers and, despite their own severe poverty, aided them. These residents of Shanghai risked additional persecution from the Japanese, who needed little excuse to spread more terror. The interviews are truly amazing as they show these two disparate cultures coming together as one group of human beings embracing each other during the chaos. There are also joyously tearful scenes of present-day reunions between refugees from 75 years ago and the Chinese residents who took them in.
Rene Balcer is a writer/producer from Montreal Canada known for Law and Order: Criminal intent (2001) and Law and Order True Crime (2017). He began his career as a cameraman covering the Yom Kippur war for the Canadian media. At a post-screening discussion in New York, Balcer noted how the story of Above the Drowning Sea still has such relevance today. The pitiful scenes of drowning Syrians and other refugees immediately comes to mind. "They always say this is a nation of immigrants. The reality is, we're a planet of immigrants and refugees. There's always been movements of populations," he said.
The film is ably narrated by Julianna Margulies (The Good Wife) and Tony Goldwyn (Scandal).
Although the inspiration provided by the interviewees is a paramount feature of the film, it is the irony of the story which is most compelling. Understandably, many of the Holocaust films concentrate on personal tragic narrative or Nazi bestiality, but few illustrate ironic circumstances in which tragedy can actually give birth to new achievements in human evolution.