Canadian Tire
2211 Boulevard Roland-Therrien
Longueuil, Quebec
REPAIR SCAM?
THE FACTS + SUPPORTING DOCUMENTS (en français en bas)
In September, 2010, the back brake discs of my 2003 Mazda Protegé 5 were heating up and squeaking. According to a Canadian Tire mechanic, the calipers were rusty and had to be replaced, the 4 rotors smoothed, estimated cost including labour = $756. Since Canadian Tire had already replaced the rotors in 2008 ($534), when the car had 40,000 kms, I questioned the estimation: the car now only had 60,000 kms.
A month or so later, I brought the car to M. Muffler, 4899 Taschereau (Greenfield Park). [They don't charge for estimations, Canadian Tire charges $30]. The mechanic advised me that the pads were sticking to the back rotors (resulting in heated discs and squeaking) because of rust accumulation. He said the calipers were fine, but the rust would have to be brushed off, requiring an hour's work. Total cost = $81. Result: discs no longer heat up, squeaking gone.
Supporting documents from CTire and MMuffler below.
Ex-Canadian Tire mechanics are invited to contact us and provide information on bonus system.
CANADIAN TIRE ESTIMATE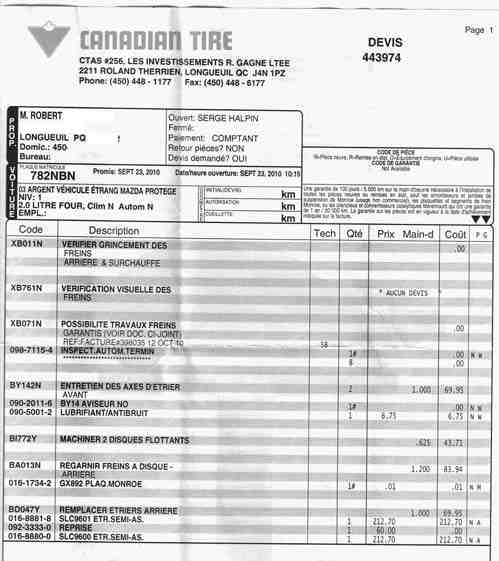 M. MUFFLER BILL
ARNAQUE OU NON

?

Les faits et documentation.

En Septembre, 2010, les discs en arrière de ma Mazda Protegé 5 (2003) ont commencé à chauffer. Selon le mécanicien de Canadian Tire, il faudrait remplacer les étriers, lisser les rotors: coût estimé = $756. Vue que CTire a déjà remplacé les rotors en 2008 ($534), alors que la voiture avait 40,000 kms , j'avais des doutes à propos de la validité de l'estimation puisque la voiture n'a que 60,000 kms.

Cinq semaines plus tard, j'ai apporté la voiture a M. Muffler. [leur estimation est gratuite, chez Canadian Tire $30]. Le mécanicien m'a expliqué que le chauffement de discs et bruit étaient causés par une accumulation de rouille sur les étriers, qu'il ne faudra que les nettoyer, que le travail va prendre une heure, et le coût sera = $81.

Anciens CTire mécaniciens sont invités à nous contacter pour fournir les informations sur le système de bonus.