Nick Catalano is a TV writer/producer and Professor of Literature and Music at Pace University. He reviews books and music for several journals and is the author of Clifford Brown: The Life and Art of the Legendary Jazz Trumpeter, New York Nights: Performing, Producing and Writing in Gotham , A New Yorker at Sea,, Tales of a Hamptons Sailor and his most recent book, Scribble from the Apple. For Nick's reviews, visit his website: www.nickcatalano.net

"The world is too much with us . . . getting and spending we lay waste our powers," wrote William Wordsworth some 200 years ago before the Industrial Revolution. What would he think about human activity presently when most people work 70-80 hour weeks and never question the addictive consumerism that eats away at the soul.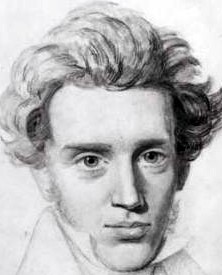 There are 168 hours in a week and working only for money half of that time would cause great cultures of the past i.e. ancient Greece to laugh out loud. The father of existentialism Soren Kierkegaard wrote, " Of all the ridiculous things the most ridiculous seems to me, to be busy."
Henry David Thoreau wrote, " Rather than money . . . give me truth," and "The mass of men lead lives of quiet desperation." Bernard Moitssier wrote, "How long will it last this peace I have found at sea? It is all of life that I contemplate -- sun, clouds, time that passes and abides."
These four figures -- poet, philosopher, essayist, circumnavigator -- have all received short shrift by historians who have painted them all using words like recluse, monastic, anchorite, ascetic, hermit, eremite, to totally account for their lives and occupations. In truth all spent much of their time with busy urban affairs, multi-tasking practical duties, engrossing journeys, and vigorous social contact. Wordsworth traveled all over Europe and was Poet Laureate of England; Kierkegaard held court in Copenhagen, was a successful academic, enjoyed financial independence, and dallied with the ladies. Thoreau was quite social when living at Walden pond often walking a few times a week to urban Concord Mass. less than 2 miles away.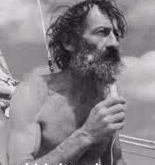 Bernard Moitessier, least known of our figures, spent more time alone at sea than any sailor you can name, but had multiple marriages, collegial writing relationships and urban publishing activity spending considerable time as an environmental activist.
Yet because all of them became famous in their 'alone' time we have always focused on this characteristic and failed to indicate their often 'busy' lifestyles. In point of fact these figures chose to quarantine themselves because they realized that that was the only way they could achieve their aforementioned disparate goals.
Now because of the coronavirus millions of people have been forced to quarantine. And because of years long 70-80 hour work schedules many are suffering huge disorientation. We are all shaped by conditioned behaviour as Pavlov, Skinner and others have shown and "rebehaviourizing" is challenging. As Nick Martin puts it, "Believing that each waking hour must be a productive one is the natural endpoint of America's hustle culture -- the idea that every nanosecond of our lives must be commodified and pointed toward profit and self-improvement."
Because of this disorientation few have been able to perceive the fact that quarantining can uncover urges and talents that they have had all their lives. And ironically, some of this uncovering can now be achieved only because of the singular essence of pandemic quarantine.
In the past, pandemic forced quarantining has produced astounding results. In 1593 William Shakespeare had to quarantine in London due to an outbreak of Bubonic plague. When the death toll exceeded 30 per week the theaters were closed thus requiring the young Bard of Avon to isolate himself. Health care workers tending to the sick had to carry a wand or a rod to make sure Londoners gave them a wide berth. Recognizing an opportunity to get away from his burgeoning theater obligations, Shakespeare used the forced quarantine to write his only narrative poems -- Lucrece and the masterful Venus and Adonis.

Years later in 1606 another pandemic struck. Social distancing had now become a rule and only six people were permitted to attend a funeral including the pallbearers and minister. Then as now many ignored the rules of quarantine. But not Shakespeare. He used his time in isolation wisely and penned King Lear, Macbeth, and Antony and Cleopatra.
In the summer of 1665 a new pandemic broke out and a young Isaac Newton
had to leave his college dorm at Cambridge and go home to quarantine for over a year. In isolation, his creative juices soared and he developed the inverse-square law of gravitation, acclaimed since as his greatest achievement. Looking back years later he credited the quarantine as the cause of this creation. He said "For in those days I was in the prime of my age for invention & minded Mathematicks (sic) and philosophy more than at any time since."
Other stories of pandemic quarantine abound. The painter Edward Munch, the playwright Thomas Nashe, and the poet Giovanni Boccaccio all attained apexes of creativity in pandemic quarantine.
In 2014 Philip Mirowski wrote, " Never let a serious crisis go to waste." A recent cabinet economics expert said in 2008, "never let a big recession go to waste." and Psychology Today recently stated, "never let free time go to waste." The point here is that forced quarantine can reveal hidden elements within us that we would never discover otherwise . As shown above, there is evidence that only because of pandemic quarantine astonishing creations have occurred.
Isolation forces us to reflect in ways that we never can in an 80 hour work week . . . merely the act of searching our consciousness for long buried whims, desires and dreams can produce activity which would never be thought of without the quarantine and isolation now present everywhere
We are all not Shakespeares or Newtons. Actually, on a more basic and more important level we can all benefit from quarantine because it liberates us from the daily rat race that we undertake instinctually and forces us to think about deeper matters. One individual said recently about the pandemic, " I am happier that this happened. I think I needed to break away from my habits of life, learn new stuff, and spend time with family."
The pandemic will cause tragedy and misery for millions. And history will correctly record that economic hardship, social disorientation and immeasurable psychological damage are among the most significant elements of the 2020 coronavirus quarantining.
But for all there can be one redemption.
Spike Lee recently put it simply . . . "When everything stops, you have time to think."