Nick Catalano is a TV writer/producer and Professor of Literature and Music at Pace University. He reviews books and music for several journals and is the author of Clifford Brown: The Life and Art of the Legendary Jazz Trumpeter, New York Nights: Performing, Producing and Writing in Gotham and A New Yorker at Sea. Nick's reviews are available at www.nickcatalano.net
Autumn in New York and the arrival of Vermeer's "Girl with a Pearl Earring" at the Frick Museum. Across town at the Lincoln Center's New York film festival a documentary film dubbed Tim's Vermeer. Dutch architecture from New Amsterdam's 17th century settlements permeating the neighbourhoods of every borough (I drive past Spuyten Duyvil every day). "Skills" townships i.e. Peekskill and Cobbleskill surrounding Gotham. Rip Van Winkle smiling on billboards and a new series -- The Legend of Sleepy Hollow - on TV.
The legacy of the Dutch golden age has never left and one of its famed artists is presently getting a big buzz all over town. The Frick exhibition, entitled Vermeer, Rembrandt, and Hals -- Masterpieces of Dutch Painting from the Mauritshuis, has been a must see since its opening in late October. The star of the show is, of course, Vermeer's "Dutch Mona Lisa."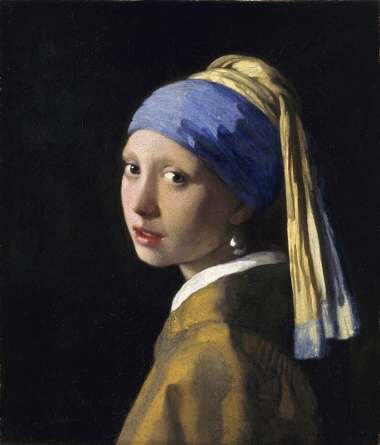 She has risen to the top of art world since the release Peter Webber's 2004 film Girl with a Pearl Earring starring Scarlett Johansson based on the best-selling 1999 novel by Tracy Chevalier.
The Frick exhibition is timely coming on the heels of the re-opening of the Rijksmuseum (after a 10 year renovation) in Amsterdam. The entire second floor of the breathtaking Rijksmuseum is devoted to the Dutch golden age and it is enormously compelling (I delayed my trip home for two days last summer). But the "Dutch Mona Lisa" has always resided in the less frequently visited Mauritshuis in The Hague so the Frick scored quite a coup and art lovers are lined up outside every morning waiting to see her.
For Vermeer buffs who have seen Webber's film the 'real thing' is a bit disappointing because it has faded somewhat and they've become used to Vermeer's incomparable colors as seen on the movie screen and on posters everywhere. On the other hand, the exhibition is particularly valuable because of genre paintings by Vermeer's Delft School colleagues Carel Fabritius (a member of the St. Luke's painter's guild where Vermeer was headmaster), Jan Steen (whose painting "As the Old Sing, So Pipe the Young" replicates Vermeer's domestic chamber compositions) and Nicolaes Maes (whose painting "The Old Lacemaker" employs Vermeer-like approaches to light). Other Delft schoolers Pieter Claesz, Gerard ter Borch and Jacob van Ruisdael, who lived and worked in towns a stone's throw from Delft, are also represented so visitors can learn volumes about genre painting by referencing these lesser known Dutch masters. In addition, the Rembrandt and Hals masterpieces reflect other features of the golden age providing more bonuses for Frick patrons.
A fresh injection of literature, i.e. the Frick catalogue, contains the latest scholarship on the age old controversy surrounding Vermeer's use of a camera obscura (first published edition of it in 1544 by Reinerus Gemma Frisius) and/or various lenses. For a long time now there has been little doubt that he had access to the latest optic inventions; the Dutch were avid lens makers. Vermeer's next door neighbour (and an executor of his estate) Antoine van Leeuwenhoek (referred to as the Father of Microbiology) was a master lens maker; the illustrious philosopher Baruch Spinoza (b. 1632-the same year as Vermeer) made his living grinding lenses. So many painters before Vermeer (van Eyck, Lotto, Caravaggio, Velasquez, da Vinci) and after him (van Wittel, Ingres) have been known to employ lens technology. It is a well-worn subject.
However, due to the explosion of Vermeer's popularity it is he who receives most of the press in the lens debates. The suggestion that anyone who utilizes lens technology is somehow 'cheating' has too often accompanied art commentary. Critic David Bull notes that Vermeer's use of a camera obscura or convex lenses is a way of "enriching what he is seeing." It is this point which is often lost in the continuing controversy.
Nevertheless, Tim Jenison, in a new documentary Tim's Vermeer, has once again taken up the argument. Jenison, a successful inventor/entrepreneur, revives the art vs. optics technology issue in Vermeer's work. He spends some seven months building a replica of Vermeer's room, setting up convex lens apparatus and then painstakingly (213 days) painting what he sees through the lens. Because his finished painting is Vermeer-like he concludes that the photographic quality of Vermeer's images could only have been achieved with the aid of the lens technology. The film is entertaining with comic/illusionist Penn Jillette inserting humorous commentary about Jenison's unwavering dedication. It also provides fodder for the relationship between art and science that many experimenters such as Jenison have long been anxious to connect. That relationship was not a point of controversy in ancient classical times (Aristotle was a philosopher/ mathematician/ biologist/aesthetician etc.) or in the Renaissance (Da Vinci also moved naturally between arts and sciences). But since the utilitarianism in the 19th century and the age of specialization in the 20th, technology-in-art polemics have raged .
The film has succeeded in fanning the flames of the camera obscura theory which one movie critic has dismissed as "wackadoodle." To bolster their aim for verisimilitude the producers quickly usher on and off camera two veteran Vermeer commentators: Philip Steadman and David Hockney, who give tacit assent to the possibilities that Jenison introduces.
Still, the camera obscura phenomenon can justifiably be brought into an analysis of Vermeer and other artists; however, those desiring to learn about Vermeer's magic must focus on other
aesthetic features. Initially, the reference to his photographic realism that Jenison and others have used is bogus. Even cursory examination of Vermeer's work reveals blended and misted lines as essential elements. In "Girl with a Red Hat" (1665-67) the colourings that interfuse on the subject's face help us penetrate the narrative of her character.
The same misted effect is viewable on the finger of the figure in "Woman Holding a Balance" (1662-65) which is deliberately out of focus.
Vermeer often distorts or adjusts reality in order to further his vision and this circumstance poses a direct challenge to the camera obscura crowd. In "The Art of Painting" (1666-68) he simply leaves out the left leg of the easel and in "The Little Street" he distorts the window shutter space. His indefatigable search for the subtle effect of light propels his avant-garde employment of pointillism to highlight crusts of bread in "The Milkmaid" (1658-61) and the freeboard of the ship in "View of Delft" (1660-61).
Vermeer's activism in using the pin-hole method to determine vanishing points is observable in
"The Music Lesson" (1662-64) and other paintings. This technique helps us understand his innovation in compositional placement. Discernible illusions of texture are seen in the roofs and brick sidings in "View of Delft" and this leads us to investigate his captivating wet-on-wet process which allows him to achieve the colour drama he is so noted for. The tonal effects produced by the coloured undermodeling show through the paint in various places and can be analyzed.
As I noted before, harnessing light is central to the skill of Vermeer. He is best known for his manipulation of light reflections, refractions and shadowing. The effects of these wondrous achievements are seen on the wall of "Woman Holding a Balance," on the chandelier of "The Art of Painting" and many other places.
These factors – the distortions of nature, the manipulation of light, the imprecise lines, the wet-on-wet tonal attainment, and the textural nuances – make nonsense out of the photographic-realism/ technology issue.
What must also be noted in the continuing saga of the mystery of Vermeer and his art is the evolution of his status. It begins ignominiously enough. Although he was accorded praise by some of his contemporaries, his work was virtually ignored for 200 years after his death. Finally, in 1866, a French art critic Theophile Thore published an article praising the then unknown Dutch genre painter from Delft. He would later publish a catalogue of Vermeer's work although many of the paintings he attributed to Vermeer were later proven to have been executed by others. In 1881 an art historian/collector Victor de Stuers persuaded his friend Arnoldus des Tombe to bid on the
unknown work "Girl with a Pearl Earring" at an auction. Tombe was able to purchase the painting for 2 guilders plus the buyer's premium of 30 cents.
From this time on Vermeer's art began an ascendency. Eighteen eighty-five collector Abraham Bredius (later director of Mauritshuis) was the first to praise "Girl with a Pearl Earring" in public. Marcel Proust in his titanic 1913 novel In Search of Lost Time has one of the characters – a novelist Bergotte – collapse and die while looking at the "View of Delft." As collectors began to flock, the Vermeer oeuvre started to command higher prices; one of the reasons was the actual rarity of his paintings (at this writing the number stands at 36). Between 1901 and 1919 Henry Clay Frick purchased three Vermeers for his New York home which has now become Frick museum.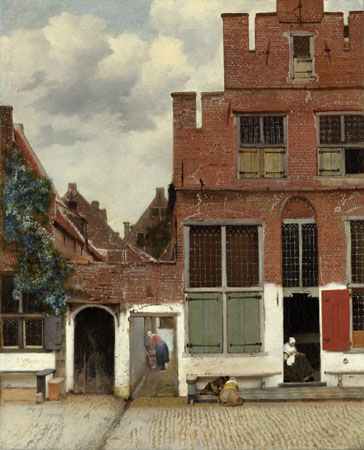 Still, there were twists and turns in the evolution of Vermeer's reputation. Several of his paintings were ascribed to other artists – a pattern quite common when artists begin to get noticed. In 1937, Bredius announced the discovery of a new Vermeer masterpiece "Supper at Emmaus" but in 1945 an unsuccessful Dutch artist, Hans van Meegeren, who had been imprisoned on a charge of collaborating with the Germans during the Nazi occupation of Holland, confessed that he had forged the painting along with several other bogus Vermeers. During this period another Vermeer aspirant seized "The Art of Painting from a collection in Vienna. His name was Adolf Hitler.
The role of art collectors, critics and dealers in the changing status of Vermeer's reputation is certainly not an uncommon case. Any art historian will point to the maneuvering of impressionistic art in France in the late 1800s by art dealers who understood the vagaries of notoriety and publicity. Monet, Renoir, Pissarro, Degas, Manet et al. had their own rebel Salon des Refusés in the 1870s and 1880s opposing that of the Académie de Beaux Arts. This anti-Salon received lots of pejorative publicity, but as the Mad Men have long said any publicity is good publicity, Thus, when the clever art dealer Paul Durand-Ruel and other shrewd sellers started hyping the impressionists and drawing upon their ersatz celebrity they created a craze and collectors and art lovers began to swarm to the Monets and Renoirs. The rest, of course, is history.
In the background of the story of Vermeer and his critics sits a larger narrative – that of the ebb and flow of artistic reputations and, in our own age, the preposterous monies paid for art which may someday become unfashionable. But that is an issue for future writing.