Once a festival survives its early years and begins to grow deep (natty) roots, the perennial challenge is how to keep it fresh, exciting and relevant.
It would be very easy for a festival as prestigious as Montreal's Festival International Nuits d'Afrique to get by on its reputation and let past success determine its future. But the programmers are well aware that 'change' (flux) is the single most important constant in the universe, and by keeping abreast of how the forms and formats of music are constantly evolving, Les Nuits makes sure that it remains at the forefront of what is happening on the ground and in the studio as it concerns Africa's indigenous music and its quasi-conjugal relationship to world music; which is why, after 33 years, it continues to be one of the great voyages of discovery. It's not a coincidence that many African-born musicians have decided to make Montreal their home. They know in advance there will be both venues and audiences for their new ideas, many of which will be programmed into the summer festival.
Despite the recent (2017) changing of the guard in respect to its programming director (Colin Rigaud takes over from Frédéric Kervadec), Les Nuits d'Afrique continues to feature engaging new music as well as the constant reminder that behind every music there is a long-standing tradition.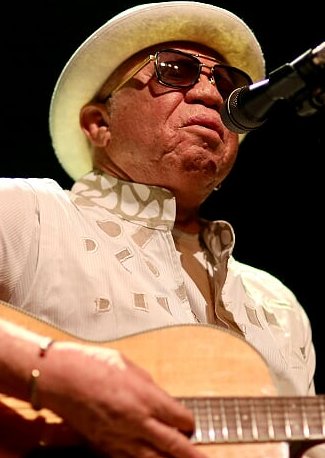 From the highly personal, plaintive urgings of Mali-born albino Salif Keita to the progressive reggae of Jamaica's Jah9, there is a vital link. Geographical and generational gap notwithstanding, what they both share is having been at the wrong end of the black and white intolerance spectrum, and being able to transmute those negative experiences into the highest art.
The counterpoint to being black in America is to be albino in Africa. Noah Deshe's haunting film, White Shadow, recounts in excruciating detail the challenges of albinos in Ethiopa who are hunted for body parts and their putative medicinal properties. In that same prejudicial spirit that knows no borders, Mali's melanin-challenged Salif Keita, a tribal prince by birth, was exiled by his family, and like many under-appreciated American jazz musicians ended up settling in Paris where his career took off.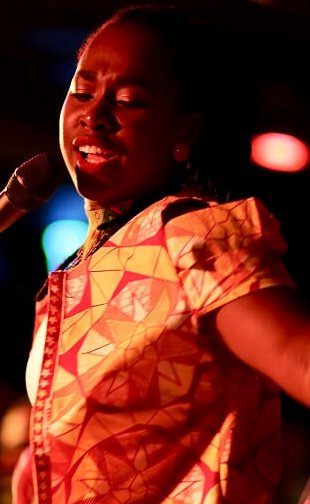 Cape Verde's Elida Almeida informally opened the festival at the legendary Club Balattou. Her infectious enthusiasm and strong voice underpinned original material that embodied both the folk spirit of the island and the impact of globalization. Not to be discounted was her stage presence and a smile that could light up the darkest night which had the photographers reaching for their best lenses. Of note was the time and space she gave to her inventive and complicit guitarist Hernani Almeida.
Among the many surprises of Les Nuits was the vagrant voice and compositions of Jamaica's Jah9 (Janine Cunningham). Unlike most reggae singers, for whom the genre is a self-contained world with its set-in-stone protocols, Jah9 makes traditional reggae a point of departure, allowing it to absorb
and react to the changing world around her, a world that now includes women's voices who, en masse, are finally challenging the once inviolable male dominated world order.
Much like the Delta blues had to leave the Delta to become everyone's blues, reggae, by responding to the world as it turns mostly sour-sop, is no longer a strictly Jamaican product. Sometimes Jah9 would slow things down such that the reggae seemed to waltz or sway, transporting the listener to an enchanted place where the normally thumping bass was reduced to a whisper. Her highly inventive intros and memorable codas were the pitch-perfect bookends to carefully conceived lyrics. But it was her voice, clean and confident, that kept everything in its sure orbit around her musical and political agenda. Sometimes she would extend a note to emphasize a lyric, and then snap it back like a whip before down-shifting into another tempo. Looking ahead everything looks good for Jah9 whose already significant original material is going to get better and take her to places where most reggae composers fear to tread.
The best way to capture the hybrid music of Mali's scintillating Songhoy Blues quartet is to situate them in their native land where the lead singer, Aliou Touré, absorbs the style and substance of griot jala while the guitarist, Garba Touré, develops a liking for the quickly expiring plucked note as opposed to the longer held western one. After an extended pit-stop in the Mississippi Delta, the group cozies up to a high powered electrical grid, and then does due diligence at the altar of Jimi's "Voodoo Child." Songhoy Blues is emblematic of how music gets made these days – and without apology. And at the end of the set,
whether you want more or less of it, you won't forget the sound and their fury. They don't ask "Are You Experienced?" They are the experience, and one that begs to be repeated. Inspired by Garba Touré whose notes exploded out of his guitar like pods bursting with seed, Songhoy Blues scaled the heights, and were one of the lights of Montreal's African nights.
There's nothing that compares with the uplift and exultation of discovering new talent that represents a new way of interpreting the world. This year's pleasant surprise category award goes to Mali's Djely Tapa, who brings unwavering commitment and
incandescent intensity to her original material. Blessed with a voice that can burn-dry a lake under a monsoon sky, its ear-pleasing purity and specific gravity are such that it keeps all other instruments and listeners in mesmerizing thrall. Her mix of tradition and urban coupled with intriguing time signatures translate into a music that is winning over audiences wherever she performs. Be sure to hitch your wagon to this rising star.
In the first of the free concert series that begins at the midway point of the festival at the Quartier des Spectacles in downtown Montreal, Benin's Benin International Musical put sparks into the night featuring hymns bathed in celestial harmonies that seamlessly morphed into rap and hip-hop. This wasn't just another variation of World Music; the world's music in all its richness and variety was on display, and the audience lapped it up and danced it up until closing time.
After spending part of the day wandering through the narrow corridors of the fascinating Timbuctoo market place, to visiting food stalls offering exotic dishes from around the world, and finally checking out the numerous ateliers and workshops where dancers and musicians explain the origins of the incredible range of Africa's stringed and percussion instruments, the case can be made that Les Nuits is as much a cultural as a musical event.
Based on a quick scan of world culture as it settles into the 21st century, it should be of interest and concern to everyone that the once ubiquitous halo and hijab have been replaced by headphones and iPhones. For better or for worse, nomadism -- man's founding, primordial first condition -- has given way to a 'monadic' existence and the triumph of the self-sufficient individual (In Canada, 30% of adults live alone). And whether we rue or revel in these developments, they are happening on our watch, and there's nothing like music to help us grasp what cannot be put into words.
From Berber tent music on the fringes of the Sahara to state-of-the-art digital recording studios, Les Nuits is a chronicling of the world through sound, and is arguably one of the most edifying music festivals on both sides of the equator.
Case in point is Algeria's beloved Hakim Salhi. His music typically begins in the mournful drone we associate with the Sahara and its unforgiving climate, out of which is born the high pitched ululation (zagharit) indigenous to the Arabic world. But with a sudden tweaking of the tempo and cranking up of the horn section along with thumping thumb-slaps to the bass, Salhi exchanges his camel for a Corvette and in a matter of a few bars of music the listener is yanked out of the medina and injected into a particle accelerator – and pure joy erupts as the crowd goes crazy. Despite the infectious beat of the bass and drum, Salhi has not betrayed traditional Algerian music to win the favours of the West, but rather he has added his voice to the great catalogue of Algerian music now fully integrated into the modern world. Salhi, who in 75 years from now will be regarded as traditional by the new generation, is challenging cultural norms by lending his voice to the one-world-order concept that is in slow but sure ascendancy.
* * * * * * * * * * *
Like no other event of its kind, the all-inclusive Festival International Nuits d'Afrique is a celebration of the human spirit and the transcending power of creation, where for 13 glorious days and nights all differences and disputes are magically dissolved in the universal language of music.
For this precious experience, a huge jrejëf goes to festival founder and recipient of the order of Canada, Lamine Touré and his exceptionally dedicated and dynamic team.
Next year Les Nuits turns 34, and that can't come soon enough.


ADDITIONAL PHOTOS