You don't argue with those holding weapons. Timbuktu is Abderrahmane Sissako's superb film, depicting the chaos created by jihadists in North Africa. The film speaks only peripherally to Western considerations, concentrating more on representing, as dispassionately as possible, the paradoxes at the core of radical Islam. Timbuktu also portrays a region virtually unknown to
most Western spectators, one with richly complex socio-cultural, ethnic and religious interactions made all the more difficult by the transcultural and multi-ethnic jihadist movement.
The film frames the Islamist infiltration as a colonial invasion by a new language (Arabic), new laws (Sharia) and a willful ignorance of local customs, culture and ethnicities. The leaders are predominantly Arabic speakers from outside and unfamiliar with (and apathetic to) local ethnic and linguistic complexities. Such is the stratification that, even among each other, the jihadists often revert to a common second language in order to communicate. Much seems to be lost in translation.
Kidane (Ibrahim Ahmed dit Pino) is a Tamasheq cattle farmer who lives in the dunes outside the city with his wife Satima (Toulou Kiki) and adolescent daughter Toya (Layla Walet Mohamed). Their lives are difficult, from a material standpoint, yet relatively undisturbed by the jihadist presence compared with those in the city -- although a jihadist newcomer (Hichem Yacoubi) has his eye on Satima and comes around to pester her whenever Kidane is away. Tragedy strikes the family when an argument with a neighbour over one of Kidane's murdered cattle leads an accidental discharge of a gun and the man's death. Kidane is accused of murder and forced to stand trial in a Sharia court, setting off a chain of events that show a deep a schism between the jihadists and the local population, as well as between themselves and their purported religious zeal.
We begin to understand that the locals' tacit resistance is in fact a resistance to colonization. Forms of civil disobedience are portrayed through powerful imagery: kids carry on an imaginary soccer game without a ball; the shaman, her head uncovered, blocks the progress of a jihadist truck; a woman, who is being beaten for making music, sings her pain; a fishmonger in the market demands that her hands be cut off because she cannot sell fish while wearing gloves. These examples illicit no reactions from colonizers because they have no response except for violence, demonstrating complete disregard for the body politic.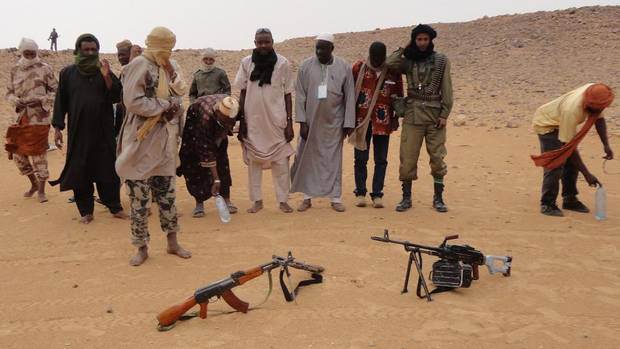 Thus, they circumvent local custom and culture, exercise a double standard of justice by overlooking practices among their own men for which locals are executed, and they completely dismiss the sophisticated, nuanced local understanding and practice of Islam.
Whenever the local imam (Abdel Mahmoud Cherif) attempts to mediate with the jihadist chief -- ironically, through a translator -- over complaints about his men's egregious breeches of etiquette and custom, he is met with an unequivocal defense of their righteousness. A jihadist forces a young adolescent girl into an illegal marriage against her and her family's wishes. The chief in turn automatically condones the marriage by saying that the man is a perfect Muslim and therefore justified in taking the girl as his wife. The imam plays the very delicate role of teacher; not only for the audience but also for the jihadists whose understanding of Islam seems to be so narrow that the two parties can mutually comprehend only the honorific phrases used with particular holy words.
It becomes chillingly clear that the two sides' views will never find common ground in the Quran. The chief's claim to perfection and righteousness in carrying out jihad against others speaks to a crucial elaboration of this concept in the Quran. This concept has two iterations -- internal and external jihad -- and the imam places all importance on internal jihad as it represents the perpetual struggle toward self-perfection and moral atonement in the eyes of God, who is necessarily the only perfect being in the universe. That the invaders view themselves as 'perfect' in the eyes of God feels like utter blasphemy and speaks to a much more terrifying and mundane reality of the jihadist project. Given that key concepts in Islam appear to be misunderstood -- or worse, willfully ignored -- Sissako suggests that religion, in fact, has little to do with it at all.
A crucial scene, in which an older jihadist coaches a new -- shy and awkward -- arrival to appear convincing on camera, underscores the mundane hypocrisy of their enterprise. Symbolically, with their AK-47s never out of reach, these men need to craft and polish their jihadist image, just l
ike any propaganda, and religious zeal is the main prop. With only a dim understanding of Islam, they are therefore wholly justified by one thing only: power. The invaders have guns to back up their authority and their over-inflated estimation of themselves -- at least in public -- gives but an appearance of zeal. Otherwise, they are shown to be man-children eagerly discussing the finer points of soccer, as bashful adults who lust after others' wives and as superstitious hypocrites who visit shamans.
Perhaps most disturbingly, they are also the leaders who mete out violence and punishment in order to establish control; who follow the orders of puppet masters thousands of kilometers away, whose real purpose remains as opaque to them as to Western understanding. Yet, as Timbuktu shows quite succinctly, the jihadist enterprise (for that is what it is) is perfectly clear. Power subsumes all other considerations. Power also justifies any behaviour that satisfies the goal of subjugating a population.
The film explodes our limited perception and experience of the jihadist threat in a frighteningly intimate way. The threat itself is not of one religion or other, one interpretation or other. It is, as Sissako concludes in Timbuktu, the rule of ignorance in the absence of reason and fanatical application of violence in the absence of self-reflection. It is about power and its projection -- a concept that should be familiar enough to Western audiences.