MARIE JOSÉE-LORD performs a pitch-perfect powerhouse performance
The crowd was enormous; everyone was waiting in anticipation to hear Haitian-born diva, Marie-Josée Lord step onto Centre Stage, and at 4:05 pm, on August 3rd, that's what happened. You could feel the excitement and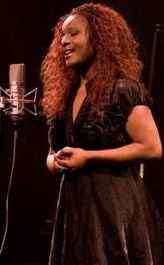 happiness from the audience. She is adored, and no wonder: she is funny, talkative and completely at ease with the endless army of eyes staring out at her, open for the pleasure to come most notably in stunning stage presence, but above all -- her extraordinary voice.
The opening was a tease, as the speakers piped out a little taped song, sung by a girl interspersed with Marie-Josée speaking poetically about gardens, dreams and moving to Quebec.
She titled the concert, Bouillon, and indeed it was a 'marmite' melting pot of all types of goodies -- a hot concert offering a variety of tasteful singing styles. She revealed that she prefers to be called a lyric singer -- to perform songs that appeal to le grand publique. Opera can be restrictive and diminish the wide appeal.
Whatever she, sang, she was so expressive, emotional and absolutely brilliant. Bravos echoed, traveling to every brook, flower bed and arboretum area of the Botanical Gardens.
Her extremely high register is rich and stunning. Likewise, her low resonate power as well, and no matter whether she sang opera or musical numbers, Marie-Josée owned the crowd. Our hearts were enthralled by her lyric -– near-impossible vocal range. Her opera choices included "L'Amour" from Carmen;"E'Strano" from Histoire de la Dame aux Camélias; and from the filmThe Fifth Element,"La Diva." Wow!
However, she beautifully gave us "Somewhere" from West Side Story (I got goosies), and when she sang "I Feel Pretty", I was enchanted; she found so many alluring and adorable ways to sing the refrain. Her "Summertime" was gorgeous. I almost cried when she sang "Je suis malade" by Serge Lama. What passion she has! What control! Gilles Vignault's, "Je vous entends" was magically delivered – her first song in the program. Her fabulous pianist from Paris barely made it in on time, and the violinist from Montreal was smiling and connecting with us all. These two consummate musicians were all too willing to give 'their Lord' what she needed, and they did so with charm and polish. What a concert!
Far more intimate and restfully low key was the concert that took place in The Flowery Brook Gardens. This lovely concert featured the Corriveau sisters with Isabeau on harp and Mélissande on viola da gamba, cello (she plays on a 18th century one) and recorder.
The program featured Scottish and Irish music from various centuries. Medieval pieces by Guillaume de Machaut and a liturgical-style lauda took us into the 13th-century. They were so lovely. The 16th-century piece, "Are you Sleeping Maggie" was beautiful, and gave us a window into Italian baroque cello and harp beauty. Plaintive pieces and spritely ones offered a delightful mix for the ear. We were wholly engaged in the performance of these two gifted musicians.
A FLOWERING OF MUSIC
I headed into the Lesley Hancock Garden to hear live traditional Japanese music performed by
the group Ensemble Matsu. The instruments were shakuhachi (flutes), Taiko (percussion),
shamisen and the koto -- two of them. Their strings set the soft peaceful tone of the music they played: one of which was Kokiriko, a 1,200-year-old song. The dancer also sang a 450-year-old song as she danced around and tapped her drum that was tied to her. The music was gentle and peaceful. (Rob: Put photos here of Japanese group. You have several photos in 2 email sendings; choose what you like)
During this concert, my attention turned to a tall lady on stilts costumed as Little Red Riding Hood; her arm was inside the big hand puppet of a wolf. It was amusing. She stood at the back of us. I thought this character on stilts would be part of the puppet show advertised at various times of the day -- the last show being at 3:00 pm -- the one I had slated in my schedule to see.
In fact, there were no puppets on stilts show at 3:00 pm, or any before that time. It was strange, as a crowd with adults and kids had gathered to wait for these wondrous creatures to appear. We were all asking each other if we were in the right garden, as there was no sign of any marionette, puppet or facsimile. Indeed the Japanese group played again. They had several performances that day. None of us could track down the event advertised as "Julie Desrosiers puppets (note the plural in 'puppets') on stilts." Then I realized that lone fun puppet wolf with the costumed lady strolling in and around the garden must have been Ms. Desrosiers. Had she lost her mates or was there no show at all? I suspect the latter. Still, it was nice to hear the Japanese music again, but some of the kids were disappointed.
Next on my list was the opera duo that was going to perform in the Flowery Brook Garden. On my way there, I was approached by a man by the name of Philippe Alaire. He asked us if we were heading toward the opera duo concert in the Flowery Brook Garden. Bingo! He was wonderful. He directed us exactly to where the concert spot was -- though we had already nailed the location of this garden. That kind of assistance is great. I also noticed that on this day some signs and placards directing people to the various shows had been set up. More of that please.
What a fabulous concert this was! This opera ensemble, called Opéra Immédiat, featured two fabulous singers: tenor Eric Thiriault and soprano Sophie De Cruz. Carl Mathieu Neher accompanied them on keyboard. Excerpts from lovely operas were sung: La Traviata, la Bohème, Le Pays du Sourire and L'Eliser d'Amore. Their voices were enchanting. Mr. Thiriault has great personality and such a powerfully rich voice. Both showed incredible volume, strength and breath control. Considering there were no microphones, and the wind presented yet another challenge, their voices carried remarkably well.
Finally, more singing and piano playing occurred in the Rose Garden. This concert was another duo that paired pianist, Jocelyne Tremblay with singer Pierrot Fournier. He presented a wonderful medley of songs by Belgian composer/singer Jacques Brel. He seemed to be Brel himself. He even looks like him. He animated each song with great liveliness and transported us to the beaches, parks, people of Paris and Marseilles, His singing of "Mathilde" was astonishing, and his own original song, titled "Béatrice," was touching. It was a tribute to his mother who "now flies with angels." His voice was similar to Brel's which made it a treat to hear and watch. Both artists came all the way from Trois-Rivières to perform. Lucky for us.
PhotoS© Ann Lozyk
CONSTANTINOPLE'S MUSIC BLOSSOMS MAGNIFICENTLY IN THE CRAB APPLE GARDEN
The mesmerizing sounds of Constantinople's four musicians playing their exotic instruments in front of a modest but appreciative crowd transformed the Montreal cozy area of crab apple trees into another world rich in melodic flavours and poetic yearnings born in countries far away, including Turkey and Iran. This internationally acclaimed group performed four separate concerts – each 25 minutes in length. They brought a mix of East Orient music that draws on the quarter-tone rich Arabic scale.
I attended the third and fourth concert sets and heard the two original compositions from two of the musicians. The leader of the group, Kiya Tobassian, played the Persian setar – one with four strings and later in the third set one with five strings.
The first piece, titled "Lumière" (an actual Persian poem) was written by Kaya who was inspired by this lovely poem. The piece conjured up heartfelt moods that seemed to reflect the burden within the heart and that on the shoulders of a man moved into lighter feelings of life's joy. It was exotic, haunting and magical in effect. He also sang in parts with reverence and commitment. This piece merged right into the composition by Turkish musician Didem Basar. Her piece was called "Devr-i-Raksan" (Raksan refers to the tempo, and the key was Hicaz – the Arabic classic set of notes that ring like their distinct scale. Didem Basar plays the kanum expertly – just as all the groups artists' are masters of their instruments. What a joy it was to hear her play with Kiya and as tambour musician Pooria Pournazeri also performed along with viola de gamba player, Pierre-Yves Martel, we were all impressed and inspired. Subtlety and expressive passion -- always restrained -- define all these musicians' approach. Since both pieces included all four brilliant musicians, this concert was wonderful to watch and hear. Wonderful rhythms and technical feats excited us all as melodies traveled into moods that offered thematic repetition within rich contrasting developments.
The third concert featured two 17th-century compositions by Marin Marias who composed for France's Versailles Court, and Dimitrius Cantemir, a Moldavian who lived in Turkey and composed for that country's court. What intriguing evocative music that came from each distinct piece.
On a truthful but disappointing note, I must comment that Constantinople deserved to have a much bigger crowd of listeners, but June 1st was the Tour de "L'Ile for cyclists; every street was blocked off, including Pie-1X (the street for the site). It was almost impossible to reach the Botanical Gardens. The car was parked over 45 minutes away on foot, and sadly, instructions upon arrival at the front desk as to how to get to the Pommetiers -- the crab apple garden were incredibly off. We were told it was right beside the lilac garden, and indeed, it was not right near it. In fact, it was by the shade tree garden. In fact, people were wandering around trying to find les Pommetiers – the garden where Constantinople was playing. No proper map guiding us to the garden was given and furthermore, I was told the second concert started at 1:30. In fact; it started at 1:00. Why aren't there a few staffers standing near the gardens where concerts and events take place to guide us. To add to this frustration was the lack of seats supplied. People had to sit on the grass, as there were only a handful of lounge chairs to sit on. Still, once we arrived there (thanks to a small sign inside a nook of another garden) and the concert started, I felt relaxed and happy we found Constantinople.
Photo © Ann Lozyk

ANGÈLE DUBEAU & LA PIETÀ
On May 18th, the Garden series of summer-long events opened up with one of Canada's most internationally renowned violinists: Angèle Dubeau. But of course, she was not alone, for she performs with her gifted ensemble La Pietà – her 'equally gifted half' – as one might say. The opening late afternoon concert featured eight members who magnificently and joyously played along
with their highly decorated chef en commande/director. She has enjoyed the prestigious title of Order of Canada since 1996 and in 2012 rose in rank to become Officer. To date she has recorded 38 albums.
This wondrous outdoor concert was held on Centre Stage; an audience of hundreds were treated to a highly appealing program of music whose first piece set the energetic exciting tone for the overall one-hour concert. It was Saint Saëns' Danse Macabre. Technically challenging, the ensemble dashed it off with high exuberance. How exciting!
Moving more into the 20th-century, the program presented a stunning musical collage from film scores, including Dr. Zhivago, The Mission, Scent of a Woman, Fiddler on the Roof, Cinema Paradiso, Romeo and Juliet, Splinter Cell Conviction and The Titanic. It was obvious from the passion displayed in the performance that the pieces strike a rich emotion-filled chord for Ms. Dubeau.
"I chose musical moments which speak to me -- music from films that particularly affect me -- great music which evokes images." (Angèle Dubeau)
Through the interpretation, the ensemble masterfully brought us to heights of rapture and sorrow along with moments of great humour, warmth and reflection.
One poignantly personal moment occurred when Ms. Dubeau spoke to the audience about her cancer diagnosis last year and the outpouring of letters she received. Le Blanc -- her latest album -- to be released in October 2014, expresses all the deep feelings she had from her illness and the massive support given. She explained that the album title comes from the colour white which for her symbolizes healing, serenity, purity and light which in turn symbolizes hope. The ensemble performed two sublimely moving pieces from the album Mario, composed by François Dompierre, and The Rain by Japanese composer, Joe Hisaishi. The subtle nuance and extraordinary expression the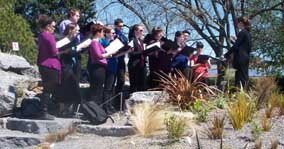 artists musically shared with us magically transported everyone into a world of many moods. Solitude, sorrow, beauty and resilience – this is the world of drama and calm – the world Angèle Dubeau & la Pietà brought to us in this unforgettable concert.
Two other intimate concerts preceding this outstanding concert took place in both the Alpine Garden and the Lilac Garden. Inside the Alpine area, birdsong was complimented with the lovely voices of the unique choir, Voces Boreales. Ressurecting Latin language hymns of solemnity, the singers' harmony was magisterial and texturally transcendent. Reverent and serene, the performance was truly inspiring. The overall effect suited the intimate surroundings of this cozy yet noble garden.
The mood changed with the amusing and highly energetic Québécois group, BarbuZébelle. Accordian, guitar, fiddle and vocal brought to life the traditional music of Quebec, Scotland, Ireland and England. Acadian flavours enlivened the music which also backed-up the featured story-teller of this unique group, Benoit 'Bison' Davidson. He related his two original stories in the title piece, Création, along with Ciel Bas -- a First Nation's story. This story-telling ensemble is fun and talented.
The floral wonders, the artists and the splendidly sunny day made the first concert for the Arts Put on a Show series an extraordinary experience. My five senses were satisfied to the max.
Photos 2 & 3 © Luc Robitaille
Photos 1,4 & 5 © Ann Lozyk