FROM THE BLOGOSPHERE
arts and culture
with

ANDREW HLAVACEK
Sophistication is the ability to approach culture
with the minimum amount of anxiety.
Northrop Frye.
_________________________________________
SEPT. 26 -- MOBY DICK directed by Dominic Champagne
It is a story of dark obsession, vengeance and of youthful desire for adventure. Herman Melville pits Man against Nature in this classic cautionary tale which writers Dominic Champagne and Bryan Perro strive to bring into a 21st century context in TNM's inaugural production for the 2015-2016 season.

Melville's novel recounts the story of Ishmael (Steve Gagnon), a youth in search of adventure who turns to the sea and the world of commercial whaling. Impressionable and romantic, he winds up on the Péquod, with its rough crew led by second mate Stubb (Sylvain Marcel), sanctimonious first mate, Starbuck (David Savard) and brooding captain, Ahab (Normand D'Amour). While Starbuck steers the ship's course towards commercial success, Ahab's motives are darker and more personal -- to find and kill the elusive monster whale, Moby Dick, that had previously attacked and disfigured him.

Moby Dick is not an easy text. Starbuck's insistence on industrial efficiency clashes against Ahab's Old World romantic mysticism of the sea. Superstition and religion also clash while Melville throws in generous dollops of exotic culture in the guise of Polynesian Queequeg (Jean-François Casabonne) who espouses black magic and cannibalism, contrasting sharply with Starbuck's Puritan work ethic.

Indeed to bring all of these various themes into play Perro and Champagne pack in as much dialogue as they can, resulting in stilted pacing where long periods of verbal exposition are pierced by instances of intense, violent, frenetic activity. While the actors do an impressive job in attempting to balance these opposing poles, the dramatic effect is somewhat stifled under the weight of the information the play attempts to transmit. To add to the mix, the off-stage live soundtrack is incessant as are the whale vocals of Frédérike Bédard. No doubt, Bédard has an impressive range. However, after several repetitions, the vocals become a predictable trope that only contributes to an already cluttered soundscape.

Moreover, all of that information goes to show how entrenched the belief in the supremacy of man over Nature was in the 19th century -- ideals further underscored by the ecstasy with which the crew carry out the task of hunting the whales. All of this may strike a modern spectator as rather pointless, not to mention odious. More odious still is the seeming lack of imagination with which 'exotic' characters like Queequeg are written. His character reads and behaves like the stereotypical 'Injun' found in 20th century media. That he is also written to provide comic relief with his ubiquitous utterance of "OK" is altogether unfortunate.

Unquestionably, Moby Dick attempts to provide a popular spectacle. In this the production is somewhat successful, with Champagne's impressive mise-en-scène that uses all of the modern tricks of the trade. The harpooning scenes are cleverly executed and plenty of water is used, creating a very visceral representation of the sea. However, the play undercuts itself by its own insistence on detailing the numerous motives that animate its characters. In the end the play merely presents the novel's central themes rather than engaging with them; despite all the heavy talk, the play remains a grand adventure driven by youthful romanticism and an old man's vengeful folly. In this, the warning against man's rapacious appetite for natural resources not only becomes a footnote but an anachronism given the amount of energy expended to portray the ecstasy of the hunt. In refusing to address why the whale -- Nature -- is written as 'monstrous' to begin with, Moby Dick merely regurgitates a 19th century ethic, without criticism and with too much noise. Moby Dick runs at TNM until October 17, 2015. http://www.tnm.qc.ca
2015 LES FRANCOFOLIES DE MONTREAL
JUNE 17 -- ALACLAIR ENSEMBLE
From year to year, one will find the usual suspects of sorts at Francofolies and this year is no exception. A language-specific music festival will indubitably strive to feature the best (and most commercially successful) talent of Québec and other Francophone communities in Canada, as well as the global francophonie. The real gems, however, are often found away from paid venues and the main outdoor stage which tends to feature more popular, universally palatable acts. Last Wednesday's late evening show on the Scène Bell, directly behind the SPVM headquarters, is a perfect example -- and what better stage than this one for a hip-hop show.
The group in question is Alaclair, a collective of rappers that have, since 2010, created a unique, politically and socially charged style of hip-hop that purports to mix Québec's oral tradition of rigodon and Detroit inspired hip-hop. Alaclair's so-called 'post-rigodon' blends the type of self-referential myth making found in hip-hop collaborations like Deltron 3030 with irreverent jibes at the social and political structures of Québec and Canada at large -- and, yes sometimes they do break into spontaneous spells of rigodon.
The core of this reformatting of identity lies in the redefinition of the historical colonial entities of haut and bas Canada. Haut Canada is associated with the current wave of conservatism and Anglophile adherence to the British monarchy, while Bas Canada is defined as the 'homeland' of post-rigodon, and all the multi-ethnic, multi-lingual cultures of Québec. Bas-canada, however, is actually the ship of state on which Alaclair sails, and whose synthesized identity is a mix of what the group believe to be real Québecois values (diversity, independence, respect of individual rights and a collective social vision), and a farcical fusion of various regional differences and delineations as seen through the lens of the group's slang lexicon. Alaclair uses this identity to simultaneously poke fun at our collective conceits, while delivering some scathing criticism of what they feel is going wrong.
With three full length albums out since 2010, Alaclair is not showing signs of weakening. Their website is an introduction to their world and includes a glossary of terms they developed and use in their lyrics. Often hilarious, and bordering on the zany -- especially in their loosely choreographed and hyper-energized stage act -- the hyperbole of some of their material transcends hip-hop to rest firmly in a Québec comic tradition that touches circus and improv.
What does all of this mean to a spectator, who happens upon Scène Bell at 11pm on a Wednesday evening? The smell of marijuana wafts through a crowd who enthusiastically recites the lyrics to the ensemble's well known tracks. The attitude on stage and in the audience seems less confrontational and more conspiratorial, as if everyone is in on the joke. The crowds are mixed, convening from across generations and genres. The show is at once serious and humorous with a lot of improvisation that touches the ridiculous.
Above all, the beats are tight as is the rap. The transitions and breaks -- slightly ragged at times -- are for the most well executed (props to the DJ). The guys on stage obviously know each other well. There is a sense of collective effort without much grandstanding and the stage act is organized, coherent and visually entertaining. In short, a great show and a pleasant discovery of this hip-hop vision, universal in its scope and inspiration and specific to the issues and politics of les babouines et babouins -- meaning all of us who happen to live, play, work and pay taxes here in Bas canada and who are hip to Alaclair's jive.
______________________________________________
MAY 17 -- THE TASHME PROJECT: THE LIVING ARCHIVES, Julie Tamiko Manning, Matt Miwa
Presented at MAI (Montréal, arts interculturels) until May 17th, is a two-person show about the internment of Japanese-Canadians during the Second World War. This deeply personal project was created by Julie Tamiko Manning and Matt Miwa, both descendants of Japanese-Canadian parents and grandparents who lived first-hand this period of upheaval and destruction of Japanese communities.
Through dozens of interviews over the course of several years, both creators trace their families' interment to a Vancouver Island camp called Tashme. During the play, they act out these interviews, taking turns to embody their subjects and tell their stories.
These personifications move beyond documentary theatre to become auto-ethnographies. Manning and Miwa assemble their own family histories through the archive they've collected as well as the anecdotes they perform on stage, simultaneously giving voices to their community's suppressed history. In so doing, performance of The Tashme Project embodies the archive it constructs, evoking, variously, the emotional contexts and personal subtexts of lived experience.
The play makes clear that government policy at the time had been designed to create a cultural genocide. Internment was a first step that sought the physical destruction of communities through disenfranchisement. In the post-war period, the policy of dispersal -- programmed isolation -- and repatriation, fully severed cultural, familial and community bonds. Finally, the unchecked racism and prejudice against people of Japanese descent after the war, consequently motivated inter-marriage as Japanese-Canadians sought to blend into the communities in which they found themselves.
The play is well directed by Edmonton-based Mieko Okuchi and enriched by great lighting and stage design. The recurring figure of the origami crane is a strong cultural identifier as well as a poignant symbol of Miwa and Manning's efforts to give voice to the suffering of their ancestors and to honour their wounded community. Touching, informative and fascinating in its approach, The Tashme Project: The Living Archive is a very worthwhile and humbling experience. For more information, visit http://m-a-i.qc.ca/en/.

MAY 10 -- AN ADVENTURE ON STAGE: TOUR DU MONDE EN 80 JOURS, Hugo Bélanger, Théâtre Tout à Trac, Théâtre du nouveau monde
Hugo Bélanger's company, Théâtre Tout à Trac has cemented a reputation for tackling projects that are difficult to stage. From Alice in Wonderland to Baron von Munchhausen, it can be said that the company specializes in material heavily dependent on imagination and fantasy. Jules Verne's classic Tour du monde en jours (Around the World in 80 Days) therefore seems like a perfect challenge for Bélanger and his team.
French author Verne's popularity is universal. He is the second most translated author in the world after Agatha Christie and regarded generally as one of the progenitors of modern speculative fiction. Verne's stories challenged his contemporaries' imaginations by expanding upon then modern technology and looking beyond into a future that pushes these technologies even further. Verne looks ahead at the potential problematics of the industrial revolutions's philosophy of control by consistently challenging his characters with the unknown and exploding their certainty and arrogance. While Around the World in 80 Days is most certainly a 19th century French poke at English stuffiness, it is also an acknowledgment of Victorian England's preeminent place as the superpower of the time.
Enter Philéas Fogg (Benoît Gouin), a supremely wealthy member of an exclusive London club -- The Reform Club -- who bets three influential members (also representing the business élite of England) half of his fortune that he is able to circumnavigate the world in 80 days. Fogg's confidence is total as is his belief in his ability to control every factor of his voyage down to the last second. He engages the wandering jack of all trades Jean Passepartout (Stéphane Breton) -- whom he finds looking for work at the club -- to accompany him and sets off in a flurry of timetables and precise calculations.
The story takes Fogg and his manservant from London, to Suez, Bombay, Calcutta, Hong Kong, Yokohama, San Francisco and New York before crossing the Atlantic to complete the voyage. Bélanger and company's stage design and mise-en-scène replicates this journey through representations of various theatrical traditions from around the world in order to situate the audience without overly complicated sets and props. In fact, the stage design and mise-en-scène are as wondrous as Verne's novels must have been. In each of the dozens of tableaux, items transform from crates to office desks; trunks transform into armchairs; instruments into beer barrels and elephants' trunks. The constantly shifting, minimalist sets create a fast paced dynamic that creates a real sense of movement and travel.
All through this, a cast of four people -- apart from the four main characters -- become dozens, and form the cultural backdrops through which Fogg marches with Passepartout in tow. Using puppets, shadow theatre, and adaptations of folk dances and various cultural traditions, each stop on the leg of the journey becomes a window into a culture, eventually coming to resonate in Fogg's mind. The physical voyage transforms into a voyage of self-discovery -- discovery of a global complexity that Victorian arrogance and chauvinism works to replace with a hyper-rationalist, technocratic superiority.
The catalyst of this growth is Verne's indispensable Princess Aouda (Tania Kontoyanni) -- an Indian princess and wife of a recently deceased maharaja, who is destined to a ceremonial death in order to follow her husband into the afterlife. Cultures clash here and Fogg's European rationalism steamrolls over this tradition, deciding to 'rescue' her. By doing so, he inadvertently uproots Aouda from her native culture, forcing her to take to the road along with Fogg and his manservant. To further complicate things, Fogg and his crew are continually accosted by an Inspector Fix (Carl Béchard), a London super-sleuth who is convinced that Fogg is the culprit behind a recent robbery of forty thousand pounds from the Bank of England.
The spectacle is truly fun to behold and the costume changes and transitions are nearly seamless. The mise-en-scène is at times quite abstract, which seems to further reinforce Bélanger and company's interest in the imaginary, challenging the audience to fill in the blanks. The mechanical precision that animates Fogg's Being is cleverly mirrored on stage in the precision of the constantly transforming stage.
There are, of course, several problems with the material and these lie mainly in the various cultural representations. While Bélanger has stated his disinterest in cultural precision -- preferring a broad brush with which to paint his strokes -- a 21st century audience may nevertheless cringe at representations of native cultures that conflate Sioux-Lakota language with Kwakiutl ceremonial dances. Equally uncomfortable is the humorous non verbal communication of the 'natives' in India and the Middle East. It seems fair to expect that a production taking the pains to translate text into Sioux-Lakota and Mandarin could have perhaps accorded the same respect to the rest of the world. That a foreign language can sound incomprehensible is nothing strange in itself; yet, it becomes decidedly more objectionable when it is used as the locus of comedy that in turn creates a caricature of a culture and a people.
The audience reaction to these various devices point to fairly serious ambiguities in the script and stage direction, begging the question whether these representations were conscious or accidental. It is therefore difficult to remain ambivalent to the power politics of the play. While the source text could perhaps be excused for various Euro-centric and perhaps racist representations, a modern production that sought to re-work the original ought have shown a little more cultural sensitivity.
The performances err on the side of bawdy humour, caricature and even burlesque, making this a play, which, despite some profound considerations, rests very much near the surface. Ethno-cultural issues -- which will surely elicit quiet groans from among the more culturally sensitive -- aside, Tour du monde en 80 jours remains a superb show with spectacular stage design and innovative mise-en-scène that truly captures the sense of movement and travel. The play, presented at Théâtre du noveau monde, runs through May 23rd, 2015. Please visit www.tnm.qc.ca for ticket and show times.

MAR. 24 -- THÉÂTRE DU NOVEAU MONDE'S BRILLIANT RICHARD III, Brigitte Haentjens, director
TNM's production of Shakespeare's Richard III is a master class on staging a classic play with a modern mise-en-scène. From set design and stage direction, to costume, music, lighting and choreography, director Brigitte Haentjens' version of this most famous of Shakespeare's historical plays is a great example of how minimalist staging and simple design elements combine to draw an audience into a play's world and focus its attention on the action.
The complex character of Richard, Duke of Gloucester -- who usurps the English crown becoming Richard III -- poses particular challenges. Though superficially a murderous psychopath, who will let nothing stand in his path to the crown, Shakespeare's Gloucester is also a deeply scarred human being who is stigmatized by his disability and ostracized for his recalcitrant character. It is thus difficult to judge how this monster came to exist, but, in 15th century terms, Richard was a freak of nature whose deformity was seen as a curse from God. Thus, rather like Beowulf's Grendel, Richard can be understood as a monster who takes up the mantle of his own perceived monstrosity.
Haentjens' Richard is similarly nuanced. While noting that she initially understood him to be an undeniable psychopath, subsequent readings unveiled a "richer and more paradoxical" character for which the pursuit is itself the goal -- and one that loses all luster once achieved. There is an undercurrent, in Haentjens' Richard, of vindictive rage, petulance and resentment that subverts his cool, scheming surface to betray a more complex, and ultimately more human character. Though not overtly tragic in the tradition of a Lear or Macbeth, Richard's tragedy lies in his conscious choice to descend into his rage and become the monster he is assumed to be.
All of this dark vastness is brought to stage by Sebastien Ricard's phenomenal performance, whose powerfully physical interpretation sees Richard contorted, limping, weak and unsteady on his feet. In monologues, we meet the Machiavellian schemer -- clearly far more intelligent than his kin -- who makes light of the ease of orchestrating murder and forcing others to submit to his will. In other scenes, however, we see the deep resentment, hurt and anger caused by years of abandonment. We are led to believe that this is a game for him, yet, we understand that the game is deeply personal.
In several important scenes, Haentjens steps out of her comfort zone to deliver incredibly physical and visceral performances, some of which are quite disturbing. One great example is Richard's seduction of Lady Anne, played wonderfully by Sophie Desmarais, who proves equal to Ricard in her physicality. The scene successfully negotiates a chief obstacle in Richard III -- Anne's totally unbelievable conversion from vengeful widow to submissive object -- by focusing on the physical struggle between her and Richard. Desmarais and Ricard masterfully bring out the physical and internal struggles of the two characters, though it is by no means easy to watch someone being stripped of her agency and autonomy. Equally troubling is the violent confrontation between Richard and Queen Elizabeth (Sylvie Drapeau) when he unveils his plan to legitimize his royal line. These two scenes give the most terrifying glimpse into the depth of Richard's monstrosity, one that grows exponentially when he finally finds himself, alone, paranoid and dissatisfied, on the throne.
Despite the aforementioned exceptions, the staging remains generally static, with Haentjens seeming to prefer her actors arranged as if in a tableau. While this arrangement does work to cast a virtual spotlight on Richard, it nevertheless relegates others to rather statuesque roles. Since Ricard's energy and presence is so consuming, one hopes that other actors gain confidence during the production's run to display their talents more clearly and confront Ricard's energy more directly.
Despite these rather small details, Richard III is nevertheless brilliantly produced and directed. The minimalist stage is contoured to maximize the fluidity of scene changes and provides a marvelous surface on which action can develop. Haentjens exploits elevation in many scenes with multiple characters and gives a physical dimension to Richard's manipulations as he often skulks in the background only to enter the action from odd angles. As if in conscious contrast to the mostly static dialogue scenes, Haentjens delivers highly dynamic battle scenes that must be experienced. The staging also highlights the magnificent costumes by Yso. Thoroughly modern in cut and form, they nevertheless reference Elizabethan fashions, and their brocaded patterns transform in hue and sheen in different lighting against the black background.
As with nearly any production of Richard III, Haentjens' version makes very particular editing choices. While most productions cut the role of Queen Marguerite -- Henry VI's widow -- Jean Marc Dalpé's excellent translation retains this most important role that informs a great deal of the subtext of the current plot. Marguerite's contempt for her family extends beyond Richard, to show a continuum of intrigue, manipulation and familial violence that has left her a widow with murdered children, and ungrateful heirs who all have blood on their hands. In this context, Richard's conquest of the crown seems but a continuation of the bloody conflicts recently past. Richard III is an important play and should be seen. It runs through April 4th 2015 at TNM before going on tour to the National Arts Center in Ottawa.

MAR. 19 -- LANG LANG SOLO 2015
Bach: Italian Concerto, BWV 971
Tchaikovsky: Les Saisons, Op. 37bis
Chopin: Four Scherzos
During his visit to Montreal, Lang Lang has once again demonstrated a giant talent, immense love and deep respect for the music he performs. We can tell ourselves many stories about propriety, however, when witnessing fabulously talented people perform -- be it in feats of amazing sportsmanship or artistic performance -- it often does not look pretty. It is just that.
In Friday's solo recital, Lang Lang returned to revisit three loves: his perennial favourites, Bach and Chopin, and the OSM's incredible Steinway Concert grand. In 2012, audiences were treated to Bach's Partita 1 and Op. 25 of Chopin's Études, several of which like No. 11 redefined understanding. This year, he returned with Bach's Italian Concerto, and Chopin's all four Scherzi, all of which he gave a unique, often bombastic treatment.
Though surely not alone, Lang Lang is nevertheless singular in his approach to the works he chooses, demonstrating a deep understanding of the history of music, allowing him to penetrate to more fundamental levels of each text. What seems at first strange -- as in the nearly unreal tempo of Op. 25 No.11 -- announces a paradigm shift that unlocks an as yet unheard subtlety. It is generally accepted that literary texts may hold more than what their authors intended. Similarly, dynamics, conventions and temporal indications may have been a composer's intentions; however, by subverting these mostly inherited conventions, the works may, today, fulfill an undreamed of and, as yet unrealized, possibility. This is Lang Lang's vision and he is convincing most of the time.
The stunning contrast between Bach and Chopin -- separated by a gulf of more than a century -- made the recital fascinating as it applied this subversive tendency to starkly different eras with uncanny success. In Bach's Italian Concerto, the strongly accented left hand along with carefully chosen temporal alterations -- especially in the external movements -- brought out an unexpected exuberance. Lang Lang pulled his punches in the Bach, shortening notes to near staccato with added force that paid direct homage to the work's original conception for a 2-manual harpsichord set to different registers. Bach's idea for the concerto as an orchestra compressed into one instrument, thereby became more clearly articulated and incredibly exciting.
As forceful as Lang Lang can be, his playing does not feel obstinate; he does not attempt to break the text to his will. Through his clarity of expression and incredible dynamic control, his arguments for interpretation are transmitted with the absolute sincerity of discovery as if saying, "See, here, what I found? Please let me show you!"
What Lang Lang discovered in the four Scherzi is a vast store of energy -- a frenzied, consuming, nearly untamable darkness that can overwhelm, if not tempered by a forced tranquility. The Italians developed the scherzo -- meaning 'joke' -- as a fast, lighthearted form that was to transmit humour. Whatever humour there is in Chopin's scherzi delivers a forceful punchline and perhaps sees only one person laughing. In this context Scherzo No. 2's opening, for example, becomes a mysterious hide and seek game that turns rather terrifying. The blistering pace of the main theme's exposition, which when played slower is almost dancelike, becomes a mocking deconstruction of dance.
Playing in these huge contrasts, Lang Lang nevertheless evolved each Scherzo's trademark theme with aching care. Presenting each passage in a slightly more disjointed manner, with more violent dynamic changes, the pianist exposed more directly the underlying violence and tension underpinning the whole of each Scherzo. He thus argues that Chopin's Scherzi ought to be taken at their original meaning, but, that one must be willing to accept that the jokes come from a deeply unsettling place of darkness and emotional excess expressed through self-deprecating humour, biting irony and bitter sarcasm. In short: a truly disturbing and utterly unforgettable experience.
Given these poles of incredible performance, it is difficult to integrate Tchaikovsky's monstrous Les Saisons. Not to suggest that the suite of vignettes evoking themes from each calendar month (the original was called Mesici, meaning 'months') is less worthy material; rather, that the sprawling 40-minute run time may have been a little too much for an already challenging programme. Replete with beautiful themes intertwined with grandly expressive technical passages, Les Saisons is a dense work that requires a great deal of attention. Unfortunately, after an emotionally exhausting Bach, many in the audience were perhaps wishing for snow sometime around midsummer.
With Tchaikovsky, Lang Lang came full circle and out of left field -- as he did with the Schubert during his last visit -- to make a giant statement in front of a crowd that leapt to its feet in raucous applause and would not sit down until appeased with two encores. The second encore, Für Elise, beautifully dovetailed into the overall theme of subversion by jeering wildly at its often clichéd presentation. The incredibly emotional applause that followed, permeated by whistles and cheers, signaled loudly that Montreal's audience more than understood Lang Lang's propos. Hopefully the young pianist will miss the Steinway enough to soon return.

MAR. 17 -- LANG LANG IN THE HOUSE!, Kent Nagano, the OSM and Lang Lang, piano
Though many problems plague our planet, we are very fortunate to live in an era in which professionalism, technical excellence, and mastery of a vast repertoire is expected of modern orchestras. Given the large body of scholarship that continues to inform interpretation, we no longer exist in a time where a single, "correct" interpretation of a piece of music can be demanded, imposed, or expected of an ensemble or soloist. One should therefore not be surprised by interpretations that may thwart convention.
Mozart's Piano Concerto No. 24 in C minor is only one of two piano concertos the composer wrote in a minor key. It is also considered to be among his best works. Many have put great emphasis on its dark, tempestuous aspects, which tend to define accepted interpretations. With its various unusual structural innovations, No. 24 challenged more than a few conventions of its day, and it is comforting to witness contemporary musicians such as Lang Lang take a different stance and offer fresh possibilities in the interpretation of Western music's masterworks.
Thursday's performance was ethereal not only because of Lang Lang's complete presence in the music, but also because Maestro Nagano and the OSM were equally attuned to the soloist, thus bringing No. 24 to new heights accord between piano and ensemble. This was especially apparent in Lang Lang's conversation with the winds, whose solos he matched with incredible anticipation and grace.
Lang Lang confounded the long standing view that No. 24 is inherently a sombre, brooding text. The mixture of lighthearted treatment punctuated by a boisterous, accented left hand created more contrasted dynamics and a less polished texture. These elements created a starkly different reading, one that does not assume a constant undercurrent of darkness. Instead, Lang Lang and the OSM presented a more emotional, explosive Mozart who oscillated between frenzied highs, deeper, violent lows, and possessed by fragile moments of intense yearning. This exceptional interpretation of No. 24 should not be mistaken for youthful folly; rather, Lang Lang seems to have made specific choices that more closely connect with a historical Mozart whose anxiety and darkness often seems to have been subverted by extravagant exuberance and derisive, base humour.
There was phenomenal energy in La Maison symphonique -- one that must surely have had an effect on the symbiosis on stage. Beginning with a fluid, delicately accented, Haydn Symphony No.30 in C major, the orchestra then added 23 members, arranged on a single level stage, for Edgar Varèse's iconic Amériques. Last performed in Montreal in the 80s under the baton of Charles Dutoit, Nagano did well to prepare the audience for Varèse as few people were ready for the massive onslaught of sound, exotic percussion, sirens, straining strings and huge dynamics. The piece is a seminal work by the modern French composer, who was so affected by the urban cacophony of New York that he sought to develop an instrumentation adequately evocative of the 'urban nature' he experienced and for which the Romantic musical notions of Nature had no answer. The OSM and Maestro Nagano did great justice to a composer whose work is today regarded as a major influence on modern orchestral music.
Returning to more classical themes, the orchestra tackled Prokofiev's delightful 'Classic' Symphony No.1 in D major, which seeks to expand on Classical structures with a modern harmony and instrumentation. It is both homage and satire, continuously challenging the classical ear with hints of discord, chromatic anomaly and jabs at classical cliché -- the last of which is particularly evident in the Larghetto. The orchestra obviously had a great deal of fun with Prokofiev -- as did their conductor who, unusually, pranced upon the dais in moments of particular intensity.
It is quite evident that Lang Lang enjoys performing in Montréal. Equally evident is Maestro Nagano's warm relationship with the pianist as well as the orchestra's respect for him. In all, the fit could hardly have been better and the audience was treated very memorable performance. Not to be missed: Espace musique 100.7FM will re-broadcast the concert on April 13, 2015 on its Soirées classiques program.

MAR. 14 -- IN DEFENCE OF EXPRESSION AND "SOUL," Lang Lang and Body Language
A grand week for classical and orchestral music has concluded with three concerts given by Chinese piano superstar Lang Lang. Grace of the incredible generosity of the Larry and Cookie Family Foundation who sponsor the young pianist as the foundation's artist in residence, La Maison Symphonique staged two concerts with orchestra and piano Wednesday and Thursday, followed by a Lang Lang solo recital last night. Upon reading some curious objections to Lang Lang's body language and performance style in some major Montréal dailies -- and subsequently overhearing these same criticisms repeated among concertgoers -- this present article takes pause to offer a different perspective.
Lang Lang occupies a curious place in the world of classical music. Though undisputed genius and brilliant interpreter, he nevertheless continues to be called out for being a showman -- a "rock star" -- whose stage presence detracts from his virtuosity. It seems that his mannerisms, gestures and demeanour on stage -- a vivacity that has endeared him to audiences worldwide -- continues to disturb certain critics who find it self-indulgent, irreverent and even distracting.
Lang Lang is young and dynamic. He does not hide his enthusiasm; rather, he uses it to inspire audiences -- especially young audiences -- to enter into their own communion with music. In China he has sparked a revolution in classical music teaching with hundreds of thousands of kids taking up his chosen instrument. He -- like Montréal's own superstar, Yannick Nézet-Séguin -- donates his time to work with young performers and ensembles because he wants to share his passion.
Therefore the debate about propriety in what is surely considered by many outsiders as a stodgy, conservative world, rings somewhat false. Worse, there may even be a double standard that many insiders are loath to admit, leaving room for some established critics to persist in framing Lang Lang's performance as narcissistic -- that of one who likes the sound of his own playing. Curiously, no one has levelled the same accusation at Nézet-Séguin though the conductor's exuberance, irreverence and unbridled passion resemble Lang Lang's in many respects.
Elite performance, in any musical genre, is often the domain of genius. Hypersensitive, expressive people, who interpret gigantic works of music, all have their idiosyncrasies -- one only needs to listen to a recording of Glenn Gould to confirm this. A few weeks ago, Montréal's audiences were treated to a great performance by the ageing -- animated, smiling and humming -- Emmanuel Ax. Nothing, however, was made in the press of Ax's performing style, even though his rather obvious vociferations should have prompted similar grumbles for -- if we are to use the same yardstick -- obviously the man enjoyed hearing himself play!
Why does the classical music world appear to have a selective problem with the physical expression of music? Why is it that some are scrutinized more than others? Is it because they do not conform to the establishment's view of how an artist should comport him or herself? Are there other factors at play?
We are generally accepting of physical expressions of music though only in certain genres. We do not begrudge jazz musicians or blues artists their body language; no one has ever accused Ray Charles of "swaying funny and smiling" while doing what he does, never mind the world of electronic or rock music. Thus far, eccentricities in classical performance have been variously explained away or wilfully ignored until, it seems, a young Chinese man took the classical music world by the horns and made it his very own.
Western music -- perhaps any music -- is subject to interpretation and re-interpretation and given that styles, attitudes and tastes change, one cannot fault Lang Lang for his artistry: one can merely disagree. Still some continue to feel entitled to subject the other, integral, aspect of his artistry to undue (and, it must here be stated, unfair) scrutiny. How can one celebrate an artist's virtuosity and criticise him for an extension of that virtuosity? Is it because, although classical music purportedly deals with the highest forms of human emotional expression, it is loth to admit that space exists for "soul"?
The debate about the propriety and sincerity of Lang Lang's performance style should, itself, be deemed inappropriate; instead his body language should be considered – as such it truly is -- an extension of his emotional expression and connection with the music, the orchestra and the audience. And in this, he is flawless.

FEB. 27 -- OLDER, Yael Naim
Over the course of their collaboration, French-Israeli singer-songwriter Yael Naim, and long-time writing partner David Donatien have developed a particularly appealing style of impish vocal melodies set to catchy instrumental arrangements. It is perhaps because of this combination that Apple chose "New Soul," from the 2007 album Yael Naim et David Donatien, as the theme song for their launch of Macbook Air in 2008. Far from being one-hit wonders though, they continue to craft and evolve this sound to this day.
"New Soul" exemplifies a core vocal and instrumental trend in Naim and Donatien's music, although it is only one dimension of their versatile song writing. The two find inspiration in gospel, jazz, folk and blues alike. Venturing into more traditional structures, Naim confidently draws on her classical training to create elaborate vocal and instrumental arrangements.
Yael Naim's fourth studio album, Older, -- and the third co-produced and co-written with Donatien -- follows 2010's critically acclaimed She Was a Boy, which won her best female vocalist award at the 2011 Globes de Cristal (France's Grammys). Though the affirmative innocence of Naim's vocals and her trademark, playful and upbeat, melodies continue to anchor the musical narrative, these elements are heavily tempered by more sombre themes and further experiments with orchestration and musical genres.
Yael Naim thus shifts gears in Older, turning out more self-reflexive, less idealistic material. Songs that may seem light-hearted are, in fact, underscored by a deeper resolve that reveals greater confidence and maturity. Tracks like, "I Walk Until" and "Dream in My Head," speak to life lessons learned the hard way, giving a sense, in lines such as, 'now I might lose myself/but no longer need to hide,' that one is listening to a diary set to music.
Naim cuts loose, showing her range and versatility in the brilliant "Trapped" whose themes and music are reminiscent of the raw frankness of Winehouse and the soulful power of Adele. "Coward" is a force of musical complexity and intricate vocal harmonies, showing Naim's talent and familiarity with classical music. This song, above any other, exemplifies the confidence that lies at the core of the album as a whole. Ending on a deeply personal note, the title track "Older" and "Meme Iren Song," deal with ageing and loss. Naim too is older and these themes show the shift in values and priorities that signal a new maturity. The power of the album lies precisely in this contrast between deceivingly simple, beautifully orchestrated, melodies and airy vocals whose unpretentious lyrical sincerity resonates in often personal, and painful subject matter. "She Said"'s tuba bass line, contrasted with Naim's soft vocals and the 3some Sisters' precise harmonies, makes lines like, "It's what you find, when you're low/that makes you grow," all the more poignant. The double entendre is found throughout the album, making for a deeply moving experience that keeps evolving with repeated listening.
Older is a very soft-spoken statement, which can be missed without close listening, for the overly easy-going and uncomplicated surface of Naim and Donatien's rich soundscape can deceive the listener into dismissing the broader, deeper and altogether profound substance found in every track. Older is available on March 17th, 2015.

Feb. 25 -- MOLIÈRE RELOADED: THÉÂTRE DU RIDEAU VERT'S THE MISANTHROPE, Michel Monty
Molière, like Shakespeare, is perfectly suited to reinterpretation. Though systems change along with ideologies, human nature remains, often working to confound and explode our more 'refined' pretensions. And so Molière, like the Bard, mercilessly satirizes our essential humanity, drawing out the eternal paradoxes that resonate across the ages, whether at a royal court, a parliament house or a dinner party at the in-laws'.
Enter one of Molière's great anti-heroes: Alceste (François Papineau). Sickened by the moral failings of the French aristocracy, he lashes out against politesse, insisting on utter frankness as a salve for the hypocrisy of others. He longs for a nobler world where truth, genuine affection and honesty reign. In short, he drives himself to distraction by the faults of others without necessarily examining his own too closely.
The core of Molière's comedy lies in the complex courtship of Célimène (Bénédicte Décary) who is the object of Alceste's affection. Though he worships and adores her, Célimène's tacit acceptance of, and participation in, élite Parisian society is as distasteful to him as is the presence of his rivals, Oronte (Stéphane Jacques), Acaste (Luc Bourgeois) and Clitandre (Frédéric Pierre). While he demonizes them for their vacuous hypocrisy and ulterior motives, his own are not so pure; he means to get rid of them out of jealousy and possessiveness. Hypocrisy becomes the white elephant in the room, which everyone but Alceste seems to accept.
The cast is very good indeed, with frequent flashes of brilliance. Nuanced delivery beautifully animates Molière's verse and succeeds in imbuing the poetry with a conversational quality that is a joy to experience. Papineau and Décary are great in their lovers' duels, with Décary often coming out on top with her range of expression. Regrettably, Papineau's over-focus on Alceste's anger tends to flatten his character in contrast with other cast members, who better evoke the more sinister dimensions of their characters. Stéphane Jacques' Oronte shows glimmers of menacing malevolence that are a pleasure to behold.
Likewise, Isabelle Vincent is very good as self-righteous Arsinoé and even better when she bears her fangs of envy and ill will. Luc Bourgeois plays the marquis Acaste with a deliciously self-assured petulance. It is understandable then, that David Savard's overly subdued Philinte, and Frédéric Pierre's all-too-phlegmatic Clitandre appear somewhat flat alongside other performances.
The Parisian salon is transposed to a luxurious loft in Montréal's Old Port, whose inspired interior beautifully mixes styles to reference Louis XIV opulence within a sleek modernity. Consequently, set design and costumes make hilariously ironic statements that otherwise would have been lost in a period production. Finally, while pushing the comic aspects of Molière's characters to the forefront, director Michel Monty never allows the comedy to devolve into farce thus creating razor-sharp satire that is ever so poignant. Together, Théatre du Rideau Vert and Michel Monty do Molière great justice. Do not miss Le Misanthrope, which finishes its run on February 28th, 2015. http://www.rideauvert.qc.ca

JAN. 18 - LE JOURNAL D'ANNE FRANK directed by Lorraine Pintal
The story of Anne Frank occupies a special place in the Canadian context. This country's connection to the Dutch struggle against the Nazis and its granting of asylum to the Dutch Royal family have forged a deep bond. Though not among his renowned works, French author and playwright Éric-Emmanuel Schmitt's Le Journal d'Anne Frank is not only an homage to young Anne's hopeful vision for the world, it is also a meditation on loss, memory and paternal love. It is therefore all too fitting that Schmitt's play see its North American
première here at Montréal Théatre du Nouveau Monde (TNM) in the year that will commemorate the 70th anniversary of the end of the conflict that saw millions of lives extinguished.
The play opens on a frantic Otto Frank (Paul Doucet) waiting at the station amidst the flux of displaced people flowing back into the Dutch capital. Survivor of the camps, he makes a daily pilgrimage to the station in desperate hope to reunite with his daughters Anne (Mylène St-Sauveur) and Margot (Kaisa Malinowska). Each day he returns dispirited to his company office where his longtime assistant, Miep Gies (Sophie Prégent), attempts to keep hope alive. It is not long before we learn of Anne and Margot's deaths. This sends him into dark grief. Trying to console him, Miep gives Otto Anne's diary, one she had locked in a drawer following the family's arrest.
Thus begins the main propos of Schmitt's play. Otto struggles to reconcile with his loss through peaks into Anne's diary. Each part he reads stirs vivid memories of the family's exile in the 'Secret Annexe.' However, he discovers much more: a daughter's love for her father, her thoughts, dreams impressions, desires -- an overwhelmingly personal and honest account of her experiences. Not only is Otto forced to accept his youngest child's death, he must also confront and accept her Self, her womanhood, her unique vision of the world that clashes completely with his loss, rage and grief.
Director Lorraine Pintal bravely tackles this tension and dichotomy at the heart of Schmitt's work, perhaps best exemplified by the play's excellent stage design, which delineates space on two levels, the company office in the foreground, and the Secret Annexe on a platform above and behind it. These two spaces animate the two worlds of past and present, memory and reality, allowing them to exist simultaneously on stage and flow into each other to haunting effect.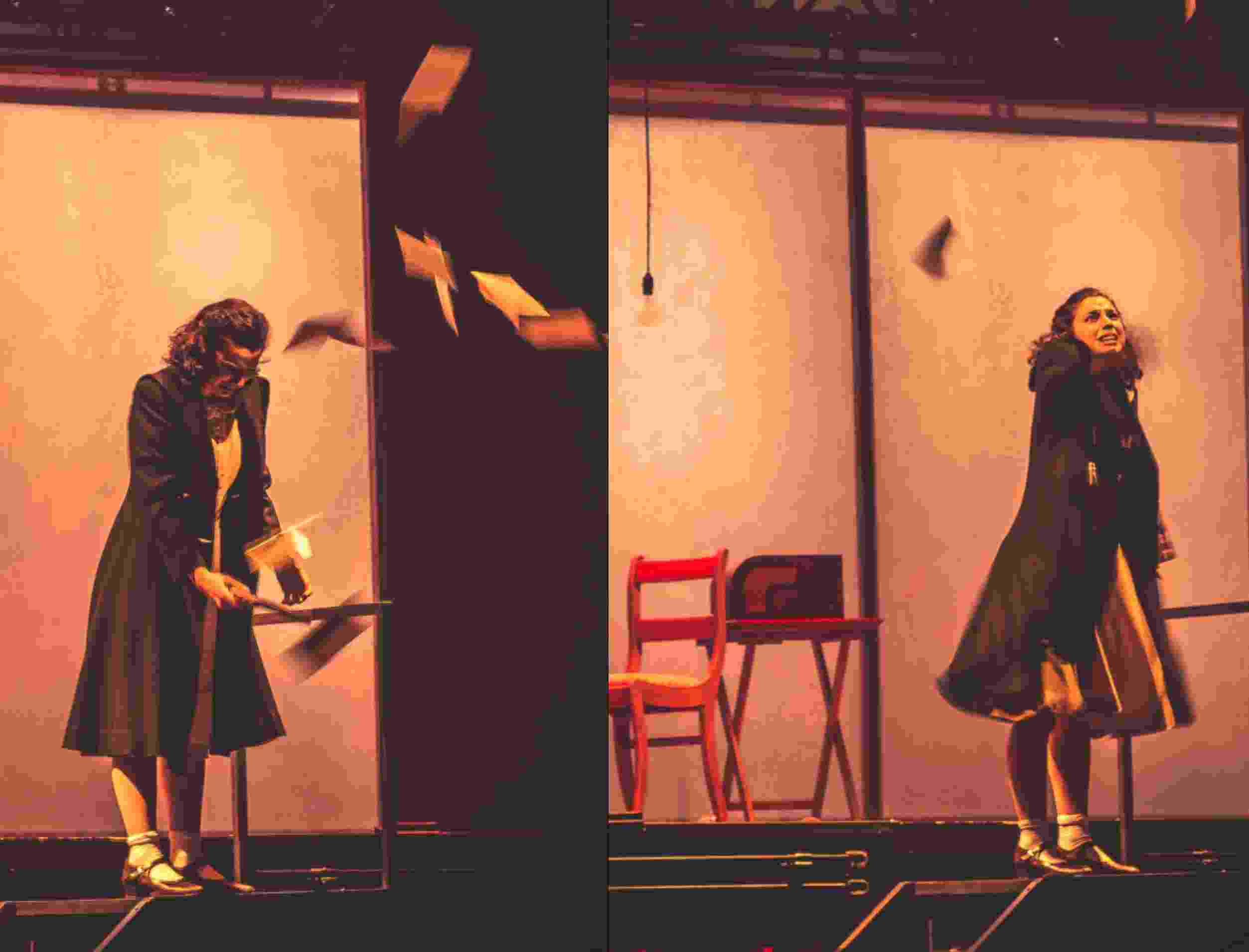 The focus of the play is Otto's rediscovery of Anne through her diary. His readings in the diary trigger memories that appear on stage as visions. This is especially poignant in scenes where Anne takes up Otto's reading, leaving him frozen on stage gazing up as his memory materializes above. Pintal's team succeeds spectacularly in conjuring up these space-time shifts through sharp, carefully-timed direction, use of multi-media and a powerful score composed by Québec artist, Jorane.
Mylène St-Sauveur delivers a convincing adolescent Anne whose strong personality and girlish frivolity often clash with those around her. Particularly touching are scenes in which Doucet's 'Otto' realizes that his little girl has a private life of desire well beyond her father's control. Though Doucet shines in these moments of being whisked away to another time and place, his portrayal of Otto in the Annexe is somewhat blander. While Schmitt's play provides plenty of avenues for comic relief, Pintal mostly uses the figure of Augusta Van Pels (Marie-Hélène Thibault) whose fussy, slightly hysterical character creates a locus for inter-personal conflict. Thibault's somewhat over-the-top delivery is thankfully tempered by Jacques Girard's laconic Hermann Van Pels who nicely fills out the bickering married-couple trope.
Overall, performances live up to the quality of the production and it is perhaps due to opening night jitters that lines don't flow as smoothly as they could, with some small lapses in timing disrupting the effect of shifting time and space so evocatively created by the mise-en-scène. With a long run at TNM followed by an extended tour throughout the province, there is little doubt that these small details will be fully worked out.
Le Journal d'Anne Frank is perhaps not for everyone. The ever-present undercurrent of the Shoah -- a painful subject at any time -- is especially pertinent in this milestone year of sombre commemoration. It is therefore not in the spirit of mourning that the play should be seen but, rather, as a counterpoint to it -- a moment to ponder the fundamentally hopeful legacy of Anne Frank and her unshakable belief in inherent human goodness that would prevail over atrocity and war's madness.
For further information about events connected with the production, please visit http://www.spectramusique.com/artistes/nouvelle.aspx?idN=158&idA=82 and https://www.mbam.qc.ca/expositions/a-laffiche/anne-frank/.
Photos© Christopher Mancini

JAN. 18 - JORANE: LE JOURNAL D'ANNE FRANK (the music)
The challenge of a soundtrack, it seems, is twofold. It must adequately evoke the visual and narrative elements of the work to which it is tied and it should also operate as an independent, cohesive work in absence of the visual dimension in which it serves multiple functions. Jorane's unlikely second album of 2014 was never intended to tackle the second challenge. It was originally conceived as part
of the TNM production of Éric Emmanuel Schmitt's 2012 play. Nevertheless, the album's creation is intimately connected with the conception of the play -- so much so that each work of art indelibly inspires the other.
Jorane has previously worked with Le Journal d'Anne Frank director Lorraine Pintal on the production of Albertine en cinq temps, in which the music played a minor role. After Pintal approached her about Le Journal, Jorane read the play several times. Profoundly inspired by the tragic figure of Anne Frank, she was immediately drawn to the project. From the outset, she was invited to participate in the readings and worked closely with the production design crew to integrate music more deeply into the narrative. Pintal's vision, seemingly always open to collaboration, ultimately allowed music to shape the space of the play and vice versa.
The album Le Journal d'Anne Frank owes its very existence to Lorraine Pintal's unequivocal embrace of Jorane's music. It was after all Pintal who contacted label Spectra and pitched the album idea.
Such an interwoven conception therefore begs the question whether the album can exist as a cohesive work apart from the theatrical ground, which nurtured and shaped it. Jorane's response is an unequivocal 'yes' in that the album project provided the space needed to follow and develop various ideas more fully than would have been possible otherwise. Using the themes present in the play as points of departure, Jorane creates thematic layers that repeat and evolve throughout the album.
This ultimately creates a unique narrative logic allowing the listener to interact with the music whether or not she has seen the play. Jorane's work on Louis Cyr: L'homme le plus fort du monde (Daniel Roby, 2013) is a milestone experience for the artist, one she sees as key in enabling her to develop the orchestrations for Le Journal d'Anne Frank. Work on the film also allowed her to use tools she would not normally use in her solo work. The result is an excellent orchestration that harnesses Jorane's trademark minimalism; the soundscapes are often wistful, contemplative and at times playful. Though there are clearly dark undertones given the nature of the story, the music never plunges into despair, focusing rather on themes of memory and love of life. Le Journal d'Anne Frank features Jorane on cello and voice, and Vanessa Marcoux, on solo violin, accompanied by the accomplished strings of the Quatuor Orphée. Colin Gagné's sound design for the play is woven into the soundtrack and adds not only greater depth and texture, but also provides (rather ironically) a supplementary narrative context allowing the music to soar far beyond the stage. The result is a moving, haunting, beautifully orchestrated and played homage to a figure that lies at the very heart of Jorane's inspiration. Currently available online and at the Théatre du nouveau monde until February 7th, 2015. http://www.tnm.qc.ca/piece/journal-danne-frank
Photos © Christopher Mancini

JAN. 13 - JOHNNY LEGDICK: A ROCK OPERA, Jimmy Karamanis, Jonah Carson, Elijah Fisch, Macleod Truesdale, Tyler Miller
Previously seen at the 2014 Montreal Fringe Festival, Johnny Legdick: A Rock Opera brings together the collaborative talents of independent theatre company, Playwright Hero, and Montreal acoustic rock trio The JEM.
Well-worn dramatic devices animate the plot of this musical play whose strength lies predominantly in well directed and cleverly written
musical numbers. We follow the struggle of a group of freaks in a circus run by the tyrannical Suckadacocka Lickadagravy (Tadzeo Horner-Chbib). The arrival into the fold of Johnny Legdick (Colin Macdonald) -- cursed with a third leg in place of his penis -- revives an ancient prophecy that casts Johnny as a Moses figure destined to lead the freaks out from bondage. First though, he must realize his true love of Hannah Handvag (Arielle Palik), who, you guessed it, has a hand in place of a vagina!
The fun at the core of this spectacle lies in the diffuse talents of the cast and crew. JEM member and co-writer Jonah Carson appears as 'Triclops Boy' in the Chorus of freaks. Co-writer Jimmy Karamanis directs the production and plays in the Johnny Legdick band along with fellow co-writers, Tyler Miller, [Musical Director] Macleod Truesdale and [JEM member] Elijah Fisch. Regrettably, Johnny Legdick's heavy musical focus also undermines its dramatic and narrative integrity. While the Chorus seems well directed (and often riotously funny), other players seem to have been left to their own devices, with much of the action and dialogue appearing improvised. Although Arielle Palik's rich vocal depth and physical talent are undeniable, her 'Hannah' is a mite frenetic, with nervousness to her body language that could use more focused expression. Similarly, Tadzeo Horner-Chbib may have missed his opportunity to fully flesh out the complexity of 'Suckadacocka,' whose diabolism is a little too shrill to be either funny or unnerving. Travis Martin as 'Steve the Steed' triumphs as the equine foil to Colin Macdonald's reluctant hero 'Johnny,' and both actors' presence and talents bring the play much-needed dramatic heft. Criticism notwithstanding, given that this production has its roots in fringe, it is nevertheless a mighty effort by a group of talented musicians and actors and one that is ultimately entertaining to behold.
See Johnny Legdick: A Rock Opera at Centaur Theatre's 18th Annual Wildside Theatre Festival, January 7th to 17th, 2015. http://www.centaurtheatre.com/wildsidefestival.php

WINTER SLEEP, Nuri Bilge Ceylan
[film review] Winner of the Palme d'Or at the 2014 Cannes Film Festival, Winter Sleep is Nuri Bilge Ceylan's latest film set in the windswept 'steppes' and sandstone formations of Cappadocia in central Anatolia, where inhabitants had carved out entire cities in in rock.
Former actor Aydin (Haluk Bilginer) is proprietor of a picturesque, somewhat isolated, hotel carved into a hillside. Though one of the local elite, and owner of various properties, he prefers to leave business matters to his hotel manager, Hidayet (Aybert Pekcan), and occupy himself with more intellectual matters such as writing weekly columns in the local paper. His only other companions during the slow winter months are a few hardy tourists, his recently divorced sister Necla (Demet Akbag) and young wife Nihal (Melisa Sözen). A confrontation he witnesses between a tenant and Hidayet leaves him grasping for his moral compass and retreating to the sanctum of his study to write an article about the necessity for propriety, cleanliness and conscience.
As wealthy patriarch, Aydin is seemingly respected while also nearly absent in the community. He styles himself as beacon of morality and conscience and yet shows disdain for, and disgust with, humanity. Wealth has granted him the freedom to escape into his own system of banal morality, which he uses to judge others. This same privilege allows his immediate family to create their illusions and, in turn, judge him.
Winter Sleep is masterful but difficult; it lumbers -- perhaps matching well the pace of its main protagonist who shuffles about with a false sense of purpose -- and often stalls in scenes of tense discussion, dripping with resentment and deliciously cloaked in ulterior motive. Long shots and a static camera reveal an extraordinarily detailed mise-en-scène that is a joy to experience and fully justifies the film's pacing. Exterior scenes of the region's beautiful vastness hauntingly mirror the bleakness that we glimpse within.
Be forewarned that Winter Sleep is a heavily psychological film, whose central characters, albeit brilliantly portrayed, may not be very likeable. Ceylan is, however, non-judgmental in his treatment, allowing the audience to fully engage with the film on a fundamental level, which makes for an extremely touching, completely relatable experience despite the gulf of culture, time and space.