HEAD-ON
reviewed by
JOHN GRIFFIN
----------------------------------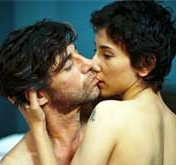 "Punk is not dead!" heroically self-destructive Cahit (Birol Unel) howls to friend and potential soul mate Sibel (Sibel Kekilli) in Fatih Akin's electrifying new German film Head-On.
Akin's lacerating love story about second-generation Turkish Germans confronting their crossed cultures is punched up with punk nihilism, energy and pride. Inspired by the downward spirals of artistic disaster zones like Kurt Cobain and Jim Morrison, prize-winning writer-director Akin follows his lost lovers to the bitter end, and back.
Cahit and Sibel meet in a German psychiatric unit. He's been brought in after driving his car into a brick wall, in an apparent suicide attempt. He has been out of his mind on booze and cocaine for so many of his 40 years on the planet that the only thing left for him is death, or rebirth.
She's the wild, overprotected daughter of conservative Turks in Germany, who figured slitting her wrists might be a way of escaping them. Her first words to Cahit are "marry me." His first words to her are unprintable.
So, OK, they get married. For convenience's sake, to get her family off her back. He's still skirting premier-league substance abuse and living in squalor so extreme that the Siouxsie Sioux poster on his door looks like a physical fitness ad. She gradually moves in. Soon enough, "it's like a chick bomb exploded in here."
Being a guy and card-carrying rock'n'roller, he complains, but secretly, the sense of order is doing him good. Naturally, she's climbing on the other train, toward the Western freedom of rowdy behavior, one-night stands and dangerous liasons. Can they hook up somewhere down the line and begin a life whose endgame isn't death, or worse, boredom?
Head-On won top prize at the Berlin Film Festival in 2004, and it's easy to see why. All the big questions are here, and all the attitude.
The acting, by professional Unel, as the hurting brute Cahit, and amateur Kekilli, as the daughter rebelling against generations of restraint, is pretty much off the physical and emotional chart.
The picture looks fabulous -- in a disgusting, grungy way -- it's carried along at speed by crazed music and a classic Turk chorus, and it ends where it has to -- in Istanbul, and with the possibility of new beginnings.
Head-On is a great picture, hard, true, unbearably sad and so full of life and raw power it explodes off the screen. See it, before it gets away.
John Griffin is the film critic at the Montreal Gazette where this review was originally published.