MAKING HIS MARK OUTSIDE OF THE BOX
My name is Robert and I write about art. More so, I write about the artists behind the art. On January 7th 2015, I attended a lecture at Endicott College in Beverly, Massachusetts. The course subject is designed to educate MBA students on Ethics and Corporate Responsibility; a subject notably different than what I normally report. I accepted the invitation from the professor conducting the lecture, not quite knowing what to expect. As I sat waiting for the class to begin my bewilderment soon dissipated and was replaced with anticipation and excitement. It was a few minutes before the guest speaker was slated to talk and already an exhilarating sensation filled the air. Whoever this person was, he possessed enough of a reputation that even the college dean reserved his very own front-row seat. By all indications one might think a former President or public figure was about to make an appearance. Instead we all waited for the instructor's phone to ring, but not from a politician or celebrity, rather from a man named William A. Noguera. But who is William A. Noguera? I was about to find out.
One minute before 11 am the telephone rang. The audio was set to speaker allowing all in attendance to hear Noguera's voice for the first time. A large projector and screen were set up at the front of the room.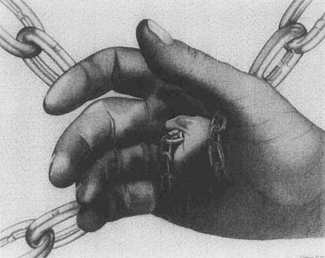 On the screen were images of art works and the space where William Noguera resides; as he spoke different images appeared, and a virtual art exhibition began. I now understood why I'd been invited to be here. After the professor introduced him to the class Noguera confidently addressed the group like a seasoned expert, "Good morning ladies and gentlemen, thank you for coming. My name is William A. Noguera and my presence here today is an important contribution to this course on Ethics and Corporate Responsibility. I am here as a reminder to you that a crime, whether committed by an act of violence or by cooking the books, is nevertheless a crime and will land you in a prison cell."
For nearly an hour the entire class, myself included, was riveted by Noguera's every word. Other than the sound of his voice, you could hear a pin drop. Noguera spoke of fundamental ethics, individualism, boundaries, rules, laws, fear and his personal experiences. Noguera also spoke about his art and the philanthropic quest he believes in. Toward the end of the lecture, he asked all of us to participate in a small experiment. "Look at the person sitting next to you," he said. "Is he or she a criminal? You can't tell can you? The person who will tempt you into compromising your ethics, who will seduce you with money and power or simply offer the wrong way out of a difficult situation won't be wearing a villainous black cape and have a pointy goatee. He will be a co-worker, a friend, or even your boss. He won't appear from out of the dark night. It will happen during a company party, at happy hour, or while you're on a couples-vacation. In fact, it will be the person you least suspect; the person sitting next to you."
When the lecture ended we all got up to give a round of applause and standing ovation. It was a moving and thought-provoking experience.
After the room emptied I approached Mr. Walt Pavlo, the class professor who invited me to come listen to Noguera and his message. While I was still speechless, Mr. Pavlo grinned and said, "I told you he's unique."
I went home that afternoon unable to get the experience out of my mind. On the surface, we see a man who creates art from prison, but I needed to dig below the surface. How does a man, from the confines of a prison cell, move me, and many others, so profoundly? Noguera's story held surprising revelations; yes Noguera is in prison, worse, he is on death row at the nation's most notorious prison -- San Quentin. Noguera is there for a crime he committed in 1983 at the age of eighteen and has lived in a steel and concrete cage for 32 years. His case, though simply stated, is complex. While Noguera is responsible for taking a life, it is imperative we look at the circumstances that led to his incarceration and to explore who the man truly is. I started my research by opening my laptop and surfed my way to the website WilliamNoguera.com, it's noted as being the official resource about the artist, his art and his life. It's there that I read every article written about Noguera starting at the time his art gained nationwide attention and international recognition. I was shocked that Noguera still remains in prison and wondering why an appeal for a new trial had not been granted.
The circumstances of Noguera's early life are heartrending. Noguera grew up in a home where he was physically and emotionally abused by both parents. Outside, he was the victim of even more abuse; vicious beatings at the hands of gang-members – because he was a target of racial discrimination for being the only Colombian in a largely Mexican and black Los Angeles County suburb. To cope, Noguera escaped into his imagination; art has always been his refuge. To protect himself from these attacks he enrolled in martial arts training where he excelled and mastered the skill. In 1978 Noguera's father introduced him to anabolic steroids to improve his physical size, strength and endurance for martial arts competitions. Noguera was only 13-years-old. The desired effects of the steroids were immediate; with an increase in speed, power, and the ability to withstand pain. But with the benefits came the harmful side-effects of the drug; migraine headaches, mood swings and the outbursts of "roid-rage" syndrome. By 1980 the small, painfully awkward boy was all but gone. In his place was a 16-year-old boy possessing the stature of a full-grown man; standing six feet one inches tall and a one hundred and seventy pounds. Noguera won the Hapkido Middleweight Championship by defeating a man twelve years his senior.
In 1983 everything came crashing down for 18-year-old Noguera. The years of abuse, the continuous use of anabolic steroids, combined with grief and agony over the illegal abortion of his nearly 20-week unborn baby proved to be too much. During an argument with his then girlfriend's mother, who boasted about being responsible for the illegal abortion, Noguera lost control, succumbed to the lethal explosion of "roid-rage" syndrome that lurked underneath the surface. By the end of the same year, Noguera was arrested, tried, then wrongfully convicted of first-degree murder and sentenced to death.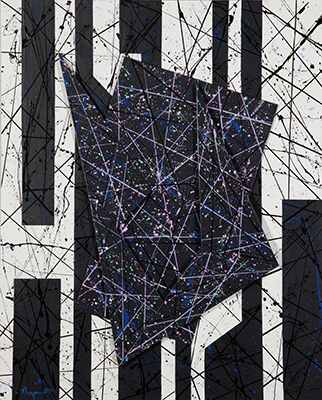 Thirty-two years have passed. Noguera now 50-years-old fifty years old, has dedicated himself to making a difference. He gives to several charities, and lectures about his experiences so that others may avoid making the same mistakes. And then there is his art; he is an artist in full command of his power to create visual poetry.
The following week I was scheduled to review the N. Dash Show at the Hammer Museum in Los Angeles. It's then that I decided to take the opportunity to contact Melissa Ysais, Executive Director of The William A. Noguera Trust in hopes to visit Noguera's work in person. After my introductory email and telephone call, we scheduled an appointment for the viewing of Noguera's work.
On January 12th 2015 I entered the parking lot of the storage facility in Los Angeles. Ms. Ysais greeted me with a warm, dazzling smile and a firm handshake. As we made our way to the third floor of the building, Ms. Ysais explained how she has been able to keep Noguera's work protected and in pristine condition. She detailed the corrupt exploitations by previous gallerists and dealers who embezzled from Noguera by infringing on his intellectual property and The Trust's exclusive copyrights. I was astonished to learn from her that Noguera's pieces were stolen by these former art dealers such as "The Ghost In The Material" (pictured below) and "The Divine Proportion" which were never recovered. Ms. Ysais described the meticulous cataloging of Noguera's work from photographing, copyrighting and the diligent safeguarding processes that are involved in keeping it inside a secure, climate-controlled environment.
Ms. Ysais fell quiet as I waited for her to negotiate the locked door. Once open, we walked into the large unit where Noguera's work is kept. The room was well-equipped with racks containing Noguera's paintings. The far wall was occupied by a large painting that caught my eye ;I couldn't stop looking at it. This painting pulled at my visual senses, demanding to be seen. I found it difficult to listen or to concentrate on what Ms. Ysais was saying at that moment, but in turning toward her the spell broke.
"You'll want to experience the work without interruption. I'll leave you to it," she said. "The racks hold work that's been arranged in chronological order. Feel free to look at everything, including his studies which are kept here in these bottom drawers just below the major works." Ms. Ysais handed me a pair of nitrile gloves, "Here, you'll want to put these on first," she said then exited the room.
Approaching the closest rack I carefully pulled out the first piece. I recognized it as "Under Nails" created in 2005, a hyper-realistic montage in ink stippling that leaves no doubt Noguera is a first-rate creator of contemporary art. I gently carried the piece over to the far wall then placed it next to the painting from the series "Maximus Escapus." This is the piece that first captured my attention when I walked into the room. Time stood still and I wondered if somehow Noguera knew the exact moment I touched his work. 'So personal,' is the thought that came to mind. Each one of these marvelous works of art revealed the journey, the solitude and the genius mind that created them. I don't know how or when it happened, but I found myself wiping tears from my eyes; remembering joys and sorrows that I hadn't thought of in years. As I removed each piece from its place, a rippling effect took place. The emotions came in waves, and it happened over and over again; from nostalgia and joy to agony and pain -- remembrances I'd experienced but not felt in many years. It's as if each painting was starved to convey its power.
Later, Ms. Ysais returned, but I hadn't noticed in time to compose myself, my unconcealed emotions still clearly visible on my face. She offered an empathetic smile saying, "It's like that for me too. His work pulsates with varying sequence of emotions. And there's no getting away from it." She was right of course.
I returned home from my trip to Los Angeles feeling under the influence: the influence of Noguera's life story and the tremendous impact it has made on his art. Memories long forgotten which only now returned to me. One such memory was of the first time I stood before a Rothko many years ago and what I experienced while I gazed upon it. Somewhere along the way I forgot what the true power of art can do and what it looks like. Noguera's work reminded me of that. Noguera also poses an interesting dilemma for many. Should his work be overlooked because of what happened more than three decades ago? Of course not. Perhaps we should appreciate the work independent of the artist. No matter what else has transpired, the power of true art cannot be constrained, silenced or caged. It finds its way into the light and there it lives.
Noguera is a visionary who makes me think of what an artist is actually doing when he makes a work of art. In a 1978 essay by John Berger called "The Work of Art," he writes: "When a painter is working he is aware of the means which are available to him. These include his materials, the style he inherits, the conventions he must obey, his prescribed or freely chosen subject matter -- as constituting both an opportunity and a restraint. By working and using the opportunity he becomes conscious of some of its limits. These limits challenge him, at either an artisanal, a magical or an imaginative level. He pushes against one or several of them." Berger is writing about a painter, but what he writes holds true for any artist.
Artists push the boundaries and in William Noguera's case the boundaries are both virtual and literal; the results are beautifully inspiring, evidence of a spirit roaming free despite a body held prisoner.
Images © William A.Noguera