ART OF REMIGIO VALDES DE HOYOS
by Maya Khankhoje
Reviewer, essayist, poet and polyglot, Maya Khankhoje has published in many journals including South Asian Women's Forum, Urban Mozaik, Canadian Theater Review, Sumach Press, and Indolink. She is presently the Assistant Editor at Montreal Serai.
_______________
Puebla, hues, Ottawa, architecture school, Paris, self-taught, Washington, Talavera ceramics, Brussels, figurative art, Cancún, bi-and tri- dimensional, Berlin, mixed media, New York, words/images -- these are the signposts of a road trip in no particular chronological order that have taken Mexican painter REMIGIO VALDES DE HOYOS from his birthplace in Monterrey City to his current home in Montreal, where he is still climbing a one-way ladder to heaven, echoing the title "Escaliers À Ciel Unique," his one-man show held in Galerie 1225 in Montreal.
Valdés de Hoyos obtained a degree in architecture in Mexico City in 1972 but by 1974 he was exclusively devoted to visual arts. Whether it was parental pressure that inspired him to study architecture or his own youthful aspirations is irrelevant. What matters is that he ultimately followed the path that he was meant to follow: that of a multifaceted, multimedia artist who has experimented in Talavera ceramics (Puebla), copper plates (France), figurative and abstract work (Berlin and Montreal) and a combination of all these forms. He has held one-man shows in the cities mentioned above and since 1999, when he traded Paris for Montreal as his home, has achieved wide critical acclaim and a large circle of collectors. The Fine Arts Museum in Montreal hastened to acquire the triptych "Ciel" as part of its permanent collection.
Contra
ceramics
If asked who had influenced his work, the artist would have replied: Edward Hopper and David Hockney, but anyone who has enjoyed the sense of color of Mexican art would have added: and all the Mexican artists who preceded him. A visit to his loft studio in a gentrified area of Montreal proved quite surprising. The proverbial disorder and chaos characteristic of painters' studios were absent. Instead many works in progress were neatly propped against the walls: diptychs and triptychs as well as large and small singles, some of which carpeted the floor like tiles waiting to be laid. The back of a woman was partially hidden by blotches of abstract form while two tall diptychs on the wall revealed the knotty wood on which they were painted.
Cartographie
mixed media on wood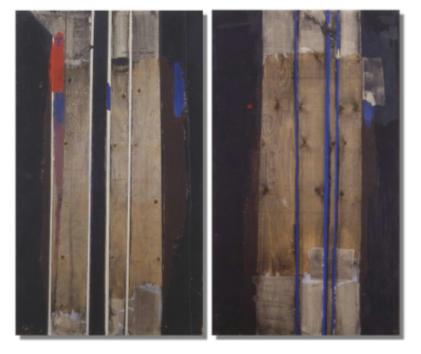 Many smaller paintings scattered all over told their own stories. The light streaming through northern exposure windows zeroed in on life, light, colour, harmony and a deep sense of soul.
Tree
mixed media on canvas

Fruit du Raisin
mixed media on canvas
Artist and interviewer talked about image versus word, about personal journeys and the natural striving for purity and simplicity that maturity brings forth, about earning a living, but most importantly about the need for art to express itself on its own singular terms. Let us follow Valdés de Hoyos on this one-way ladder all the way to his sun-drenched loft.
Sierra 1
mixed media on paper

Puros Cuentos
talavera ceramics
Terra Nostra
oil on canvas
Verre Insatiable
mixed media on canvas

Le Saint Laurent
mixed media on canvas