JOLANTA SPRAWKA
Jolanta's journey is an interesting one that begins in her native Poland, during the worst communist period, then to Morocco where she lived for 22 years, married a Muslim, separated, and finally found refuge with her three children and the freedom to create in Quebec, Canada.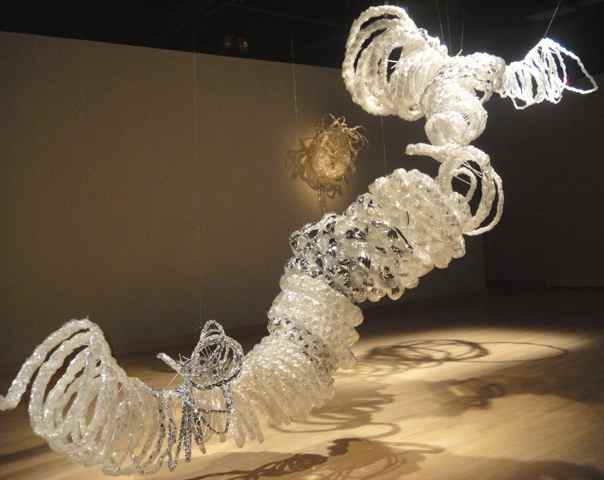 Jolanta' s story is a clear demonstration of tenacious survival in the face of extreme deprivation and creation as a healing spirit. Her early years in Poland were marked by fear and disappointment. In school, her first book had a picture of Stalin on its first page, and the caption read that he loved children and that he was their loving uncle. The reality was that an entire nation was being held hostage, lived in fear and suffered shortages of the most basic requirements.
Personal ambitions were impossible but Jolanta's dreams of becoming a journalist so as to be able to travel and speak about Poland that was impossible to speak out loud motivated kept her looking for ways to escape. As a very young child she was chosen to play violin; "That opened a whole new universe for me. Through music I discovered the world of imagination and beauty, a different reality and helped me endure the repressive one I was actually living."
Jolanta studied English Philology at university but in 1968 got involved with spirit of rebellion and anger that wanted change and a better life. After participating in a protest occupation which police handled with beatings, tear gas and arrests she was threatened with expulsion and almost lost faith in the possibility of change. She had met and fallen in love with a Moroccan diplomat whom she married, with the hopes of a better life, only to discover that she had traded one form of repression for another. In male oriented Islamic Morocco, she discovered that she had no rights but for 22 years did not give up striving for freedom which finally came in 1990. During those years she was learning languages: English, French and Arabic, working and finding solace in music.
Jolanta's freedom began when she arrived in Quebec,Canada; her creativity could finally be nurtured and explored and came to fruition when she met and fell in love with her mentor, David Moore. They now happily live and create in a large Quebec farmhouse and barn-cum exhibition space, where they continue to explore their mutual love of music and art. His faith in her artistic abilities have given her the courage to believe in her art. From the timid small stone installations realized on a Greek island, Jolanta now commands entire rooms with her sparkling installations.
Both artists, Jolanta Sprawka and Hazel Bryce, demonstrate a spiritual process of repetition, reflection and connection with their materials which represents the archetypical image of women's work. The concentration required to realize long term creative goals is not exclusively feminine, but women are most often associated with weaving or knitting etc. and their materials are traditionally humble such as wool or clay.
I asked Jolanta if her choice of materials informs the kind of work she produces. "The connection with the material is fundamental. My choice of cellophane is motivated by its qualities, such as transparence, lightness, light capture and malleability. I always use malleable materials. The 'gesture' in my work is an integral element of my process. It is repetitive, it has it's own sequence of steps like interweaving, attachment and suspension. The action of interweaving is essential; it is a marker of time and becomes like a mantra. There is also a very feminine component to these weaving actions. I feel that somehow the work evolves in time and space of its own volition. My intent and wish, when I'm transforming a gallery space, is that the installation becomes an instrument that allows the viewer to connect with his or her senses by creating a specific atmosphere. I invite viewers to connect with their emotions and personal reflection. I try not to suggest what the work represents, therefore, allowing each visitor to explore their own reactions and sensations."
Join Jolanta as she examines her installation entitled Refuge and Transparency.
AFTERWORD
Recycle, reuse and re-purpose have become the mantra of our times, and artists are embracing these concepts with a passion. Jolanta Sprawka creates site specific environments with bio-degradable cellophane. Hazel Bryce creates her large beautiful sculptures with newspaper papier mâche.The passion and dedication they both bring to their work is an inspiration and feast for the senses. Before our very eyes opened wide, they have turned life's adversity into stunning creativity.
All images Copyright © Jolanta Sprawka and Hazel Bryce