2010 INTERNATIONAL FESTIVAL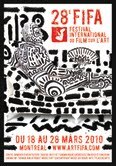 OF FILMS ON ART
by


SYLVAIN RICHARD
and
Nancy Snipper
_____________
If you have a hunger for knowledge and an open spirit then The International Festival of Films on Art (FIFA) is for you. The 28th edition (March 18th- 28th) offers an exceptional showcase of 230 films from 23 countries. Presented in nine venues in the downtown area, the viewer is invited to undertake a veritable journey that explores all aspects of art. Ranging from music to cinema, literature, painting, architecture and design, this exquisite 11 day banquet is a feast to be had for art lovers and cinophiles alike. Artists, both known and obscure, receive equal treatment. You'll be taken behind the scenes to witness the act of creation in opera, theatre and film classics. History, both present and past, will be given its interpretative due.
Here are the films, briefly blurbed, that I have seen thus far. Please note that some of these include comments by reviewer Nancy Snipper.
VIVRE AVEC L'ART…UN ART DE VIVRE Canada / Anne-Marie Tougas / 2010 / 52 min / French
A reflection on the relationship(s) between an art collector and the artists of the works he collects.
ANTONINE MAILLET — LES POSSIBLES SONT INFINIS Canada / Ginette Pellerin / 2009 / 52 min / French
Portrait of award winning Acadian author Antonine Maillet (1971 `La Saguine` and 1979 `Pélagie Return to L`Acadie`)
QUARANTAINE Canada / Marlene Millar, Philip Szporer / 2009 / 48 min / French, English, s.t. French
Study of the twists and turns of masculine identity through the eyes of four male dancers (Marc Béland, Marc Daigle, Benoit Lachambre Ken Roy) all of whom are in their 40s facing fading youth. Observations expressed through interviews and performances.
OFFRE-MOI TON CORPS Canada / Bernar Hébert, Renée Claude Riendeau / 2010 / 90 min / French, English, German, Hebrew, Swedish, Dutch, s.t. French
A fascinating look at a group of photographers who use the human body as a model to convey ideas and emotions.
BORIS VIAN, LA VIE JAZZ France / Philippe Kohly / 2009 / 60 min / French
Known mainly as a writer and a poet, Boris Vian (1920 – 1959) had a deep passion for Jazz. He played trumpet, composed and performed his own songs. He was also friends with Duke Ellington and a music critic. Commemorating the 50th anniversary of his death this filmic portrait effectively captures the true nature of this mythical figure.
OR, LES MURS France / Julien Sallé / 2009 / 60 min / French, s.t. English
A chronicling of French composer Thierry Machuel's (born 1962), who visits to a maximum security penitentiary in 2008. The testimonies of five of the inmates serve as the basis for the libretto for his latest choral composition.
JULIETTE GRÉCO, « JE SUIS COMME JE SUIS » France / Brigitte Huault-Delannoy / 2009 / 52 min / French
The doyenne of French singers (born 1923) recollects her childhood and her adolescence during the war, and highlights of her career.
ARIANE MNOUCHKINE, L'AVENTURE DU THÉÂTRE DU SOLEIL France / Catherine Vilpoux / 2008 / 70 min / French
Profile of Arianne Mnouchkine (born 1939), who founded of "Le Théâtre du Soleil" (literally "The Theater of the Sun") in the 1964. We follow her career from her first amateur stage production in the late 50s to her latest production, "Les Ephémères" (2008). Along the way we pass through key stages of her career including the 1977 film "Moliere" and her unwavering political activism.
MAGRITTE LE JOUR ET LA NUIT Belgium / Henri de Gerlache / 2009 / 52 min / French
A reconstruction of Belgian painter René François Ghislain Magritte (1898 – 1967). Film exposes his enigmatic personality as reflected through his art, which was inspired by the absurd, paradox and the outlandish.
TADAO ANDO / KOSHINO HOUSE Finland / Rax Rinnekangas /2009/59 min /Finnish s.t. French
This film examines The Koshino House built for fashion designer Hiroku Koshino in two stages between 1979 and 1984. This house is a masterpiece, and collects all fragments of Tadao Ando's (born 1941) architectonical vocabulary, mainly the light.
LE MOLLET DE LA DANSEUSE (FEET ON THE GROUND) France / Marie-Pascale Lescot / 2009 / 52 min / French, s.t. English
Experimental film that meditates on the question: What traces does dancing leaves behind on both the inside and outside?
BULL'S EYE, UN PEINTRE À L'AFFÛT Canada / Bruno Boulianne / 2010 / 77 min / French
Portrait of Ottawa born (1970) painter Marc Seguin as he travels between city (Montreal or New York) and nature -- where he works the soil or hunts both for game and images. His body of work is complex and dense, inextricably linked to the elements of the land and its wildlife.
CAROLYN CARLSON, LE REGARD DU GESTE France / Élisabeth Kapnist / 2009 / 52 min / French, English, s.t. French
A journey into the universe of contemporary dance choreographer and performer Carolyn Carlson (American born of Finnish parents in 1943). Living in France since the early 70s, she is the artistic director of both the Atelier de Paris and the National Choreographic Centre of Roubaix Nord-Pas de Calais. Through interviews and watching her work, director traces her passion for both dance and life.
LES VIES POSSIBLES DE CHRISTIAN BOLTANSKI France / Heinz Peter Schwerfel /2009 / 52 min / French
Coming across as an experimental film, we embark upon a journey into the dark yet humorous world of French visual artist Christian Boltansky (born 1944). Includes some of his works combined with rare archival footage. We encounter a sentimental artist as he confronts both the past and the future.
SAVE THE LAST DANCE FOR ME: COMPANY OF ELDERS United Kingdom / Fran Landsman / 2009 / 49 min / English
Another film showing that it is never too late for one to pick up a new passion or to expand one's horizons. In this case we follow a dance company called 'A Company of Elders' as they prepare to perform for a show at London's prestigious Sadler Wells. The moral derived from this 25 member group of elderly ranging in age from 61 to 85 Is very inspiring. Many have serious health problems yet are unstoppable as they rehearse and learn their dance steps from choreographer Chris Tudor. The piece is inspired by the music of Hoagy Carmichael. Many myths about old age come crashing down.
CAYOUCHE, LE TEMPS D'UNE BIÈRE Canada/Maurice André Aubin / 2008/52 min /French
An intimate look at Acadian author-composer-actor Cayouche whose real name is Reginald Charles Gagnon (born 1949). We accompany this gentleman hippy and modern troubadour as he travels to France to learn more about his ancestors. An engaging and humorous road movie, especially when Cayouche comments on the nature of the French.
[by Nancy Snipper] The film is an entertaining ride with Cayouche, New Brunswick's most colourful Acadian. Toting his Gibson guitar on his Harley Davidson, the bearded bard takes his country Acadian music into bars. Here, he is loved. But the ride takes on a riotous route when he goes to Paris to perform in out-of-the-way areas in town halls all the way down to Normandy -- a region where many Acadian ancestors lived, including those of Cayouche's. As an emissary of Acadian culture, he is accepted politely, but his French, unkempt appearance and unusual singing style is an understated shock to those he meets. In France, he leaves a trail of linguistic confusion which makes his right of passage into these communities all the more hilarious. Director, Maurice André Aubin has put together a thoroughly enjoyable documentary deserving of French subtitles because the Acadian language is a song onto its own.
ROGER PELERIN, LÀ OÙ L'ON S'ARRÊTE EN PASSANT Canada / Patrick Pellegrino / 2009 / 79 min / French
A profile of engraver Roger Pelerin who has chosen to live on an island situated in the heart of Abitibi on an immense lake. This film portrays a solid slice of Quebec life, but could have used tighter editing. Images of his engravings were stunning.
[by Nancy Snipper] Roger Pelerin a master woodcutter, is certainly one of Quebec's most gifted artists. His robust scenes of life gone by in Quebec's outback are exceptional, and director Patrick Pellegrino honours this in his convoluted film that pays far too much attention to Pelerin's gravelly-voiced alcoholic partner, a failed ceramics artist. She is an irritant in the film, and seems more of a burden than a blessing to Pelerin. Living on an island in the vast waters of Abitibi Lake, the two have made a life for themselves. Sadly, the film wanders in and out of focus and its 79 minutes are interminably long. The film needs to be vigorously edited.
ELENI BOUKOURI ALTAMURA, THE FIRST GREEK WOMAN ARTIST Greece /Kleoni Flessa 2009 / 56 min / Greek, Italian, s.t. French
Born on the island of Spetses in 1821, Eleni Boukouri Altamura broke every convention of her era. Consequent to her tenacity and the support of her father, she became Greece's first woman artist. This film provides an educational lesson on 19th century Greek art and politics. The narrative rises to a poetic level.
[by Nancy Snipper] Eleni Boukouri Altamura was born in the wrong time, and yet without her, no female artist today would be allowed into an art school, nor be given a morsel of recognition for her natural gift to paint. Born in Greece (Spetses), Boukouri's talent was nurtured by her famous sea-faring father. Her masterful drawings and paintings conveyed a neoclassical nuance which eventually brought her fame and access into college teaching art in Athens. However, her entry into success only came about through her decision to dress up as a man when she began studying with the Nazarenes in Rome in 1847. When she fell in love with her teacher, Saverio Altamura, the ruse was up. Three children later, her life took on tragic proportions when her first two children succumbed to tuberculosis. She burned almost all of her paintings and spent the rest of her life as a recluse on Spetses. Through beautiful Greek music, the poetry of Pindar, interviews enhanced with photos from the 19th century, along with scenes shot in black and white and softly lit, director Kleoni Flessa gives this extraordinary woman her rightful place in the annals of art history.
TO BE AND NOT TO BE Netherlands / Frank Scheffer / 2009 / 54 min /Farsi s.t. English
Iranian composer and conductor, Nader Mashayeni returns to Tehran after living in Vienna for 28 years. His intent was to form a symphony orchestra. Film offered a philosophically insightful glimpse into both the cultural landscape of Iran and how Iranian youth perceive Western music. In stark contrast to the freedom sensed when Western music was played, I felt repressed when the soundtrack featured Iranian music.
[by Nancy Snipper] Believing that the impossible is possible, Iranian-born conductor Nader Mashayekhi left Austria with a mission in mind: to bring Mahler into the repertoire of a non-Western youth orchestra. "TO BE AND NOT TO BE," directed by Frank Scheffter, beautifully unfolds as the young musicians reveal their passion for classical music in a country that condemns it; only traditional Persian music is 'legal.' Taking all kinds of risks and following his heart, Mashayekhi not only conducts Mahler in his native country, but manages to marry both Persian and Western musical styles in one of his orchestral works performed in Tehran. Here, he creates another miracle when he conducts his Austrian choir in a public performance of Bach's "Passion According to St. John". Mashayekhi's philosophy of mankind and music is inspiring.
LET THERE BE LIGHT United Kingdom / Tim Kirby / 2008 / 49 min / English
A scientifically focused film whereby we encounter a group of artists who use light as both inspiration and primary material. The sheer beauty of the works presented is astounding.
ART:21 — ART IN THE TWENTY-FIRST CENTURY: TRANSFORMATION United States / Susan Sollins / 2009 / 57 min / English
Art:21 is a series that airs on the PBS Network that is about contemporary visual art in the U.S. and the artists who make it. Currently entering it sixth season, this episode portrays the works of Yinka Shonebare MBE -- who parodies the notion of class by drawing headless figures in political or social contexts; Cindy Sherman -- who modifies photos of herself to create different characters; and Paul McCarthy -- who creates absurdist videos and statues.
CHARISMA X — IANNIS XENAKIS Greece / Efi Xirou / 2009 / 62 min / French, Greek, s.t.. French
A look at composer (dubbed "Architect of Sound") Iannis Xenakis (1922–2001). His works reconcile art and science and use philosophy, architecture, mathematics and politics to build works that are designed in a manner akin to an architect designing a building.
STEVE REICH, PHASE TO FACE France / Éric Darmon, Franck Mallet / 2009 / 52 min / English s.t. French
Steve Reich (born 1936) is a trail-blazing exponent of minimalist music. This film, through interviews and excerpts from his works, shows how Reich rejected the complex structures of mid 20th century music (example John Cage) in favour of simple melodies that play in a loop -- often against the same melody but slightly out of sequence. Understanding the background of his works gives one a greater appreciation.
LA MUSIQUE, AVENIR DU VENEZUELA: EL SISTEMA Germany / Paul Smaczny, Maria Stodtmeier / 2008 / 65 min / Spanish, s.t. French
Founded in 1975 by José Antonio Abreu (born 1939 in Valera) to rescue children from the violent slums of Caracas, Venezuela, El Sistema has grown to cover 30 youth orchestras across Venezuela and reaches 250 thousand children. Through intensive education these children are taught music in all of its aspects. Deeply emotional as we see the enormous power of music and how these children express their passion. Some, such as Gustavo Dudamel -- currently musical director of The Los Angeles Philharmonic -- have turned professional.
[by Nancy Snipper] It's difficult to describe the effect this über-inspiring documentary has on the viewer. Because of the near divine spirit of one Venezuelan, José Antonio Abreu, his country's children -- living in abject poverty and danger -- have come to know the joy of playing an instrument in an orchestra. As founder of El Sistema (founded in 1975), Abreu has reached out to over 250,000 wide-eyed kids, and the numbers keep swelling. Led by the hand -- the other toting their instrument -- sometimes a cardboard one, some of them get to play in the Paper Orchestra formed to give them a start. No shanty town, no slum, no drug infested alley way is left out of the scene, as El Sistema's volunteers and meagrely-paid professional musicians seek out little ones to bring meaning and hope into lives by making music in a socially exuberant setting. Many become professional performers, reaching out to youngsters as they play for them in the famous Simon Bolivar Youth Orchestra. The children's vitality explodes on the screen -- their parents and teachers sharing in the musical miracle that embodies the vibrant chaos that strides around every corner of this dynamic, dauntingly poor country. Bravo El Sistema!
THE REAL WORLD OF PETER GABRIEL Germany / Dieter Zeppenfeld, Georg Maas / 2009 / 52 min / English, German, Cambodian, s.t. English
A look at the life, career and reflections of Peter Gabriel (born 1950), focusing mainly on his human rights activities through WOMAD and Realworld Records and Studios, where he brings together musicians from all cultures. Also deals with his efforts to bring attention to human rights abuses worldwide (see http://www.witness.org/).
FLIES AND ANGELS Germany / Kerstin Stutterheim, Niels Bolbrinker / 2009 / 89 min / English, Russian, s.t. English
Russian conceptual artist Ilya Kabakov (born 1933) left the Ukraine in 1987 and settled in New York in 1992. Flies and angels feature prominently in his theatrical installations, symbolizing the perverse oppression under the Soviet system. Interspersed with depictions of his works are glimpse into daily life in Russia.
EXPANSIVE GROUNDS Germany / Gerburg Rohde-Dahl / 2008 / 66 min / English, German, s.t.. English
This film is director's personal reflection on her 'happy childhood' during WWII, triggered by the building of The Berlin Holocaust Memorial (2003–2007), designed by architect Peter Eisenman and located in downtown Berlin. Including public reaction to the Memorial plus an interview with her older sister, she ponders what her emotional reaction should be to her father's high position in the Nazi party: he was a Block Warden at Stutthof Concentration Camp.
SYMPHONIE MONTRÉAL Germany, Canada / Bettina Ehrhardt / 2010 / 97 m/ English in, s.t. French
To celebrate the MSO's 75th season, conductor Kent Nagano prepares a special program that includes a concert for throat singers and orchestra: Messiaen's opera "St Francis of Assisi" and a commissioned work, "Concerto for Radio Animator and Orchestra." We follow the orchestra and Kent Nagano as they prepare for each concert, with Maestro Nagano, orchestra musicians and special guests offering personal reflections on the orchestra and their approach to performance and music in general.
ETTORE SPALLETTI Italy / Pappi Corsicato / 2008 / 22 min / Italian, s.t. English
Featuring the off-screen voice of abstract artist Ettore Spalletti (born 1940), we are invited to share his childhood memories and to hear his reflections on why he chooses certain colours.
THE VIENNA BOYS' CHOIR — SONGS ALONG THE SILK ROAD Austria / Curt Faudon / 2008 / 51 min / English, German, s.t. English
This film takes us 'backstage' into the world of the prestigious and nomadic Vienna Boys Choir. Made up of young boys aged 10 to 14, the choir was founded in 1498 and songs include a vast repertoire from traditional folk songs to classical. The narrative was a bit on the dry side.
PAUL SCOFIELD United Kingdom/ David Thompson / 2008 / 60 min / English
Paul Scofield (1922–2008) is regarded by many as one of the finest actors since WWII. His interpretation of King Lear was voted by his peers as the best in the 20th century. Containing excerpts from his most remarkable performances, both in theatre and film, and interviews with his peers, a fuller picture of the man behind the actor is to be had.
BLANC, NOIR OU RIEN Canada / Mario Côté, Jeanne Renaud / 2010 / 32 min / French
A performance by choreographer Jeanne Renaud and interpreted by dancers Louise Bédard and Sylvain Émard; inspired by a previous performance by the same three at the NAC in Ottawa in 1991.
THE MAN WITHOUT A HOME: STUDY FOR A PORTRAIT OF HUGO PRATT Italy / Nino Bizzarri / 2008 / 60 min / Italian, s.t. English
This film is a portrait study of illustrator Hugo Pratt (1927– 995). He is the creator of the comic series Corto Maltese -- a complex sailor and adventurer.
GAUGUIN À TAHITI ET AUX MARQUISES Suisse, France / Richard Dindo / 2010 / 66 min / French
Painter Paul Gauguin left the West in 1891 to reside in Tahiti in the hope of finding paradise and re-invigorating his art. He dies from syphilis in 1903 on the island of Marquesas. Through the use of voice over narration -- based on his memoirs of the period -- combined with images of Tahiti and Marquesas, along with reproductions of his paintings of the period, this film recounts the final 12 years of Gauguin's life.
ROMY SCHNEIDER — UNE FEMME EN TROIS NOTES France, Austria, Germany / Frederick Baker / 2008 / 90 min / French, German, s.t. French
Austrian actress Romy Schneider's beauty and unique aura won her international renown before her premature death in 1992 due to cardiac arrest at the age of 44. To characterize this aura, the director applies the metaphor of perfume and its familiar head, heart and base notes. The head represents her strong- willed perfectionism, the heart her passionate loves and the base her youth and origins.
L'ART DE CHOPIN France / Gérald Caillât / 2009 / 60 min / French
This film is a tribute to the artistic genius of Chopin (1810-1849). Highlighting his innovative techniques in his compositions for piano and chronicling his most creative periods, the film features excerpts from virtuoso performances of his works by renowned pianists. Another important feature is pianist Garrick Olsson explaining and demonstrating some of Chopin's techniques -- for example the use of the "weak fingers" for the melody and the thumb and index on the same hand as an accompaniment plus the other hand as a second accompaniment.
VIEWS ON VERMEER Netherlands / Hans Pool / 2009 / 69 min / English, Dutch, s.t. English
Though Dutch painter Johannes Vermeer (1632–1675) left us with only 35 canvasses, a small oeuvre by any standard, he made an incalculable impact on the world of art. This film attempts to analyze his techniques through the observations of contemporary photographers, painters, curators, an art historian, an art dealer and an architect.
[by Nancy Snipper] "Views on Vermeer" reveals how four contemporary photographers along with three artists and two curators attempt to analyze this Dutch 17th-century painter's technique with regard to exquisite lighting, reflections of tapestries on objects, political content and his relationship to the women he painted. Most importantly, unlike his contemporaries, Vermeer painted the common folk – no rich patrons pose in the 35 paintings that have survived. The documentary tries to unravel the mystery of how Vermeer achieved his inimitable quiet scenes where light and reflective moments fuse into beauty. I say that no matter what photo the gifted photographer (Erwin Olaf) took to recreate a certain scene, it is Vermeer's genius as a painter that makes each scene an eternal masterpiece. Had Dutch director Hans Pool pondered this point, his film would have been more inspiring.
STUDIO MALICK : UN REGARD SUR L'AUTRE AFRIQUE Mali / Youssouf Cissé 2008 / 31 min / french
Malick Sidibé (born 1935-36) is one of Africa's leading photographers. This short film is a look, through his eyes, at a chapter in Mali's social history.
For comments on the 2009 International Festival of Films on Art, click HERE.