Before Tomorrow (Le Jour Avant Le Lendemain) played at Montreal's 2008 Festival Nouveau Cinema. Miriam Cross, a film reviewer at A'n'N Vibe, gave the film 3 out of 4 stars. For more festival ratings, click HERE.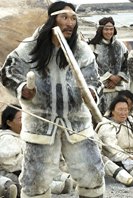 Storytelling has always been a staple of Inuit culture, and the Canadian feature film, Before Tomorrow, continues this tradition by sharing a story of its own. Taking place circa 1840, Before Tomorrow explores the ramifications of the European encounter with a contented Inuit tribe. The film focuses on Ningiuq, an elder woman of the tribe, who volunteers to help dry the winter's catch of fish on a remote island with her elderly friend and grandson Maniq. As they wait anxiously for their tribe to return, it gradually becomes clear that something has gone wrong. With the winter season approaching, Ningiuq must find the strength to protect her grandson and ensure their survival in the wilderness.

At its core, Before Tomorrow is about "The power of storytelling, how storytelling is saving communities and families and cultures throughout time," says co-director Marie-Hélène Cousineau. Stories abound throughout the film, whether to entertain fellow clan members, uphold a legacy, or serve as a source of courage and spiritual strength.


Directed by Marie-Hélène Cousineau and Madeline Ivalu, and adapted for the screen by Cousineau, Ivalu, and Susan Avingaq from the novel For morgendagen by Danish writer Jørn Riel, Before Tomorrow marks the third feature film for Igloolik Isuma Productions. It also marks the first feature-length film by Arnait Video Productions; this branch of Igloolik Productions focuses on Inuit women and their stories, histories, and concerns. The film was shot between July 2006 and January 2007 to reflect the shifting seasons of the story more realistically, around the community of Puvirnituq, Nunavik in northern Quebec.

Before Tomorrow has already won accolades as the Best Canadian First Feature Film at the 2008 Toronto International Film Festival. It played to an enthusiastic audience at 2008 Festival Nouveau Cinema in Montreal and was well received at the Sundance film festival, in the World Cinema Dramatic category. I recently spoke with co-director Marie-Hélène Cousineau about the film, her inspiration, and the power of storytelling. Like the characters in the film, her penchant for sharing unique and enriching stories goes a long way in helping preserve this unique culture and its history.

MIRIAM CROSS: The film is based on the novel For morgendagen by Danish writer Jørn Riel. How did the film project get started?
MARIE-HÉLÈNE COUSINEAU: I've been working in the Arctic for about 20 years. The novel also takes place in the Arctic, in the nineteenth century, at the point where people start to hear about white people coming by boat to trade, to whale etc. It's a very moving story, because it's really about inner strength, love, how communities are built, how they are holding together, and the power of storytelling. Living in the Canadian Arctic in Igloolik and working with Inuit women for 20 years, I knew that this is the story that they would be touched by, and when I told them, they really related to it. It's a story that actually took place; people got sick a lot around the time of the white people traveling up north, because all kinds of diseases began to spread. So it's a story that really touched them and they also liked the fact that it was a story about the strength of the women. This is a group of women who have been working around women's stories for many years. I think we were all thinking that this would be great to see in film.

MIRIAM CROSS: And how did your co-director Madeleine Ivalu get involved?
MARIE-HÉLÈNE COUSINEAU: I've been working with her since 1991, making short documentaries and short fiction films together. She acted in The Fast Runner, by the same company (Igloolik Isuma Productions), and The Journals of Knud Rasmussen, and she was very interested in taking this role. She knew that it would be quite hard because she would have to be in almost every scene, and really carry the emotional weight of the film on her shoulders, and she was ready to do that.

MIRIAM CROSS: As for the other Inuit actors, were they all professional or members of the community?
MARIE-HÉLÈNE COUSINEAU: The main actors are professional in the sense that they don't live in Hollywood or Toronto, but they've been working on other films and have done very well in other films. Like Madeline -- that was her third feature film. And Peter Henry Arnatsiaq, who plays her son, that was his fifth or sixth feature film. Mary Qulitalik, who plays the old woman and friend of Ningiuq (the main character]) has been in about four or five feature films. So I picked actors and talked to them, and they were interested because they had a lot of experience. And the secondary roles, people who were in the background, were mostly non-actors from where we shot the film -- although the old man, who told the story, also has played in other feature films. So some of them have quite a lot of experience.

MIRIAM CROSS: The European settlers have a momentous impact on the Inuit community throughout the film, and yet we never see them. Why did you choose not to show the Europeans onscreen?
MARIE-HÉLÈNE COUSINEAU: I don't think it was necessary to see them. I think it would just be another film if we were to see them. The film is really about the impact, and the impact of the virus they brought with them. You can't show that in terms of really seeing it -- it's really the repercussion, the impact, the emotion. I mean the film is really about the power of emotion and the power of their storytelling to survive, so you don't need to see the people.

MIRIAM CROSS: You filmed Before Tomorrow for over a year so you could capture all four seasons. What sort of challenges did you face filming in the winter?
MARIE-HÉLÈNE COUSINEAU: It was very very cold; we shot in January and it was like -40, and there were blizzards and storms, but we were very well organized. We were with this group in Puvirnituq, a group of NASTCs (Nunavik Arctic Survival Training Centre). They're an organization of Inuit men who are professional guides; they set up camps, they bring out snowmobiles, they bring the food, so we never felt in any danger. We were really able to concentrate on the work; it was just very cold in the winter. And you know, we have to work with the weather. It's part of the film -- the weather, the environment. It's kind of a character in the film.

MIRIAM CROSS: You screened the film last February for the community that took part in it. How did they react?
MARIE-HÉLÈNE COUSINEAU: It was very good, it was very emotional. We screened it in Igloolik and in Puvirnituq. It was very well-received. It was very important for us to go back to the communities where we made the film and to show it to them.

MIRIAM CROSS: How did your film end up in Sundance?
MARIE-HÉLÈNE COUSINEAU: I'm very happy it ended up in Sundance. It showed in the Toronto Film Festival in September and won the Best Canadian First Feature Film award, and it was shown in other film festivals in Canada (Montreal's Festival Nouveau Cinema) during the fall, and then picked for Sundance in the World Competition. I think probably the people who chose this film believed this was a story coming from a very unique place, and told in a very unique way. So I think it's really fitting in the World Competition, and we feel very honoured and privileged to be there.

MIRIAM CROSS: What are your next plans?
MARIE-HÉLÈNE COUSINEAU: We're working on a documentary right now about the impact of mining and construction in the north and its economy, and how it's going to affect the culture, specifically native culture. We're also thinking of making another feature film which would probably be set in a contemporary time, and we may try to make a comedy this time. We'll see.