2011-12
OPERA MONTREAL
FAUST (MAY 19-26)

reviewed by
NANCY SNIPPER
_____________________________________
Rossini & His Muses, Le Grand Dîner
a Delicious Feast of Music

What an absolutely delightful evening of opera, presented in a most original manner by the Atelier de l'Opera de Montreal together with the National Theatre School -- the latter providing the sets, costumes and lighting; all designed by three of their star students. We were treated to lush elements. The two swift-moving acts and the final 8-course meal on stage satiated us with six rich voices, Rossini's recipes, lyrics and gestures of love, a festive dinner and 'Figaro' himself. Indeed, if music be the food of love . . . play on -- or in this case, sing on.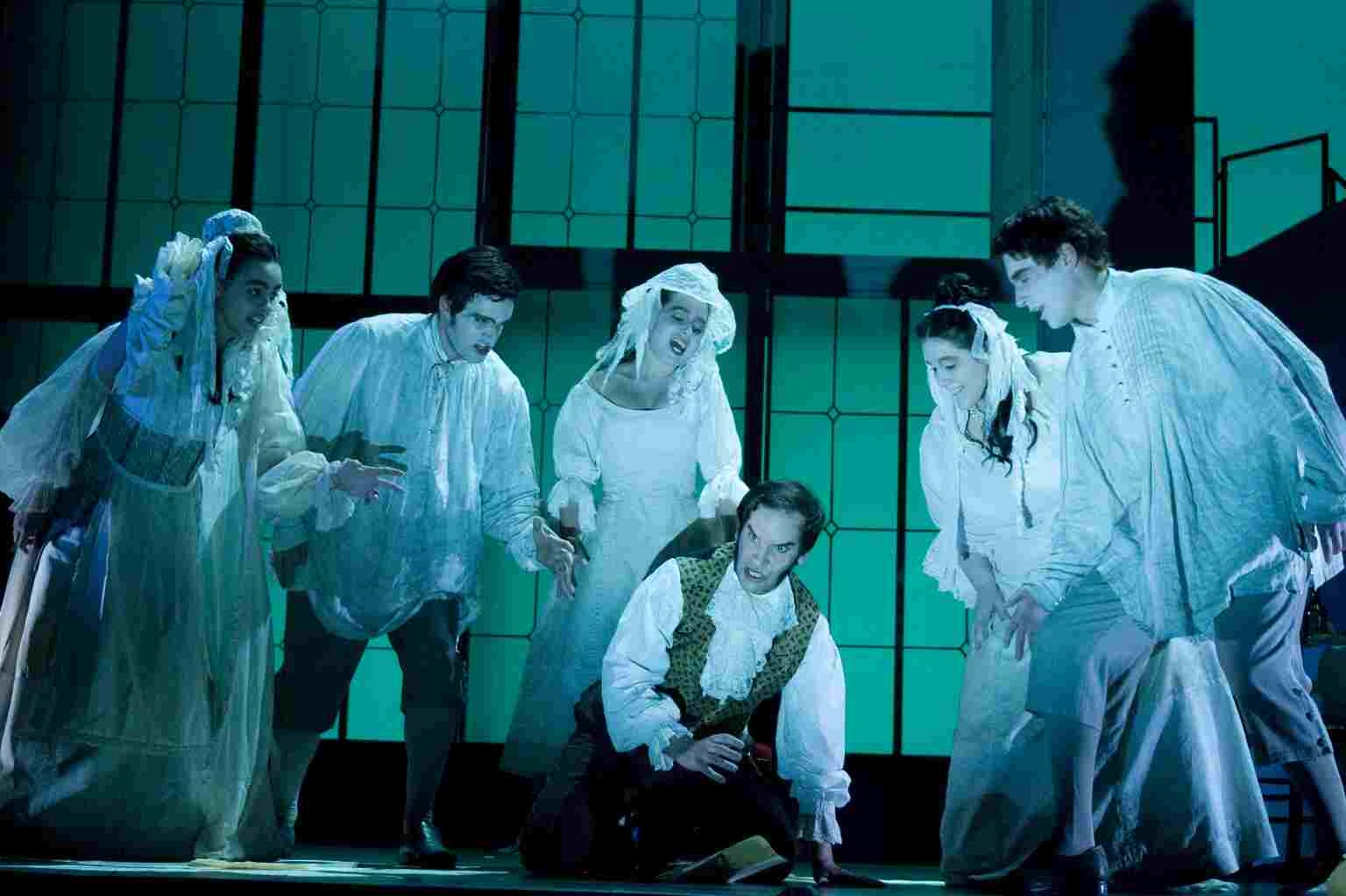 Chantal Lambert, the director of the entire opera, cleverly brought together Rossini's love of great food and his music to create a new opera -- one that showcased some of the opera company's truly gifted young members. My favourites for the evening were: Frédérique Drolet, Karine Boucher, Emma Parkinson, Tomislav Lavoie and pianist Tina Chang. Each one of the singers (not all named here) performed with great acting in the various roles they played; their voices were rich and perfectly pitched. As the evening warmed up, their singing became more relaxed. Drolet, a soprano, effortlessly hit the high notes; they seemed to fly to the sky, and she is a scene stealer with her fetching facial expressions and gestures. She played the daughter of Rossini and the servant girl serving the food in the second act when the eating party took place.
Likewise, Emma Parkinson who played Cinderella, sang an aria from that opera most beautifully. She has a promising career ahead of her. The men as well did justice to this musical feast. Tomislav Lavoie's baritone voice was superb in his dual roles of Rossini and the innkeeper who hosted the dinner (second act). Jean-Michel Richer, also a baritone, played Figaro wonderfully. What a gifted singer.
We were treated to a grand variety of works from his operas from "Otello" and "La Cenerentola" to "L'Italiana in Algeri" and "Guillaume Tell." It was a glorious gala from Rossini's repertoire.
One has to commend Marie-Nathalie Lacoursière for her outstanding stage direction. What I enjoyed was the gaiety, beautiful voices in solo and in unison that festively brought wit and wisdom to the dinner table in ways that made harmony, humour and impeccable timing the main ingredients in this Rossini feast. Enjoying this within the century-old majestic walls of the Monument National, I really came to believe I was one of the guests invited to 'ingest' it all! -- burnt tournedos and all! As you may have gathered, Rossini's other passion was French food.
Photo © Yves Renaud