Alex Waterhouse-Hayward is a distinguished Canadian photographer and regular contributor to Arts & Opinion. For more of Alex's photography, visit his website at: www.alexwaterhousehayward.com
My Argentine countrymen are supposed to be polite and the men are gentlemen. So wrote my mother in some of her nostalgic poems she wrote about a Buenos Aires she loved. But she did reveal to me that she used to wear a girdle when she rode the Buenos Aires colectivos (buses). This was an astounding revelation as my mother had a beautiful body and legs to die for. She confessed to me that the purpose of the girdle was to thwart the Argentine gentlemen who would pinch her bottom while standing in the full bus.
La Nación Newspaper census in the middle 60s revealed that there were more Argentine gentlemen in the summer than in the winter. Well, at least in buses and in the incidence of men ceding their seats to young ladies who would be standing. The census revealed that in the summer, Argentine women were especially noted for wearing little because of the extreme humidity and heat of a city so near to River Plate. These women would wear flimsy low-cut dresses. Many forfeited bras to the heat. This explained why men stood up. From up there they could look down there.
In this age of pornography I bask in the pleasure of the idea that plain eroticism has its place. With my body's plumbing system and associated works not working all too well at age 68, I would like to point out that the ancillary nervous system that sees to those functions is working properly. My imagination is just fine, thank you.
I remember that in kindergarten the famous Argentine Dilligenti quintuplets were in my class. They were two boys and three girls. I liked the girls a lot and I can distinctly remember, at that tender age, lifting up their skirts to peak. I was never caught. I wonder what would happen in the atmosphere of Canada's school system right now if a kindergarten boy were to repeat my lapse into curiosity of the sexual kind.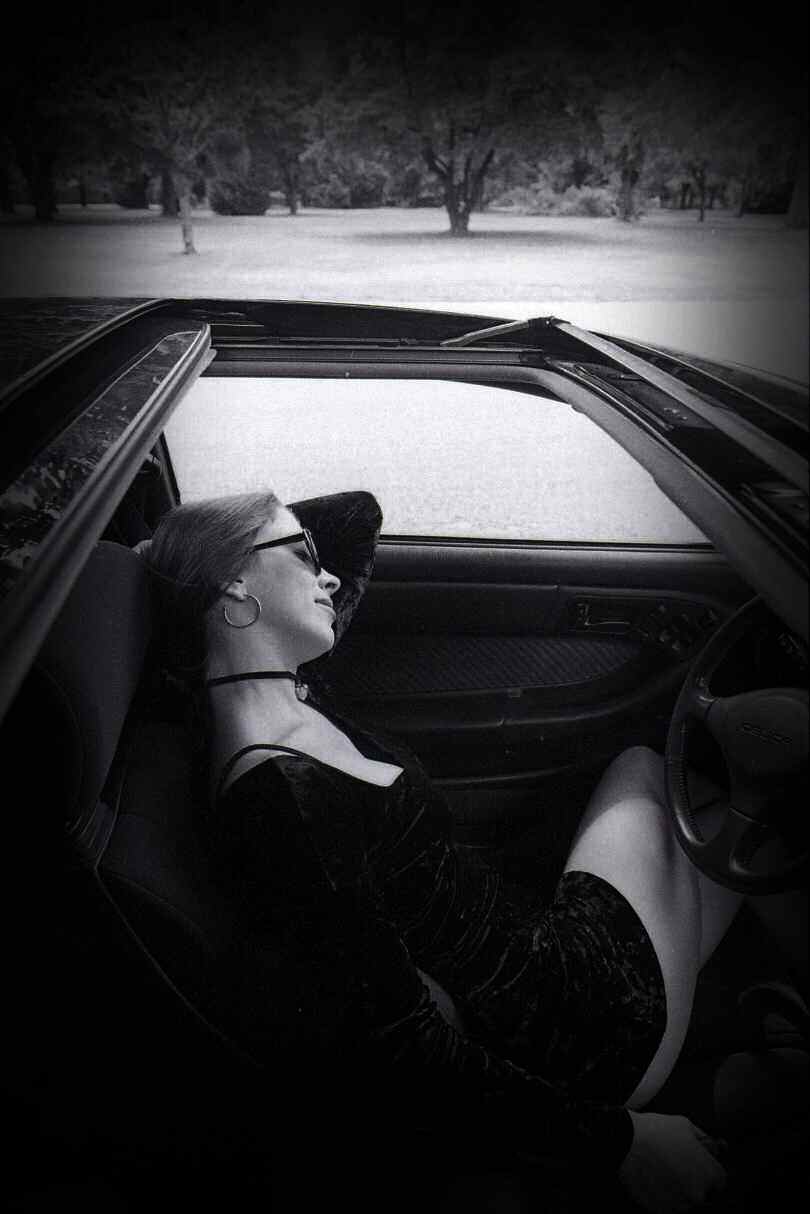 In Mexico City in the mid 50s and later in the early 60s, it was pleasant to sit by the window seat in buses and to look down on cars being driven by women. I could peak at their legs, and more so when in the 60s the miniskirt came into vogue.
I would sometimes ride the bus with my grandmother who -- upon spying some young woman with crossed legs in the bus or on a park bench, showing more leg than what was considered decent -- would say to me, "Fíjate, esa mujer esta
fotografiando," "Look, Alex that woman is photographing."
In this 21st century where you can think of any person, animal, place or thing and realize that there will be a pornographic version of it, I am comfortable in my own realization that pleasant cleavage, nice legs, an arresting face, a nice turn of neck and beautiful hair can all be much more satisfying than the stuff that demands one check in one's credit card.
As proof of it I display here some pictures I took one lazy and hot summer afternoon in Queen Elizabeth Park of a young lady and her black Toyota Celica.
And you can keep that credit card in your wallet.

© Alex Waterhouse-Hayward
Photo Essays of Waterhouse-Hayward that have appeared in Arts & Opinion:
iPhone Nudes
Live Art/Acto Vivo
Wonderful Tubs
The Photographer's Model
Boot Camp
One-Armed, Double-Breasted Pam
In the Company of Argentines
Mexican Nostalgia