aruna papp's (with barbara kay)
UNWORTHY CREATURE:
A PUNJABI DAUGHTER'S MEMOIR OF HONOUR, SHAME AND LOVE
reviewed by
FARZANA HASSAN
______________________
Farzana Hassan is the author of Prophecy and the Fundamentalist Quest. Please visit her website at: www.farzanahassan.com
You are a pariah if you are a Christian living in India. You are an outcast if you are born with darker skin pigmentation. You are hated by all if you are fat and ugly. And all this gets much, much worse if you are a child born with the wrong set of genitals.
Such was Aruna Papp's lot growing up in East Punjab, India. She describes the horrendous physical, social and emotional abuse she suffered at the hands of her own parents, family members and friends in her book entitled Unworthy Creature published by Freedom Press Canada, Inc. The author explains that the culture of honour pervading Punjabi society holds young women responsible for any misfortune that may befall the family.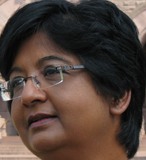 As the eldest of six sisters and one brother whom she refers to as the family's saviour, Papp recalls how boys were prized and girls despised in that society. She recalls her father's beatings and her mother's coldness toward her. The mother treated her eldest daughter more like a glorified maid. Papp helped her mother clean the house, cook the food and mind the children almost incessantly, thus effectively robbing Papp of her childhood. It was not until she was nine that this despised child was sent to a boarding school, where once again, she was subjected to bullying and chastisement for being dark, ugly and low class.
At school she was even accused of carrying on with a boy. Her father was hence summoned by school authorities to give his daughter a piece of his mind. He beat her so violently that she swooned to the ground and recovered only after two days of being unconscious. Just being female would have invited this type of physical abuse. Girls in the Punjab and other patriarchal cultures are routinely terrorized by family members so as to keep them in check. They dare not transgress.
During one of her visits home from boarding school, Aruna was repeatedly raped by a close family friend. She would never disclose the agony and shame of that experience to any one. No one would have believed her. And even if they did, she would have still paid for her rapist's crime. The misfortune of being raped would have brought shame to her family and they would have had to kill her. In a culture obsessed with honour, the only thing parents and guardians of girls hold dear is their own image in society and how it must be preserved at all costs. And the thing that can damage it most is the conduct of girls or what they might experience. Hence patriarchal cultures place the onus entirely on girls to ensure no vice, moral turpitude or even disgraceful acts committed by others ever come to be associated with them.
Papp recounts how she was once transported back from school by the principal for a ruptured appendix. Mother and father both suspected pregnancy which could only be disproved through medical examinations. Family members were invited to witness the doctor's diagnosis which would confirm that Aruna was not guilty of moral turpitude.
After the surgery, Aruna was sent to a local school attended by Hindu girls. She once signed her name as Aruna instead of Irene, so as to be accepted by the majority of girls who were Hindu. That mistake was never rectified and she remained Aruna for the rest of her life.
Aruna was packed off to be married to Ralph, an Anglo-Indian, while still in her teens. The initial months of their marriage went without incident but Papp would soon realize that Ralph too was obsessed with his honour. The names of her abusers had changed but Aruna's plight as the unworthy creature had not changed at all.
It was only after arriving in Canada that she would slowly begin to realize her self-worth. In Canada Aruna embarked on a mission to educate herself. There was much opposition at home and as usual Ralph was given preference, but she chose not to bow down to family pressure. She completed her studies with two graduate degrees. She also found the courage to end her loveless marriage and marry a second time, for love!
Unworthy Creature is a well written and insightful book. It provides first hand insights into how a culture of honour can destroy a young woman's self-esteem. The book is co-authored with Barbara Kay, as English is not Aruna Papp's first language. It is an important and worthy addition to feminist literature.
COMMENTS
user-submission@feedback.com
I'm fascinated with books and stories about the plight of women in the Middle East and Asia in general but by the second chapter, I was bored to tears. It rambled about the scenery and about her family, every single member in detail and didn't really speak much at all about honour killings, which is why I bought the book. I was very disappointed. It was a waste of money.
user-submission@feedback.com
I can't wait to read this magnificent story! And pray that women who are subject to this kind of abuse,open their eyes and realize that they are not alone.
user-submission@feedback.com
In her acknowledgment she mentions "my parent were hardworking people who sacrificed everything they had, to give their children better life in Canada, for that I will be eternally grateful; my father was a proud and honorable man who I adored." Later in her book she also mentions that my parents were committed to higher education for their children. Aruna did go to school and graduated with metric which is equal to grade 12 and then she went to Spicer college (she mentioned this in her book). So why did she advertise that she was only grade 3 when she arrived in Canada. I read this book three times and I am surprised no one has caught on could this be a false memoir? There are too many contradictions in this book.
reviews by Farzana Hassan:
History of Rock Humour
The Coming Revolution
Why Catholics Are Right
Winnng the War Against Jihad
Islam & Democracy
Intellectual Curiosity and the Scientific Revolution
The Islamist
The Grand Design
The Jew Is Not My Enemy
To Ban the Hijab? (essay)