montreal's
2010 NUITS D'AFRIQUE MUSIC FESTIVAL
report filed by Robert J. Lewis
"So much trouble in the world," wrote Robert Nesta Marley in 1979. During the past 30 years, bad has gone to worse in Africa: Aids, desertification and costly trade barriers (tariffs) between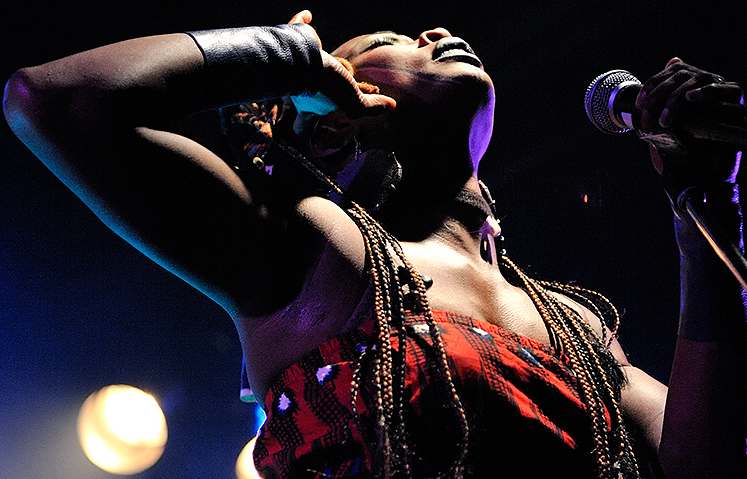 African countries are just some of the shots to the solar plexus sustained by a continent that refuses to buckle. Of the many responses to trouble, music is by far the most telling and medicinal. Without apology, it seems the perfect medium to negotiate the day to day despair from which there would be no respite if it weren't for song – a theme that was very much in evidence during Montreal's now world famous Festival International Nuits d'Afrique. Its twenty fourth edition (July 13-25) featured music directly from Africa as well as hybrid (high breed) music that Africans (the stolen people) brought to the rest of the world.
Prior to the melodies we love, we
are often first attracted to a particular sound an instrument generates: a vibration that balms a pain or fills a void. A continent's embrace of a particular sound is its confession to the world.
We all know what a juiced up, electric guitar can do: it can rip open the flesh like a weasel, it can inveigh against the ugly truths of war (JH's "Machine Gun"), it can go industrial ("Reptile" by Nin) and it can out-shout an entire world. But in the sympathetic hands of Guinea's Alpha Yaya Diallo, one of many who has shaped and evolved the African guitar sound, the six strings sounded sweet and soothing, offering peace and hope to far too many
for whom the basics of life must seem "10 zillion light years away." In response to conditions unique to Africa, the guitar timbre that issues from the African continent is like no other in world, doubtlessly inspired by the gorgeously round, serene sound produced by the kora, and before that, the oud.
Throughout the entire festival, from one concert to the next, the guitar was there to still the mind, to provide temporary alt-worlds for those for whom music is not a luxury but necessity. And when played in the upper register (treble), the guitar's mimicking of human conversation is tantamount to giving voice to the many without. Among this year's festival surprises was the group Koundouwaka, from Guinea, led by vocalist Abraham Sonti, and his low-profile, gifted guitarist, whose understated, plaintive, superbly crafted solos incarnate what is distinct in African guitar.
Senegalese kora master Zal Idrissa Sissoko delivered the most serene set of the festival, finding in his instrument those signature warm and willowy melodies and suppleness of sound the ear cannot refuse. If there's an instrument that exemplifies grace and gentility, it is surely the kora.
Of woman's voices, there were many top rankin': Dobet Gnahore, Marianne Oya Omac, Hindi Zahra, Chiwoniso and last but not least the button-cute, dynamic Nomfusi, who, once she learns to turn the volume down and diversify her repertoire, might become Africa's next big international star.
As we all discover at a very early age, each in his own fashion, finding the way to the body is the best way to shut down the mind when despair rears its ugly head – and there is no music like African, in its hypnotically bewitching time signatures and counter rhythms that so ecstatically engage the body. Since there is trouble everywhere in the world, the music that comes out of Africa is of huge, world significance and fully deserving of its genre status: World Music.
Several concerts were rightfully dedicated to the music of Brazil. Among the highlights were up-and-coming Rommel Robeiro (from San Luis) and Mallu Magahlaes: the former, a highly talented guitarist-singer, the latter a singer-composer.
Brazilian music rises above all other musics of South America because it has more fully absorbed and integrated sounds and rhythms that originate in Africa. Lest we forget, Brazil is 50% black, Rio is 70% black, and the country (especially in the rural areas) features a mixing of the races that is as exemplary as it is unparalleled and something to be wished on the rest of the world. In this sense, Nuits d'Afrique shows the way to the future by providing the occasion where people of myriad skin colours and cultures showcase their dignity through mutual respect and celebration of difference. If you've ever wondered what it's like to be in the heartland of Brazil and perhaps a few privileged corners in Africa, you need go no further than Place Emilie Gamelin for the last three (and free) days of the festival. There, the world in all its magnificent diversity gathers, and everyone feels good because everyone is doing "the right thing" that is -- paraphrasing Spike Lee -- the civilized thing. Deep within, I think we are all looking for causes and reasons to regard ourselves as civilized because it feels good when we consciously and conscientiously comport ourselves in a civilized manner. Which is why Festival International Nuits d'Afrique is surely Montreal's, if not one of North America's, most edifying event.
If there's one thing lacking in the festival, it's an accompanying outdoor venue for its first nine days. Summer in Montreal is a short fuse that can explode on a dime and we want to be in its midst for as long as it lasts. Seeing that there is a huge sidewalk area in front of the Cabaret du Mile End (the main indoor venue), perhaps festival CEO (morceau rassembleur) Lamine Touré should try to wrest permission from the City Fathers to set up a makeshift marketplace to more fully disclose the feel and the appeal that is Africa.
Next year Nuits d'Afrique celebrates a quarter century of African music – and I can (already) feel it coming in the air tonight.

Photos © Denis Beaumont