There's not enough said and praises sung about home grown talent when you consider home is where it begins for everyone -- and that includes the biggest stars on the planet. Which is to say -- and the blues says it best --there's no circumventing getting started, getting acquainted with the genre's best, and paying one's dues.
If last year's FestiBlues featured mostly the genre's established players, this year the programmers dedicated themselves to making the case that the blues is not only a structure but a feeling, and that the feeling doesn't have to restrict itself to the structure proper (12-bar), which is why we have R & B, and many other styles of music that have been informed by the blues.
The blues form continues to endure because it responds to hard luck and bad times wherever and whenever they are found, in part because 12-bar, as a structure that features a major cathartic element (The G in the key of C), isn't restricted to a particular culture or era. From its Mississippi Delta origins the blues has been embraced by regions as diverse as the former Yugoslavia to Kazakhstan. The reasons are self-evident: we all experience hurt and loss, we look to the various art forms and performers to articulate our feelings so we can move on to good times and better days (and nights), which is why the blues can also be happy and uplifting.
Doing that tradition proud were five days of exceptional FestiBlues performances from names we're going to be hearing a lot more from, from a festival that continues to evolve by providing a musical forum that allows for what needs to be said as it concerns modernity and its minefield of malaises that has left too many of us in the lurch – "I've got a mind to give up living, and go shopping instead."
Among this year's festival highlights was the ageless Carl Tremblay, whose raucous, sawdust rich voice is surely among the best in the business, and the harp playing of Jim Zeller, who has been there and has come back to tell us about it. And then there was the torrid guitar work of Jimmy James, whose unique interval suggests that he still listens to music that came to life in the 60s, and that he still (praise be the Lord) hasn't completely rid his brain of Lucy In The Sky With Diamonds.
Lewis On The Rocks were at their boogie woogie best featuring music from the 60s while Sylvain Cossette remembered and reinvented the 70s and earned kudus from fans of Sting, Queen and Pink Floyd.
Getting back to basics, Chuck Lambert offered the crowd some much appreciated blues grown and deep fried in the USA: his version of "Little Red Rooster" was dead on as was his original material. Bryan Lee delivered a terrific set of New Orleans blues and his was perhaps the most nuanced and emotive performance of the festival.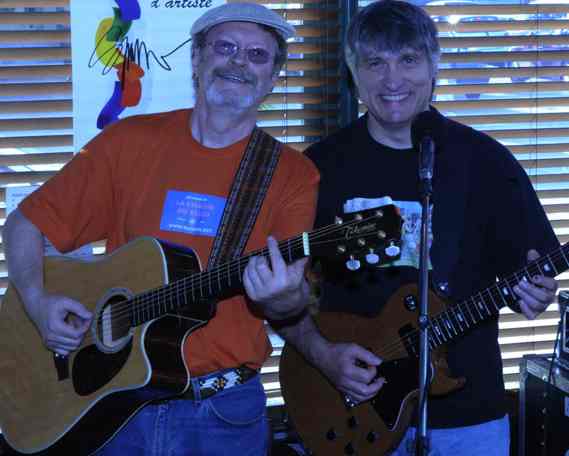 From France, Antoine Holler et Charles Pasi distinguished themselves with a set that expertly navigated between funk and soul and R & B. No surprise that they are regarded as a treasure back home.
In the spirit of covering all the blues bases, FestiBlues features a competition for the up and coming blues makers. This year's winner was the amazing word man Bernard Adamus who will be invited to play in a festival near Paris as well as record a demo in a professional studio. The competition also features an important exchange program where students of media get to work with the organizers of the event.
Closing the curtain on an event that predicts next year will be even better, which is to say the festival programmers are, in their own fashion, as creative as the musicians that came to play, was a memorable 90 minutes of music from the Porn Flakes, who needed no introduction to fans that had come from far to hear them.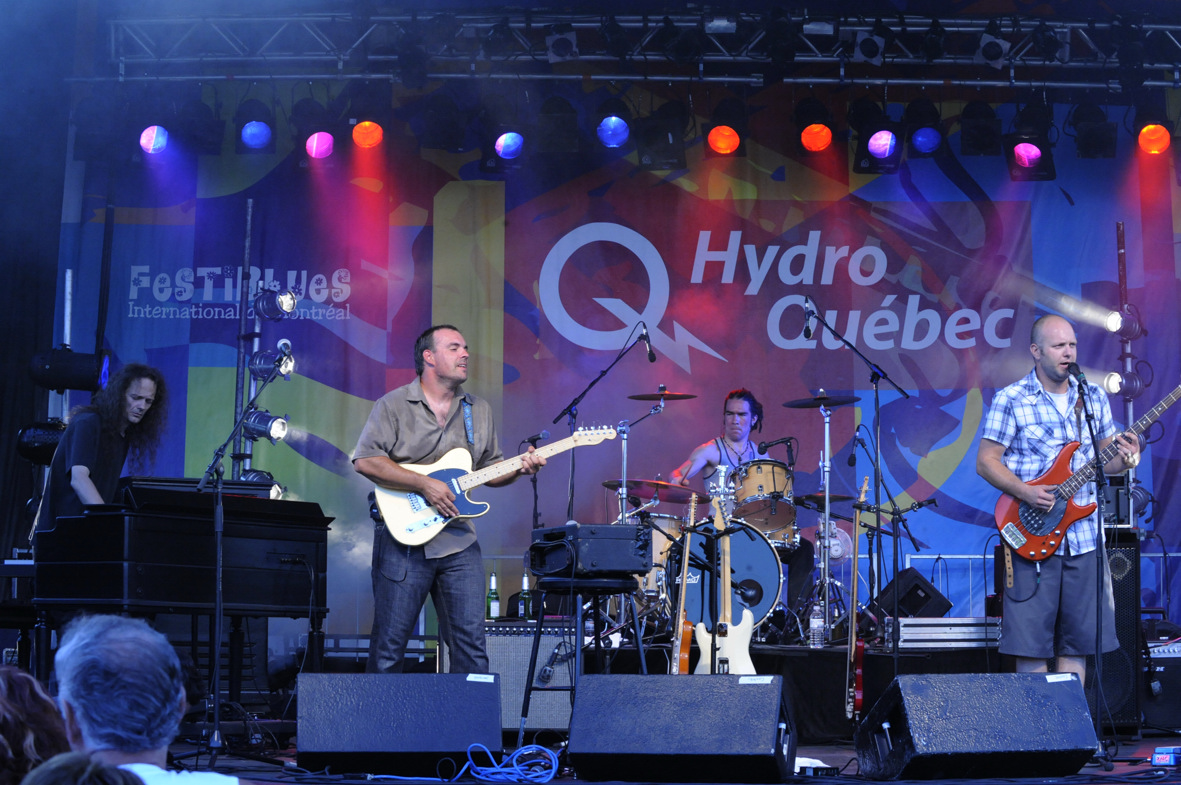 No less important than a group's often taken-for-granted rhythm section is a festival's backdrop. Ahunstic Park, the home of FestiBlues, features acres of natural grass and a variety of stately trees that provide cover when it rains, and shade when it's hotter than July. Good food and spirits are never far away and the area has been designed in consideration of blues lovers who come from afar with kids that need looking after and a choice of activities. There was also an A-major emphasis on ecology, and making the public aware of its importance in the context of outdoor festival venues and their immediate surroundings.
And recognizing that for most of us the blues is almost always related to finances that could do with some improvement, FestiBlues is almost free: only 5 dollars/day. No wonder every year attendance records are broken. So until 2010, hang in there.