the unveiling of
STARMAN: DAVID BOWIE

reviewed by
NICK CROWE
______________________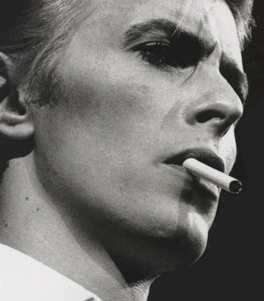 When I worked on a recording project with the music producer Tony Visconti in the late 1990s, I was eager for stories about his friend David Bowie. After all, Visconti had produced some of his best works, including Young Americans and Scary Monsters. "Bowie's a cunt," he said when the topic was raised, as if it was common knowledge. The subject was never discussed again.
Ground-breaking pop star Bowie has been accused of many things during his career, often for perfectly good reasons. Exploitation was a common theme among fellow musicians, who felt used when he dropped them after a session or tour, eager to move on. Tony Visconti's gripe was over credit -- recognition denied him and guitarist Mick Ronson for their work on the 1970 breakthrough album The Man Who Sold the World (a long time to hold a grudge, but they have since made up).
Critics and fans, bemused by the way Bowie so easily shrugged off one stage persona for
another, one style of music for another, frequently accused him of selling out (something he would be guilty of in the 1980s) or worse, plagiarism. Even his sexual ambiguity, immortalized by flamboyant characters like Ziggy Stardust and Aladdin Sane, along with his famously open marriage with Angela Barnett, were for some an even more despicable ruse, dreamed up with his wife at their flat in Haddon Hall to generate inches of newspaper coverage.
Yet Paul Trynka's fascinating biography, Starman: David Bowie -- The Definitive Biography,
does away with the ruthless, self-serving Bowie and reveals instead a warmer, more instinctive figure, stripped of costume, newsprint and celebrity veneer, whose relentless urge to create was far more profound than merely a wish to control.
In musical terms, as Trynka rightly observes, Bowie's achievements are vast. By the release of Let's Dance in 1983 he had already made 16 studio albums, at least half of which, like Hunky Dory, The Rise and Fall of Ziggy Stardust and Low, were classics. No one since has come close. At the same time he influenced records which not only saved the careers of his most beloved role models, but became classics in their own right. Lou Reed's Transformer was one of these, which he produced, as was his mix of Raw Power by Iggy Pop and the Stooges, an album which would heavily influence punk. His stage acting, as in the 1980 production of The Elephant Man, was widely acclaimed for its pathos, as was his role in the 1976 film The Man Who Fell to Earth (his appearance in Absolute Beginners was not so fêted). He pioneered the pop video (remember China Girl?), the stadium tour, even contemporary advertising practice, some claiming that his famous mutability was the precursor to brand 'repositioning.' That jealousy, perfidy and greed should attach themselves to the foremost fashion and music icon of the 1970s is hardly a wonder.
Born in bomb-damaged south London in 1947, David Jones attended school in Bromley, and started up a band, influenced by the likes of Lonnie Donegan's skiffle and the outrageous Little Richard. His father, Hayward Jones, encouraged his son's musical aspirations and bought him a saxophone when he was 13. But Bowie's musical talent was slow to develop, and his early attempts to break into show business were met with disinterest and failure. These years were crucial, says Trynka, in shaping Bowie's future. Struggling in anonymity made him absorb the concepts being explored on the fringes of the art world.
He also acquired a habit of interacting with cultural figures -- often on a whim -- which he never lost. In 1967 Bowie met avant-garde mime artist Lindsay Kemp and took him on as mentor, touring and performing with his decadent troupe. With Kemp he discovered a theatre of identity, which would prove indispensable to his later approach; it is this relationship between Bowie's experience and his music that drives Trynka's narrative.
A stream of concepts, personalities and events unfold with clarity and speed, and reveal an excellent grasp of Bowie's ever-changing oeuvre. His encounters with Warhol and Lou Reed, his rivalry and friendship with Marc Bolan, his adventures at the Sombrero gay club, his shameless manager Tony Defries and his cocaine addiction are absorbingly dealt with in this biography of one of the first post-modern, post-sexual pop stars of our age; an artist who was "free to play the role of man, woman, or child."
Starman exhibits a huge passion for its subject, and rightly so. Bowie's legacy stretches way beyond the confines of music, into global fashion, branding, sexual politics and art. Even now it gives Lady Gaga permission to be outrageous, in clothing accessories if not in music. But at ground level his influence may be more pervasive -- sinister even. Trynka shines a light on Bowie's dark side, how his obsession with self-image and success cost him family and friends. If narcissism is the prevailing inclination of our age -- the vain pursuit of success through contrived self-image -- then it may be Bowie that we have to thank.
This review originally appeared in Prospect and is published with permission of its editor.