PLAISIRS DE LA TABLE . . . A NEVER ENDING FEAST
This year marks Les Plaisirs de la Table's 12th anniversary, and it will be like none other. A glorious gathering up 56 female chefs and wine producers from Australia, Europe and the Americas are invading the kitchens of Montreal's finest restaurants to create their uniquely exquisite dishes for the public to enjoy. As well, epicurean delights coming from the tables of Quebec Chefs and Cheeses – an event that focuses on local chefs who are used to saying 'cheese' -- give tasters the opportunity to vote on their favourite cheese-based dishes. There will
be four winners with accolades awarded accordingly. SAQ's Gourmet Rendez-vous accents the prestigious palette of Les Plaisirs de la Table with their own event: three leading international female winemakers will offer their home-grown vine produce along with savoury tapas samplings. In the Spotlight is Anne-Sophie Pic. Wearing her chef hat as honorary president of the entire food extravaganza, this wonderwoman is the only female chef in France to claim three Michelin stars. It's only natural foodies will flock to her honourary president dinners. Likewise, artsy types will head for Bistro Le Répertoire. Here, artists Frida Kahlo and Edith Piaf are the inspiration behind the six-course meal that echoes -- in culinary masterpiece mode-- the creativity of these two late, greatly formidable felines from France. Icing on the cake comes in the form of outdoor lights shows with 175 activities featuring music, installations, dance and story-telling. Bon Appétit!

Mexico's Mónica creates incomparable cuisine at Bistro Cocagne
Owner of three stellar restaurants in Mexico City and author of La Gran Cocina, Mónica Patiño is without a doubt this century's gourmet goddess of Mexico. Having trained with chefs in France, Thailand and Mexico, mentoring even with Japanese and Chinese chefs, Monica's global vision is reflected in her extraordinary cuisine. Inside Montreal's Bistro Cocagne Restaurant its young chef-owner Alexandre Loiseau, who has turned venison and duck into his standout successes, stated that turning his kitchen over to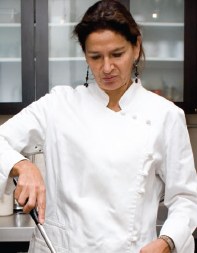 Mónica makes him a simple employee at his own restaurant. "I along with my staff have learned so much from her, and it was a challenge to find all the ingredients needed for her various dishes." Although he couldn't find chili negro in Montreal, Mónica made sure to bring it up from Mexico. The five-course meal could not have survived without it. I was sent to heaven with her tostada de poulpe - tender rondelles of octopus that were utterly devoid of its usual crunchy texture. This is due to Mónica relying on the Japanese technique of salting it when raw. Scallops and ceviche complimented this teaser of gourmet greatness to come. Her Asian influence was tastefully appreciated in the succulent shrimp that followed. Tamarind sauce enhanced with chili, garlic, ginger and black sesame seeds made this sweet and sour creation an exquisite experience for the palette. The black bean soup hid a surprise: tiny cubes of perfectly sautéed potatoes and a special ham called pata negro de Iberica - similar yet superior to Italy's prosciutto. Ground peanuts, avocado leaves and chili created one of the best sauces I have ever tasted. It was used to top the soup at one's own discretion. I gobbled it up on its own. It was difficult to decide which was better - the soup or that Thai/Mexican sauce.
Mónica has managed to create fusion Mexican cuisine thereby surpassing the traditional taco, tortilla, frijoles food while utilizing them in such elegant ways. The rapturous simplicity of her dishes is something she aspires to. She strongly believes in authentic, simple cuisine that relies on Mexico's flavours, including the green sauce made from Mexico's axiote flower. Her precious pork creation is a tribute to her country. Longe (belly) de porc is usually cooked all night under the ground in some kind of clay oven. Mónica combined this pork flavoured with orange and spices. Caramelized pineapple pieces demurely sat beside the pork piece. It was ingeniously placed on a tender piece of tortilla. Chili-burned until it becomes black like charcoal accounted for the scrumptious flavour. The meat was impeccably tender - so gentle that it shredded upon cutting it.
A variety of wines from France, Niagara on the Lake accompanied each dish accordingly. A thickly textured Pedro Ximenez port enhanced the wonderful dessert: a creamy pannacotta of orange and coffee. A piece of ice placed into this creamy mixture soaked up the Tia Maria liquor poured by the waiter into this deluxe finale. Mónica's genius resides in her own country's bounty. Thanks to Mónica's trust in basics, she builds upon them to create rapturous dishes. Mexico Magnifico!
Bistro Cocagne
3842 St. Denis Street.
(514) 286-0700

LO LIFTS KOKO'S PATRONS TO AN ALL-TIME HIGH
Anita Lo served a five-course meal to over 140 people within the stunning black and white chic of Koko's chandelier-clad restaurant. Wow! Wall murals in black and white evocative of the elegant Chanel era enhanced the glorious gourmet servings to come. One should know that Koko -- housed inside and belonging to the very hip Opus Hotel -- has been aptly named; the word actually means 'meeting place' in Japanese.
Lo left her famous Annisa New York City restaurant to dive into Koko's kitchen helmed on all other nights by Montrealer, Michele Forione. The 34-year-old doffed his chef's hat to her as he effusively commented on her talents; her creativity earned her the winning title on Iron Chef America more than a decade ago. This has prestigiously prompted worldwide recognition for the 45-year-old female sensation. "She is amazing. I have learned so much; she's so focussed and calm. Her work ethic is so impressive and her recipes are incredible," said chef Forgione whose Mediterranean dishes have also garnered non-stop adulation for Koko.
Lo's dishes represent flavourful trends she has studied in her travels. Her food is not for the faint of heart. "I create adventurous cuisine that is balance in the palette. I believe that tuna if it's in the dish must come through, as should the scallop and the lamb. I'm an omnivore; I love learning, so I bring international influences in a smart way to each dish. It's about flavour, texture and the meat or seafood featured," said the no-nonsense, affable chef who has been cooking for 23 years. She dared to reveal that the lamb hit a glitch as the ovens at Koko are different from hers in New York. I thought the lamb was terrific. It was the pre-dessert finale. My only complaint was it seemed out of place with the seafood featured in the other dishes. Perhaps, a pasta would have proven more pleasing for me at that point in the feast. Still, I love lamb and I really liked the tender texture of her rack of lamb.
The evening started with the best drink I have ever had. It's a Koko keeper called Opus 136, a tribute to the 136 rooms of hotel. This drink initially conceived by the beverage-brilliant Brad Stanton of Vancouver, is now Koko's crowning trademark. The flavours flew me to a Brazilian beach basking in the sun. Montreal's winter winds turned into a soft breeze upon every sip. Opus 136's ingredients comprise grey goose vodka, blood orange, passion fruit purée and alizé gold.
It was a splendid aperitif. Suffice it to say the accompanying wines paired with Lo's unique offerings were also appreciated. Outstanding was Australia's 2008 Hermit Crab Marsanne. Similar to a Côte de Rhône white, its seafood moniker aptly matched the Japanese dish with which it was paired: Lo's little foodie surprise to this wine appeared in the second course serving. This enigmatic dish comprised a soup-like custard of sea urchin, hedgehog mushroom and lotus root. Saki, soya sauce and dashi created a rare flavour mix. It was totally interesting as it offered different taste textures: strange and superbly satisfying. Likewise, Australia's 2009 Pfeiffer Shiraz was a fine fit for Lo's tender rack of lamb. But the accompanying ground beef rondelle topped with a mashed potato of sorts seemed out of place -- as did the underlying pungent South African gravy that tasted like marmite and tabasco sauce mixed together: not my favourite. Sardinia's 2008 Thilion sweetly complimented Lo's grilled sea scallops, loufah and sweet miso dish. I detected a tad of a burnt taste to the otherwise tender pieces of seafood heaven, and the buttery caramel-tasting sauce was out of this world. I wanted to lick my plate.
Lo's warm Meyer lemon curd crustade was a dessert to die for. Called a pudding, it was totally devoid of any watery texture, and quite frankly was the standout of the evening along with her sea urchin sensational creation. Lo lifted the crowd to lofty heights with her daring recipes that few could ever succeed in duplicating. She is a world onto her own. I was ready to hang off one of those crystal chandeliers at the end of the evening. It was an event – a Koko event that was unforgettable -- a fabulous gourmet gift for all five senses.

SAY CHEESE AS STÉPHANIE GAGNON SERVES A SUNNY BRUNCH AT LES CAVISTES
Brunch brought to you by chef Stéphanie Gagnon is both exotic and exciting. It isn't that this Québécois chef travels far afield to find new recipes or ingredients. In fact, Gagnon has been cooking ever since she was a wee girl. Her mom taught her a lot in the family kitchen and experimenting became a way to look at the food she loved. She's been a chef at Les Cavistes for a year since its opening, and has already built up a loyal following. I understand why. Her dishes are tasty, pretty to look at and extremely filling. I was impressed by her method of using French techniques of cooking to create innovative dishes whose ingredients come from Charlevoix and other local regions. In fact, she relies on four regional farmers has her suppliers. Still, Scandinavia entered the entrée dish of Gravlax salmon. She employed that country's technique of salting the salmon raw. It was heavenly in texture and taste. Served on a smoked char waffle accompanied by tiny sprinkles of sweet, glistening red roe, and grapefruit slices, my tongue enjoyed the contrast of this number: the smoothness of the salmon, the juice of the fruit and the crunchy quality of the tiny beads of roe.
The main dishes were interesting. Most employed different cheeses from Charlevoix in some subtle way along with one from Baie-St-Paul called 1608. It is a classy flavourful pressed cheese, smooth but not too creamy. Her polenta was creamy rich, buttery and divinely thick. It was surrounded in a nest of homemade muesli with honey dried fruit. It was extremely satisfying - perfect for those in need of a hearty unusual breakfast with no time for lunch. A creamy, buttery Charlevoix cheese called Fleurmier made its integral appearance in her crepe creation. Stuffed with tiny Japanese noki mushrooms, the crepe was thin and smooth. A buttery flavour softened the mushroom taste. During the Highlights Festival, Gagnon was one of four chefs chosen from 150 to create four cheese dishes spontaneously. Hers was a huge success. Given Gagnon's young age (22), spontaneity is the unseen ingredient in each of her dishes. Full of surprise, one eagerly awaits each dish arriving at the table. Furthermore, we love her for giving Quebec produce centre place on each of the plates she so wonderfully presents.
Les Cavisties is located at 4115 Saint Denis. Call (514) 903-5089.