Shadows (1959) - Low budget, won critic's award at Cannes. Pioneering.
Too Late Blues (1961) - Major studio debut staring Bobby Darin. Low key Jazz drama.
A Child is Waiting (1963) - His strongest. Burt Lancaster and Judy Garland at odds over teaching methods.
Faces (1968) - A couple in their fourteenth year of marriage. Originally a six hour cut. Venice bestowed no less than five awards.
Husbands (1970) - Three middle-aged men in crisis when one of friends dies.
Minnie and Moskowitz (1971) - A divorced woman in her forties falls for a scruffy young hippie.
A Woman Under the Influence (1974) - Emotional meltdown of a suburban housewife.
The Killing of a Chinese Bookie (1976) -Film noir about a sleazy club owner dealing with the mob.
Opening Night (1977) - Broadway actress dealing with pre-opening night setbacks and disasters.
Gloria (1980) - Film noir dealing with former mobster's mistress looking after a young boy whose parents are killed by the mob.
Love Streams (1984) - His weakest. Brother and sister dealing with life.
Big Trouble (1986) - Most comedic. Starring Peter Falk, Alan Arkin and Beverly D'Angelo involved in an insurance scam.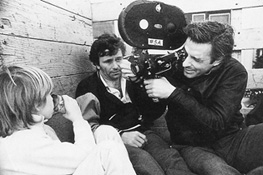 John Nicholas Cassavetes (December 9, 1929 - February 3, 1989) was an American actor who has appeared in many Hollywood films (selected filmography : The TV series Stagatto, The Dirty Dozen, Rosemary's Baby and The Tempest). As screenwriter and director, he is praised for and revered as an influential pioneer of independent film. He used hand-held cameras and cinema-vérité techniques in the making of his films, and often based his scripts on the actual characters of his actors. He was pioneer in the use of improvisation (Shadows was totally improvised) as well as in his innovative (often stark) close-ups that unveiled and uncomfortably exposed his characters (Faces).
Thematically his films were explorations of real people dealing with the day to day issues common to everyone: suburban family life (A Woman Under the Influence, Faces and Husbands); entertainers (Too Late Blues, Opening Night); mobsters (Killing of a Chinese Bookie, Gloria); care givers (A Child is Waiting) and celebrities (Opening Night, Love Streams.) He also explicitly dealt with subjects that were taboo at the time (Shadows - interracial relationships, and A Child is Waiting - dealing with and teaching children who are mentally handicapped). He often used non-professionals; in A Child is Waiting, the actual residents of an institution were asked to put on a play staged for their parents. His films fully (and unapologetically) explored the volatile emotional spectrum. His unique manner in exposing emotions became the thread that bound his work, along with a circle of actors that appeared in many of his films: Gena Rowlands, Peter Falk, Ben Gazzara, Seymour Cassel etc.